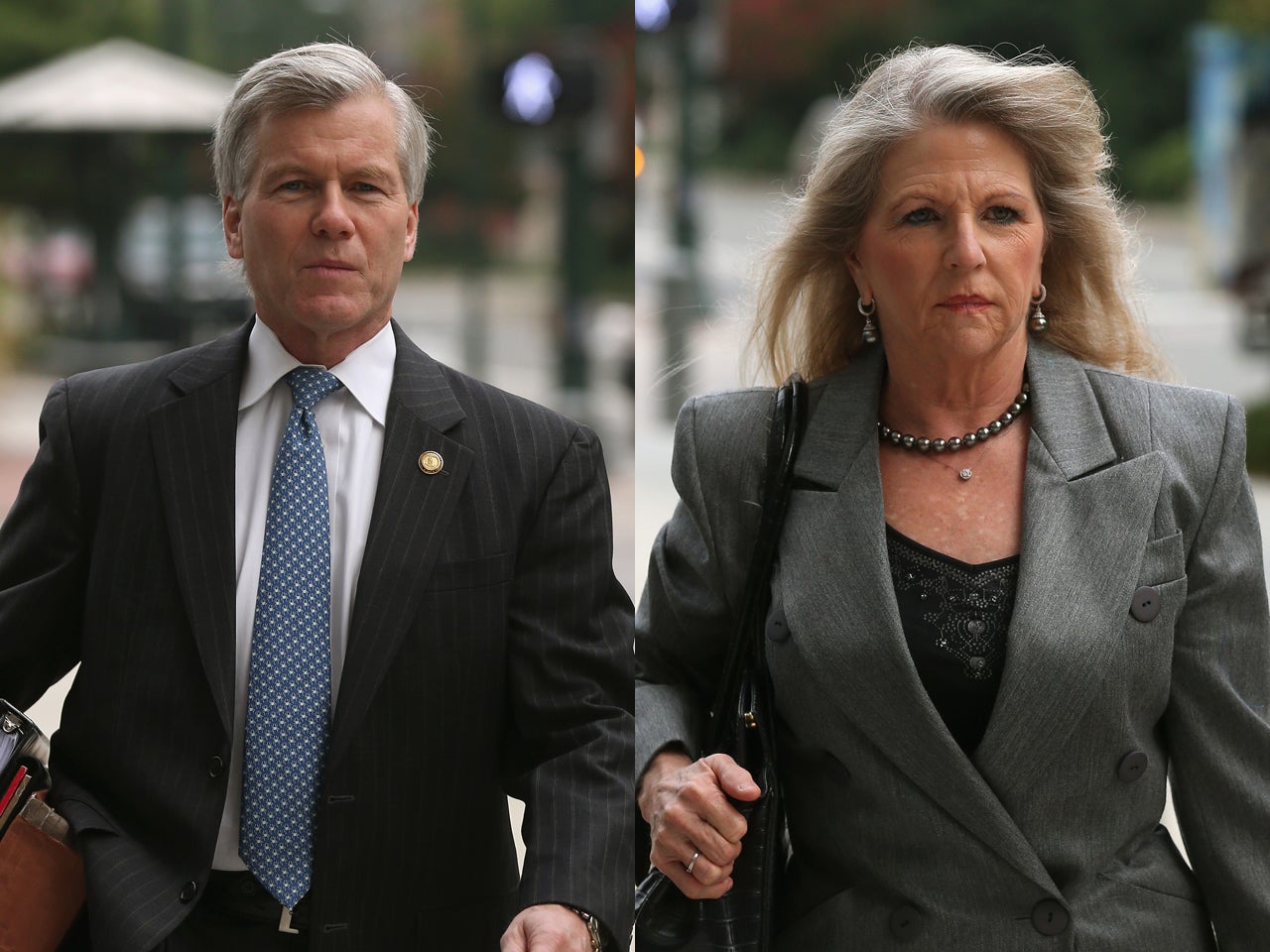 Former Gov. Bob McDonnell found guilty in corruption trial
Former Gov. Bob McDonnell, R-Va., and his wife, Maureen, have been found guilty on multiple counts of conspiracy, corruption and bribery.
Bob McDonnell was found guilty on 11 different counts relating to the conspiracy charges. Maureen McDonnell was found guilty on eight of the 11 conspiracy charges as well as one charge of obstruction of official proceeding that occurred during the grand jury investigation.
Neither one of the McDonnells was found guilty of false statements on bank loans. Bob McDonnell faced two charges on that count, and Maureen McDonnell faced one.
As he left the courthouse, Bob McDonnell's lawyer, Henry Absill, promised to appeal the verdict, according to news reports.
The jury reached the verdict after three days of deliberations. There was loud sobbing in the courtroom as the counts were read.
Sentencing has been set for Jan. 6. The couple could face years of jail time.
The McDonnells were indicted on 14 counts of public corruption in January and charged with accepting more than $165,000 in gifts and loans from Jonnie Williams, the CEO of Star Scientific Inc., in exchange for promoting Williams' anti-inflammatory vitamin supplement called Anatabloc.
During the five-week trial, prosecutors sought to prove that that Bob McDonnell not only knew how much money Williams had lavished on the first family, but that he sought to convince state officials to conduct research that would have helped Williams' business.
The evidence prosecutors saw as most damaging was a pair of emails, sent six minutes part, in which Bob McDonnell wrote to Williams asking about documents that would have finalized a $50,000 loan, and then shortly after asked an aide to "see me about anatabloc issues" at Virginia Commonwealth University and the University of Virginia.
Bob McDonnell vigorously rejected the suggestion that the he was giving William special treatment in exchange for the cash.
"We don't make decisions based on money. No sir," McDonnell said. The most he did for Williams, he said, was try to get in him touch with the proper people who could evaluate his request.
But defense lawyers for both Bob and Maureen McDonnell have tried to portray the former first lady as the one promoting Anatabloc in exchange for Williams' favors. Because her position was purely ceremonial, the couple could only have been convicted of corruption if the jury believed they conspired together to do it.
Because of that quirk, much of the trial dove into the alleged problems of the McDonnell's marriage, which the governor's defense attorney said had crumbled so badly the pair could not have committed a conspiracy together. Prosecutor Michael Dry said that the testimony about the couple's marriage, while salacious, "just doesn't matter."
McDonnell testified that he was "astounded" upon learning wife had secured the $50,000 loan from Williams, but didn't ask her to return it to avoid another fight. He claimed to have "no idea" the businessman took her on a $20,000 shopping spree in New York. But he said he was aware of gifts, including $15,000 Williams gave the McDonnell's daughter for her wedding reception, and a vacation at the businessman's lake house that included the use of a Ferrari.
"At some point, I'm entitled to be normal," he said.
Maureen McDonnell's lawyers did not deny she solicited certain gifts and loans but claimed from the outset of the trial that the former first lady had a crush on Williams, who "duped" her into thinking he cared for her.
While the attorney, William A. Burck, did not label Williams her "lover" or say the two had an affair, he did say that most people would call their relationship "inappropriate." And the McDonnell's eldest daughter, Jeanine, said her mother developed "a mild obsession" with the Williams.
The former first lady did not testify in her own defense.
The Justice Department hailed the verdict as a victory, which was certainly a welcome sign that the agency can successfully secure a high-profile conviction.
"The former governor was elected to serve the people of Virginia, but his corrupt actions instead betrayed them," said Assistant Attorney General Leslie R. Caldwell of the Justice Department's Criminal Division. "Today's convictions should send a message that corruption in any form, at any level of government, will not be tolerated."
CBS News' Paula Reid contributed to this report.
Thanks for reading CBS NEWS.
Create your free account or log in
for more features.