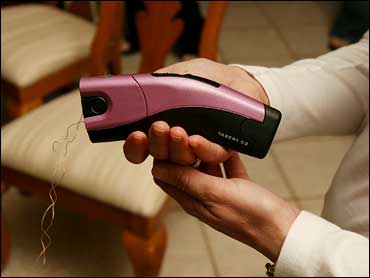 Forget Tupperware, She's Got A Taser Party
Before she lets them shoot her little pink stun gun, Dana Shafman ushers her new friends to the living room sofa for a serious chat about the fears she believes they all share.
"The worst nightmare for me is, while I'm sleeping, someone coming in my home," Shafman tells the group, drawing a few solemn nods from the gathered women. Shafman, 34, of Phoenix, says she knows how they feel. She used to stash knives under her pillow for protection.
Not anymore, she says, welcoming them to her Taser party.
On the coffee table, Shafman has spread Taser International's C2 "personal protector," a weapon the company is marketing to the public. It doesn't take long before the women are lined up in the hallway, whooping as they take turns blasting at a metallic target.
"C'mon!" she says. "Give it a shot."
Shafman is not an employee of Taser International, based in Scottsdale, Arizona. She is an independent entrepreneur who has been selling the stun guns the way her mother's generation sold Tupperware storage containers.
As a single woman who lives alone, Shafman says she is the perfect pitchwoman for Taser as it makes a renewed push to sell weapons to families.
The company agrees. Taser officials like Shafman's homespun sales tactics so much that they plan to build a living room set at the International Consumer Electronics Show in Las Vegas and have Shafman hold a Taser party for buyers and dealers.
Taser does not expect its dealers to start imitating Shafman. But spokesman Steve Tuttle said company officials think people can learn from her approach.
"When I talk about Taser, I come across as a salesman," Tuttle said. "When you see her it comes across as very real."
Shafman, a freelance construction consultant, said she always had a natural interest in self defense products. She loved the idea of the Taser, which would allow her to stop an attacker from across the room without getting physical.
She tried moonlighting as a door-to-door Taser saleswoman, but years of negative press about Taser made it tough.
"I got tired of being pushed out of people's offices," she said. "Nobody wants to purchase a product that they think is lethal or going to kill somebody."
A lot of people, especially women, need time to get comfortable with a unique product like Taser before they will consider buying one, Shafman said.
So the Taser party was born.
Shafman said she has sold about 30 guns per month at $349.99 (euro238) since her first Taser party on Oct. 15. She does not get a commission from Taser. Instead, Shafman said she gets a discounted dealer rate for the units and keeps the difference.
Taser has been surging on Wall Street two years after the Securities and Exchange Commission concluded its investigation into the company's safety claims and business practices. Its stock more than doubled in 2007 from a low of $7.44 to a high in 2007 of $19.36 a share.
Company officials said they're now selling Tasers in 43 countries and more than 12,500 police agencies in the U.S. are either using or testing their weapons. With its weapons dominant in law enforcement, Taser is turning its attention back to the civilian market.
It launched the C2 in August. Though it packs the same electric punch, the C2 is smaller than the bulky personal stun guns Taser developed years ago, and its sleek exterior makes it look more like an electric razor than a weapon. They are legal in every state but New York, New Jersey, Massachusetts, Rhode Island, Michigan, Wisconsin, Hawaii, and Washington D.C.
Shafman said many of her women customers love that the C2 is small enough to fit in their purses, and that it comes in a variety of colors. When it comes to choosing weapons, she said, a lot of women want them in pink.
"It's a girl power kind of thing," Shafman said.
Amnesty International, which has criticized Taser's assertion that its weapons are non-lethal, frowns on the C2 and any attempt to spread the use of stun guns. Officials with the human rights organization said the weapons are frequently used in excess by trained police, and they are likely to be abused by the public as well.
Mona Cadena, Amnesty International's Western Regional director, said there are already reports of domestic violence using Tasers and other energy weapons.
"Of course, we want to stop violence against women like Dana's saying," she said. "But we also want to ensure that Tasers don't end up causing it too."
Shafman has a quick answer for Amnesty International. If she had a choice of getting shocked or being attacked with a knife, a gun or something else, "I'd much rather be assaulted by a Taser."
And unlike other weapons, she said, Taser forces its customers to submit to a criminal background check before giving them a code to turn on their weapons.
At the party in Gilbert, the shooting goes on into the night as everyone takes a shot.
Lori Busken, 48, is the first in line. Busken, who is single, said she would feel better carrying a Taser than a gun. She did not buy a C2 right away, but she said she is planning to buy one soon.
"It's not heavy," she said after holding the weapon in her hand. "It's great they make them for civilian use. You don't want to kill somebody. You just want to be safe, you know?"
By Chris Kahn
Thanks for reading CBS NEWS.
Create your free account or log in
for more features.