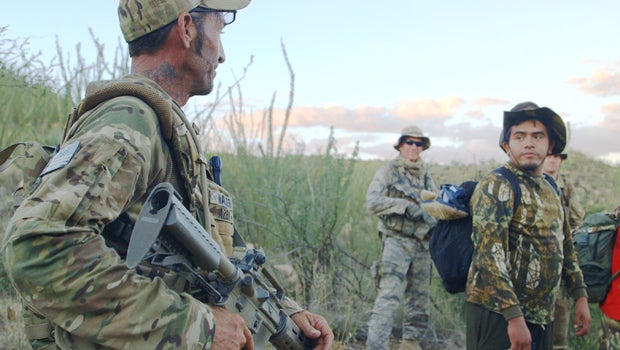 Focus on change: Human Rights Watch Film Festival
Documentaries about human rights abuses, gender equality, tensions along the U.S.-Mexico border, "Stand Your Ground" laws, and fallout from the Arab Spring uprisings are among those in the spotlight at the Human Rights Watch Film Festival, a collection of 16 non-fiction features by filmmakers from around the world.
The festival, which has toured several cities in the U.S. and Europe since January, is now being held in New York City beginning Thursday, June 11, at Lincoln Center and at the IFC Center in Greenwich Village.
The festival will also features panel discussion exploring ethics in documentary filmmaking, a multimedia project about female activists as part of the Arab Spring, and a master class on digital storytelling.
The festival's creative director, John Biaggi, said this year's festival is all about "challenging the status quo."
"From fighting government corruption in Guatemala, to fighting to bring back the female voice in Iran, to fighting against the stereotyping of young African-American men in the U.S., the films this year showcase both the need and determination of individuals to reform unjust social, cultural and political systems worldwide," Biaggi said.
Themes explored by the festival include "Art Versus Oppression," "Changemakers," and "Justice and Peace."
The festival, now in its 26th year, runs through June 21. Some films are also currently available via VOD, or are also playing in theatres around the country. Several are already scheduled to be broadcast later this year or in 2016 on PBS and HBO.
Read about the featured films, and view trailers via the links below:

"3 ½ minutes, 10 Bullets" by Marc Silver, explores Florida's Stand Your Ground law, and the November 2012 fatal shooting in Jacksonville of a black teenager by a white man who complained about the volume of music coming from the teen's car. Winner of the Special Jury Prize at the 2015 Sundance Film Festival. Following a theatrical release, the film will debut on HBO this fall.
Official Site | Additional Theatre Screenings

For "Beats of the Antonov," filmmaker and activist Hajooj Kuka steeps his film in the music and heritage of Sudanese farmers and herders, and the resilience over the hardships endured since their nation was split into two. The film won the People's Choice Award at the 2014 Toronto International Film Festival. "Beats of the Antonov" will be broadcast on PBS' "POV" in August.

"The Black Panthers: Vanguard of the Revolution" is Stanley Nelson's documentary recalls the political climate of America nearly 50 years ago when the radical Black Panther Party for Self Defense was founded. The film features interviews with some of the founding members, as well as lawyers, journalists, and former FBI agents and law enforcement. Winner of the Audience Choice Award at the RiverRun International Film Festival. The film will plays in theatres this fall before a run on PBS' "Independent Lens" next year.
Official Site | Additional Theatre Screenings | Trailer

Bringing corrupt politicians and protected criminals to justice was the difficult road traveled by Claudia Paz y Paz, Guatamala's first woman attorney general, as recounted in "Burden of Peace."
Official Site | Additional Theatre Screenings | Trailer

Executive-produced by Kathryn Bigelow, Matthew Heineman's "Cartel Land" examines two citizens' vigilante groups - the Autodefensas in the Mexican state of Michoacan, and the paramilitary Arizona Border Recon - formed in response to the violence of Mexican drug cartels operating along the U.S.-Mexico border. Winner of Directing and Cinematography Awards at the 2015 Sundance Film Festival.
Official Site | Additional Theatre Screenings

In "The Dream of Shahrazad," tales of the Arab Spring uprisings across the Middle East are retold through the inspired filter of the "Arabian Nights" storyteller Shahrazad, who here weaves Rimsky-Korsakov's suite with documentary and narrative storytelling about mass protests, torture, political killings, and human rights abuses.

Danish director Andreas Dalsgaard's "Life Is Sacred" follows the inspiring, somewhat quixotic presidential campaign of Bogota mayor Antanas Mockus, whose idealism and youthful supporters sought to tamp down a political climate scorched by drug cartels, guerillas, and millions of displaced citizens.

In 2012 Joshua Oppenheimer directed the stunning documentary "The Act of Killing," in which members of Indonesia's ruling junta and paramilitaries proudly told of their abuse and murder of thousands of citizens suspected of being Communists, even recreating scenes of abuse for Oppenheimer's cameras. In the director's follow-up film, "The Look of Silence," he returns to Indonesia to meet an optometrist out to confront the killers of his brother. His new film has won festival awards at Berlin, Denver, Paris, Venice, Zurich and SXSW.

"No Land's Song" follows Iranian composer Sara Najafi and her efforts to bring back the voice of female singers, basically silenced since the 1979 revolution banned women from performing in public. "No Land's Song" won Best Documentary at the Montreal World Film Festival.
"Of Men and War" details the effects of PTSD and other psychic ailments that ravage veterans returned from Iraq and Afghanistan, and the work of therapists to treat them. Laurent Bécue-Renard's film won a special jury award at this year's San Francisco International Film Festival.
Official Site | Additional Theatre Screenings | Video Excerpts | Trailer

"(T)error" goes inside an FBI counterterrorism sting operation, aided by a former Blank Panther-turned-informant. The film received awards at Sundance and the Full Frame Documentary Film Festival.
Official Site | Additional Theatre Screenings | Trailer

In "This Is My Land," Israeli and Palestinian teachers try to impart the history of the region to their young students in a way that seeks to break the cycle of violence and ethnic hatred.

"Trials of Spring" profiles Egyptian woman who, post-Arab Spring, seek to steer the revolution toward a future of greater equality and justice.
Official Site | Video excerpts on nytimes.com

"The Wanted 18" (a prize-winner at the Abu Dhabi Film Festival) mixes stop-motion animation and interviews to document Israel's declaration of a collective farm owned by Palestinians as a threat to national security, forcing the farm's cows to go "undercover."
Official Site | Additional Theatre Screenings | Trailer

The first all-girls school in a remote village in Afghanistan is the focus of "What Tomorrow Brings" by director Beth Murphy.
Official Site | Additional Theatre Screenings

"The Yes Men Are Revolting" returns to the hoaxer-activists (previously profiled in two earlier documentaries), who expose corporate mendacity and greed, who here take on the problems of companies and corrupt governments whose brazen and/or illegal activities are contributing to climate change.
Official Site | Additional Theatre Screenings | Available on iTunes and Vimeo | Trailer
Thanks for reading CBS NEWS.
Create your free account or log in
for more features.