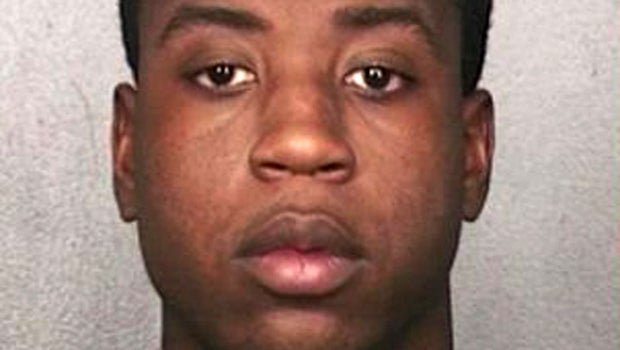 Police: 7 aided Fla. fugitive in elaborate courtroom escape
FORT LAUDERDALE, Fla. -- After nearly a week on the lam, a murder suspect who slipped from his shackles and bolted from a crowded South Florida courtroom in a meticulous escape plot involving seven accomplices was captured at a nondescript motel, authorities said Thursday.
The seven people who investigators say assisted 21-year-old Dayonte Resiles include a pregnant teenager who staged secretive three-way jailhouse phone calls to plan the caper and an older cousin who provided Resiles with a wig and colored contact lenses to use as a disguise. All seven were arrested on escape and other charges.
Resiles, who is accused of killing a woman whose family founded the Halliburton oil services company, was ordered held without bond during a court appearance Thursday. Broward County Judge Michael Davis also ordered Resiles jailed in isolation, including no contact with other inmates and no outside communication except with attorneys.
"He's proven himself very resourceful," Davis said. "I can't have this gentleman interacting with any other inmates."
After Resiles briefly objected that the communications restrictions were "unconstitutional and unfair" because his family couldn't monitor his mental condition, the judge ordered a mental health evaluation as well.
Resiles was captured without incident late Wednesday at a Days Inn in West Palm Beach, about an hour's drive north of the Fort Lauderdale courthouse from which he escaped last Friday.
Broward County Sheriff Scott Israel told reporters that Resiles didn't resist when a SWAT team ordered him to come out of the first-floor motel room just before midnight.
"He came out of the room. He surrendered without incident" and lay on the ground, Israel said. "He allowed us to handcuff him. No force was necessary."
The drama first unfolded last Friday morning on the fourth floor of the downtown Broward Courthouse, where Resiles was supposed to attend a hearing on whether he will face the death penalty for the 2014 slaying of Jill Halliburton Su. Su, 59, was bound at the hands and feet and stabbed multiple times in her Davie, Florida, home during what police say was a burglary attempt. She was a grand-niece of the Halliburton Co. founder.
Seated in a jury box with other inmates, Resiles suddenly leaped over a low courtroom wall, eluded the grasp of courtroom bailiffs and sprinted down a hallway toward a set of stairs, witnesses said. Leaving his shackles and jail jumpsuit behind, surveillance video showed he bounded through a door to the outside and disappeared.
Investigators immediately assumed he must have had help and began making a series of arrests. Here's a rundown of the role each alleged accomplice played:
- Paige Jackson, who is 18 and pregnant, used a three-way calling technique to allow Resiles to communicate with others from jail using calls placed through her cellphone, according to an arrest report. Jail records show Resiles made at least 15 calls to Jackson's number, many of them to others implicated in the plot.
"During the three-way telephone calls facilitated by Jackson, Resiles and his accomplices meticulously planned the escape," the arrest report says.
- Fellow jail inmate Walter M. Hart III, 22, was also waiting for Friday's hearing in a courthouse holding area. Surveillance video shows Hart, who is charged in a separate 2014 murder case, "work in concert with Resiles to begin to defeat the shackling system used to secure inmates," according to Hart's arrest report.
-Twin 17-year-old brothers in the courtroom had an open cellphone line to two other accomplices waiting in a car near the courthouse. When Resiles made his break for it, one of the brothers coughed into the cellphone to signal those outside he was on his way.
- Resiles' 18-year-old girlfriend, LaQuay Stern, and 22-year-old Winston Russell were in the car outside with a change of clothes. Investigators say they dropped Resiles at a nearby apartment complex and drove off. It's not clear how Resiles got to the West Palm Beach motel or how long he was there.
-The suspect's cousin, 31-year-old Francine Mesadieu, allegedly provided Resiles with a wig, clothes and colored contact lenses to use as a disguise.
No one was injured in the escape, which triggered new security measures at the Broward courthouse, including a requirement that armed deputies accompany maximum-security inmates into courtrooms rather than unarmed bailiffs. Israel has promised a thorough investigation of the escape.
The sheriff indicated that authorities received tips that could enable some people to claim a $50,000 reward leading to Resiles' capture. He did not provide further details.
Thanks for reading CBS NEWS.
Create your free account or log in
for more features.