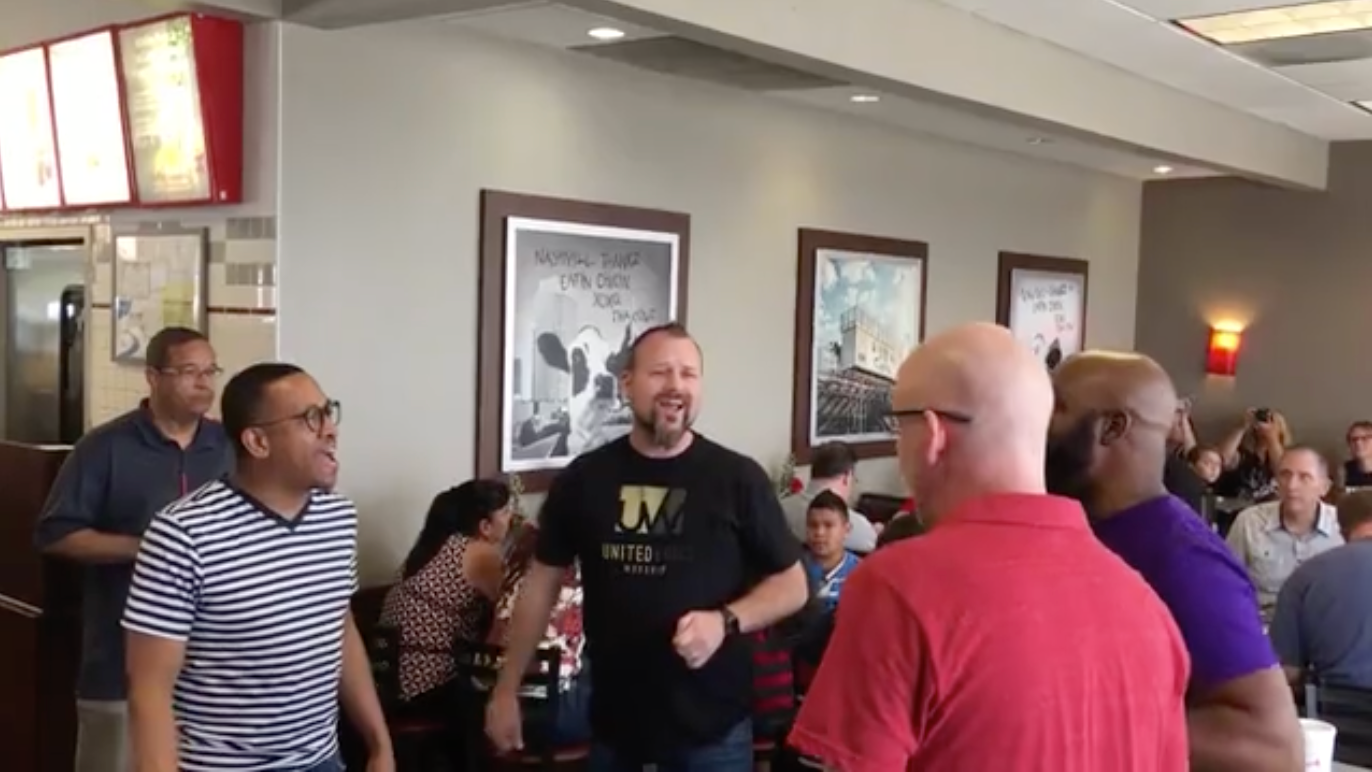 Flash mob of over 60 a cappella singers fills Chick-fil-A with gospel music
A Chick-fil-A in Nashville was filled with a flash mob of 60 male a cappella singers on Saturday who belted out a gospel song for fellow patrons at the fast food restaurant.
Chris Armstead, who was with the group of singers, says they were in the area for a conference on worship and song leading. Armstead filmed the performance and shared it on Facebook. The video went viral, with over 8 million views and counting.
Armstead tells CBS News this is not the first a capella flash mob that the Chick-fil-A has seen. In 2016, a group of singers attending the annual Worship Leader Institute conference got lunch together at the nearby Chick-fil-A. They decided to start a flash mob while there and began singing the gospel song "I Woke Up This Morning," their harmonious voices filling the restaurant.
Ever since then, the fast food flash mob tradition has continued at the annual conference. Every year, singers at the conference, hosted by Acappella Ministries, go to the same Chick-fil-A to surprise patrons with a performance.
This year's flash mob consisted of over 60 men from several different countries including the U.S., U.K., Canada, Australia, South Africa, Brazil and Guatemala, Armstead says. They chose to sing Hezekiah Walker's "Every Praise" song a cappella in SATB four-part harmony.
"The conference was hosted nearby at Maddison Church of Christ in Nashville. The Chick-fil-A is maybe a mile and half away... we all carpooled up there," Armstead said. "We started placing our orders and as the food started to come out we just kicked it off."
Armstead says Robbin Brannon, a worship minister at a church in the Dallas metro area, volunteered to start it off, then others joined in.
The flash mob vocalists broke up into groups based on their voice parts, and each group has at least one tenor, baritone and bass. Armstead said everyone strategically sat at tables with their groups.
Like a barbershop quartet, four men are seen singing together first, then all the others join in, filling the Chick-fil-A with the popular gospel song "Every Praise."
Armstead says it wasn't just the trained a cappella singers taking part — other customers who knew the song joined in, too. Even the workers behind the counter got into the spirit, swaying along with the music. The group's passion for singing brought them together in Nashville, and then brought even more people together at an unlikely location, the neighborhood Chick-fil-A.
Armstead says singers attend the Worship Leader Institute conference to "share new, progressive, and relevant a cappella worship music" with experts from around the world. "It's an exciting, encouraging, and very diverse experience," Armstead told CBS News.
Armstead, a worship minister at East Cobb Church of Christ in Marietta, Georgia, says everyone who attends the conference is also a worship minister who leads their congregation in song. "All these vocalists are very talented and lead for their individual congregations," he said.
"I'll definitely be teaching the song 'Every Praise' to the congregation very soon. Maybe we'll try to do some flash mobs at local Chick-fil-A locations here in Atlanta," Armstead said.
Thanks for reading CBS NEWS.
Create your free account or log in
for more features.