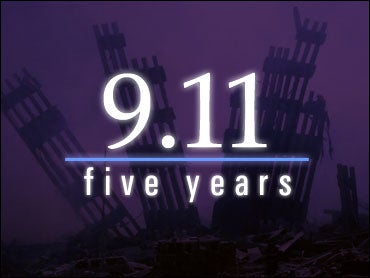 Five Years Later, 9/11's Survivors
For most Americans, the moment the airplanes crashed into the World Trade Center is burned into their memories, but for the actual survivors of 9/11 those memories are more than just haunting images.
Lynn Simpson worked on the 89th floor of Tower One in the World Trade Center. Just weeks after that picture was taken, she seemed the picture of composure in an interview with CBS News.
"On the way down we saw abandoned briefcases, money, shoes, clothes," she said then. "I actually saw some pennies on the way down. And I told one of the guys, Evan, to pick them up. I said, 'See a penny, pick it up; all day long you'll have good luck.' And I've always done that. I always pick up pennies. And so we picked them up, and we had good luck."
Today, she tells CBS News correspondent Lee Cowan that she is struggling.
"There are some days that you get up and you are in great shape and you feel like you can take on the world and it's a good day," she said. "Now on those days, I try and do things. There are other days I wake up and I just say, 'It's gonna be — there'll be another terrorist attack,' and I really cannot function very well."
Simpson was put on disability and moved away from the city she loved into the quiet and safety of the Pennsylvania countryside. She hasn't been on a plane since then, hates loud noises and was diagnosed with post traumatic stress.
"I guess I was confident that I could get my life back," she said. "And as time went on, I realized I was not going to be able to get by life back. I had been changed."
Simpson said she is still not sure about exactly how she has been changed since the attack and has been chasing the answer to that for the last five years.
"That's what I'm trying to do, trying to find myself again," she said. "And trying to find a new person, because I will never be the old person. And that's, that makes me sad, but I'll be a new person."
The journey has been different for everyone. When CBS News first met John Thurman he was a major in the U.S. Army and worked at the Pentagon.
Two of his colleagues, who were sitting just feet away from him, never made it out of the inferno. Just seconds away from giving up himself, he decided to hang on for his family.
"I started thinking about my niece, who was going to be born ... and I wasn't going to let these people take me away from seeing her, from my parents, from the people that I loved, my friends and my family," he said.
Thurman is now a lieutenant colonel and his niece is nearly five-years-old and was born on September 12th, the day after her uncle escaped death.
"Am I a stronger person? Absolutely," he said, "and yet inside there's still some things that I have to be dealing with."
The burns on his lungs have healed and he has returned to routine and work at the Pentagon; but with the exception of this interview — he rarely talks about 9/11.
"I still feel very strong that you've got to be moving forward, that I owe it to the people that died to live," he said. "That's still very important to me."
Which is why he doesn't go to any of the anniversary ceremonies and won't go tomorrow, either.
"I realize that embracing those events are hugely healing — and I'm respectful of that," he said. "But everyone deals with these things in their own way. I know what happened, I've dealt with it in my own way and I want to move on with my life, be better."
Vasana Mututanont, a native of Thailand, was burned over 40 percent of her body when the elevator doors of Tower One opened in front of her and released a ball of burning jet fuel.
"I pray," she said five years ago. "'Oh God.' I say, 'Oh God, if this is it, take me.' So I just closed my eyes, but then, He didn't take me, so He want me to live."
Today her pain is largely gone but the scars from the skin grafts remain.

"At first, I feel bad because you know it's like I hurt and then I have the scar and you know, people look at me, I feel embarrassed," Mututanont said. "I kind of want to hide it. But then, time passed I think I came through that. I have to be stronger than that."
She now lives in Thailand, but she would return to New York in a heartbeat. It may be where her old life ended, but it's also where her new life began.
"September 11 is like my birthday — my birthday — my second birthday now," Mututanont said. "I can claim that it is my birthday. Yeah, because life on that day, you know, I almost died on that day. But I decided to live my life. So I live."
Elizabeth Wainio went down with United Flight 93 in this Pennsylvania field. When CBS News first met her family, her stepmother Esther Heyman talked about the heart wrenching phone call with her daughter who was trying to say goodbye.
"Then after a point she said they were getting ready to break into the cockpit, and she needed to hang up, and she said I love you, good bye, and that was that," Heyman said.
Five years later, Elizabeth's father Ben, who missed the phone call that day, says he still talks to Elizabeth on the phone.
"I called Elizabeth, I still have her phone and we still pay her phone bill," he said. "And I called her this morning from the beach to tell her that I was on the beach. And I left her a message."
Together they have been working tirelessly for a memorial at the sight and had another daughter graduate from high school and a son go off and get married. Life has moved on, even if it doesn't always seem so.
"I feel she passed the scepter to me when she talked to be on the phone," Ben Wainio said. "And no matter how sorry for myself at moments I might feel, you know, there's this little Elizabeth angel kicking my tail and saying, 'Get on with it, and you know, do it well, and have some fun.'"
Thanks for reading CBS NEWS.
Create your free account or log in
for more features.