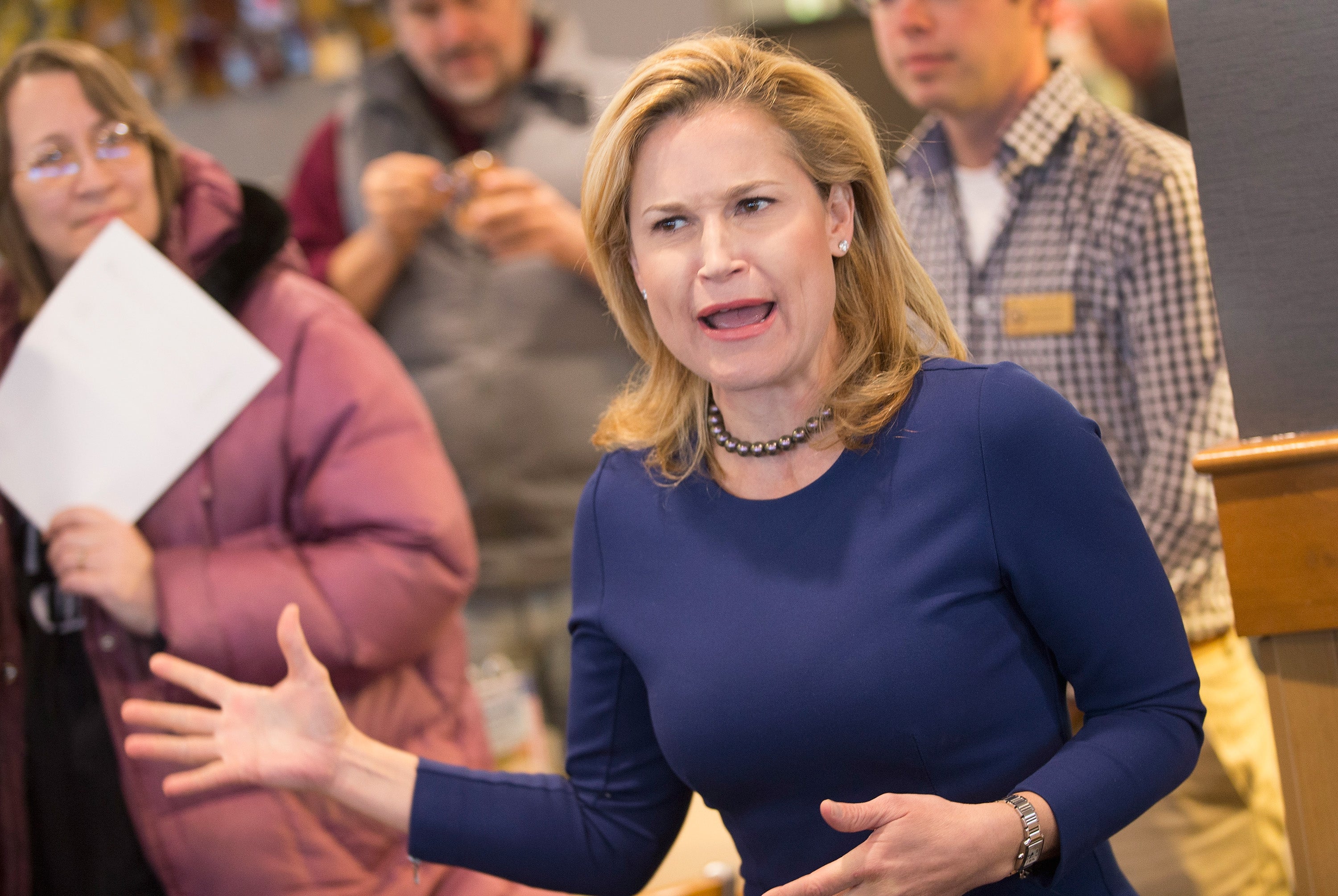 Five things to know about Heidi Cruz
Heidi Cruz, wife of Texas Sen. Ted Cruz, was caught in the crossfire this week between her husband and Republican presidential rival Donald Trump.
Cruz, a 43-year-old mother of two, has said that she's "not worried" about the threats Trump made to drag her further into the 2016 mud. But with her husband posing the greatest threat to the GOP front-runner, Cruz may not have much choice but to remain in the public eye.
Here are five things to know about her:
She's been a finance executive with Goldman Sachs
Before husband Ted Cruz announced his candidacy, she was a high-powered investment manager at Goldman Sachs's private wealth management office in Houston.
Shortly after Cruz graduated college, she worked in New York with J.P. Morgan's emerging markets division -- an area which, according to a Washington Post profile, piqued her interest because she had spent summers in Africa doing missionary work with her Seventh Day Adventist parents when she was younger. Cruz also learned to speak Spanish while at the banking firm, where she worked on Latin American markets.
She earned her MBA from Harvard Business School and also has a Master's of European Business from the Université Libre de Bruxelles' Solvay Brussels School in Belgium, according to her LinkedIn profile. Cruz holds a bachelor's degree in economics and international relations from Claremont McKenna College, where she was involved with the school's College Republicans group.
Her background in politics and government runs deep
After Harvard Business, she went to work for George W. Bush's 2000 presidential campaign, based out of the Austin, Texas office where she would eventually meet her future husband.
When Bush was sworn into office, she was hired in the U.S. trade representative's office and then moved to the Treasury Department in 2002. In 2003, Cruz was appointed as the director of the Western Hemisphere at the National Security Council.
Cruz has also exercised a little influence over her husband behind the scenes. According to a 2013 New York Times report, during Ted Cruz's 21-hour Senate speech objecting to Obamacare, his chief of staff called her for a bedtime story recommendation that could be read to their two daughters from the floor. She suggested "Green Eggs and Ham," by Dr. Seuss.
She's a major fundraising force in Ted Cruz's campaign
Cruz's links to Goldman Sachs and her corporate skills have made her a rainmaker for her husband's presidential campaign.
According to one Los Angeles Times profile, Cruz dials dozens of donors daily, and she has told at least one reporter that "the $10,800 contributions is my lane."
She also helped during his Texas Senate campaign, where, according to her husband's 2013 interview with the New York Times, she fully supported his desire to "liquidate our entire net worth, liquid net worth, and put it into the campaign."
"What astonished me, then and now," Cruz told the Times, "was Heidi within 60 seconds said, 'Absolutely,' with no hesitation."
She has struggled with depression
When Cruz first moved to Texas to be with her then-solicitor general husband, she struggled with a bout of depression.
"When I came out of Washington and the White House, I didn't feel that there was really a glass ceiling in the administration ... and Texas was very different," Cruz said in a 2011 panel discussion, according to a Buzzfeed News account. As the only woman in Goldman Sach's Houston office, the vegetarian Cruz said she felt unable to keep up with Texans' hunting lingo, social circles with few career-oriented females, and overall "very traditional culture."
In 2005, Cruz's depression came to a head when, according to a New York Times report, a police officer in Austin found her sitting on the side of a highway, head buried in her hands.
The report filed by the officer read that he "believed that she was a danger to herself" and took her to an undisclosed facility.
She's a fan of her husband's method of coping with stress
Cruz's devotion to her husband -- from her cross-country move to Texas to her financial support of his presidential campaign -- is clear.
But perhaps the truest sign of her love? She doesn't mind his singing. On the campaign trail, Heidi Cruz has recounted how her husband often relaxes during tense campaign moments by calling her and belting out showtunes.
"He'll call me and just sing me a Broadway tune," Cruz told supporters in New Hampshire in February.
She said sometimes it happens "right before one of these debates" or "in a stressful moment in a state." And she appreciates it: According to Cruz, husband Ted "never ceases to defuse a stressful moment with a moment of levity."
Though sometimes, she has admitted, it becomes inconvenient. "I'm thinking, 'I'm on a finance call right now,' " Cruz said of some moments. "Do you really need to be doing this?"
Thanks for reading CBS NEWS.
Create your free account or log in
for more features.