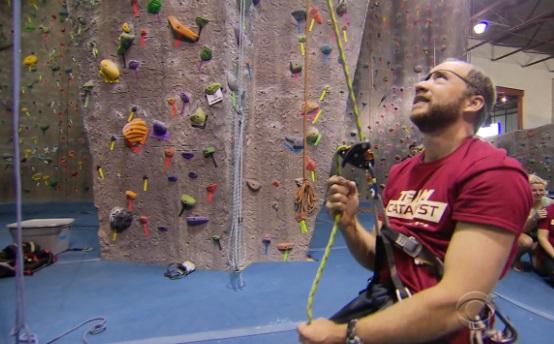 Fierce determination helping those with disabilities climb to new heights
ALEXANDRIA, Va. -- It's been said the only limits are the ones you set for yourself, and we recently discovered how true that is.
Eight-year-old Mather Stover-Ling was born with spina bifida and has no use of his legs, but what he does have is fierce determination.
For Stover-Ling, climbing makes it feel like he can fly.
"It felt really cool," he said.
His chance to fly was thanks to Eric Gray, who lost an eye to cancer, and founded CatalystSports to teach climbing to people with all kinds of disabilities.
"It just brings me joy to see that, to see people push themselves and just go as hard as they can," said Gray.
Ropes keep them from falling, but the upward progress is all their own.
Dr. Jonathan Lessin has had Parkinson's for 13 years. Climbing, he said, is the perfect therapy.
"Exercise is good for Parkinson's disease, it actually wakes our brains up," he said. "So it's like you walk in and you feel stiff and feel like you can't walk the joints are very stiff and you climb and you're making big movements, stretching your joints out, stretching your muscles and you feel like you can run out of here."
Gray calls climbing an equalizer.
"You'll see a lot of people who come in in a wheelchair and all of a sudden they leave the wheelchair behind, and you take pictures and you cant tell whether they have a spinal cord injury or whether they have cerebral palsy or spina bifida. It just looks like someone's climbing," he said.
Just ask Channelle Houston, whose spine was broken in a car accident.
When she first started climbing, she didn't think she would get to the top, but she did.
"I made it to top," she said. "It's a big challenge and I did it, so I'm proud of myself, with no legs."
No legs, but here, all you really need is heart.
Thanks for reading CBS NEWS.
Create your free account or log in
for more features.