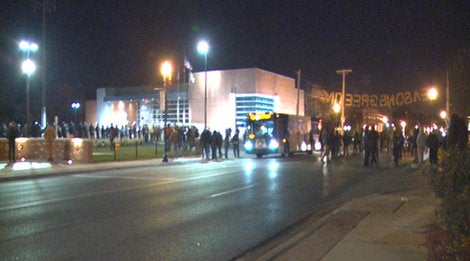 Raucous protest breaks out at Ferguson police headquarters
FERGUSON, Mo. -- With the grand jury decision in the Michael Brown case drawing near, several nights of relative calm were broken by a raucous protest at police headquarters in Ferguson.
St. Louis County police made five arrests Wednesday night - four for blocking traffic and one for being a fugitive wanted by St. Louis police.
Police spokesman Brian Schellman says 15 protesters gathered across the street from the Ferguson police department and began entering the roadway, obstructing traffic. A short time later, more protesters arrived and shut down South Florissant Road.
CBS affiliate KMOV-TV reports that of the five arrested individuals, three were from Missouri, one was from Illinois and another was from Wisconsin.
Protests have been common since Aug. 9, when white Ferguson officer Darren Wilson fatally shot Brown, who was 18, unarmed and black. A grand jury is expected to announce a decision this month on whether Wilson will face criminal charges.
The decision could set off major demonstrations, and Gov. Jay Nixon has pre-emptively activated the National Guard and declared a state of emergency for possible unrest.
Some suburban St. Louis gun dealers have been doing brisk business, particularly among first-time buyers, as fearful residents await the grand jury's decision.
Thanks for reading CBS NEWS.
Create your free account or log in
for more features.