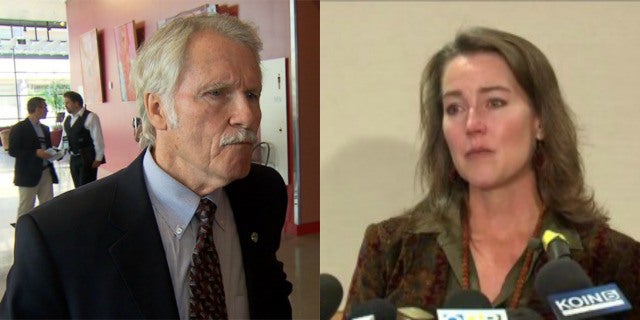 ​Feds subpoena Oregon governor, fiancée in ethics investigation
PORTLAND, Ore. -- The United States Department of Justice issued subpoenas Friday to outgoing Gov. John Kitzhaber, his fiancée Cylvia Hayes and 15 others in Kitzhaber's administration.
Earlier Friday, Kitzhaber announced he will resign next Wednesday amid allegations that Hayes used her relationship with the governor to solicit business for her green energy firm, 3E Strategies.
Sources who spoke under a promise of anonymity because they are not authorized to speak about the federal investigation told CBS affiliate KOIN-TV in Portland that investigators believe Hayes received payments from outside companies that she did not report to the state or on her taxes.
Oregon's attorney general and the state's ethics commission are also investigating.
In addition to contracts, federal investigators asked for email, phone logs, documents and visitors logs involving Hayes and nearly a dozen businesses and advocacy groups that she had contact with, KOIN reported. The subpoena ordered the Oregon Department of Administrative Services to supply income tax returns for Hayes and her company.
Prosecutors also asked for records of payments to Hayes and her firm, including use of State of Oregon credit cards, along with travel records and receipts for travel expenses.
Geri Baden, the spokesperson for the U.S. Attorney's Office in Oregon, said the office would not comment directly about "on-going criminal investigations."
"Public corruption investigations are extremely important because such allegations - if proven true - strike at the very core of our government's ability to serve the people of this state and this country," Baden said in a statement.
The subpoena orders the Department of Administrative Services to appear before a federal grand jury on March 10. A spokesman for the agency, Matt Shelby, said it will provide all requested material in its possession.
Attorneys for Kitzhaber and Hayes did not immediately return phone calls from the Associated Press.
Thanks for reading CBS NEWS.
Create your free account or log in
for more features.