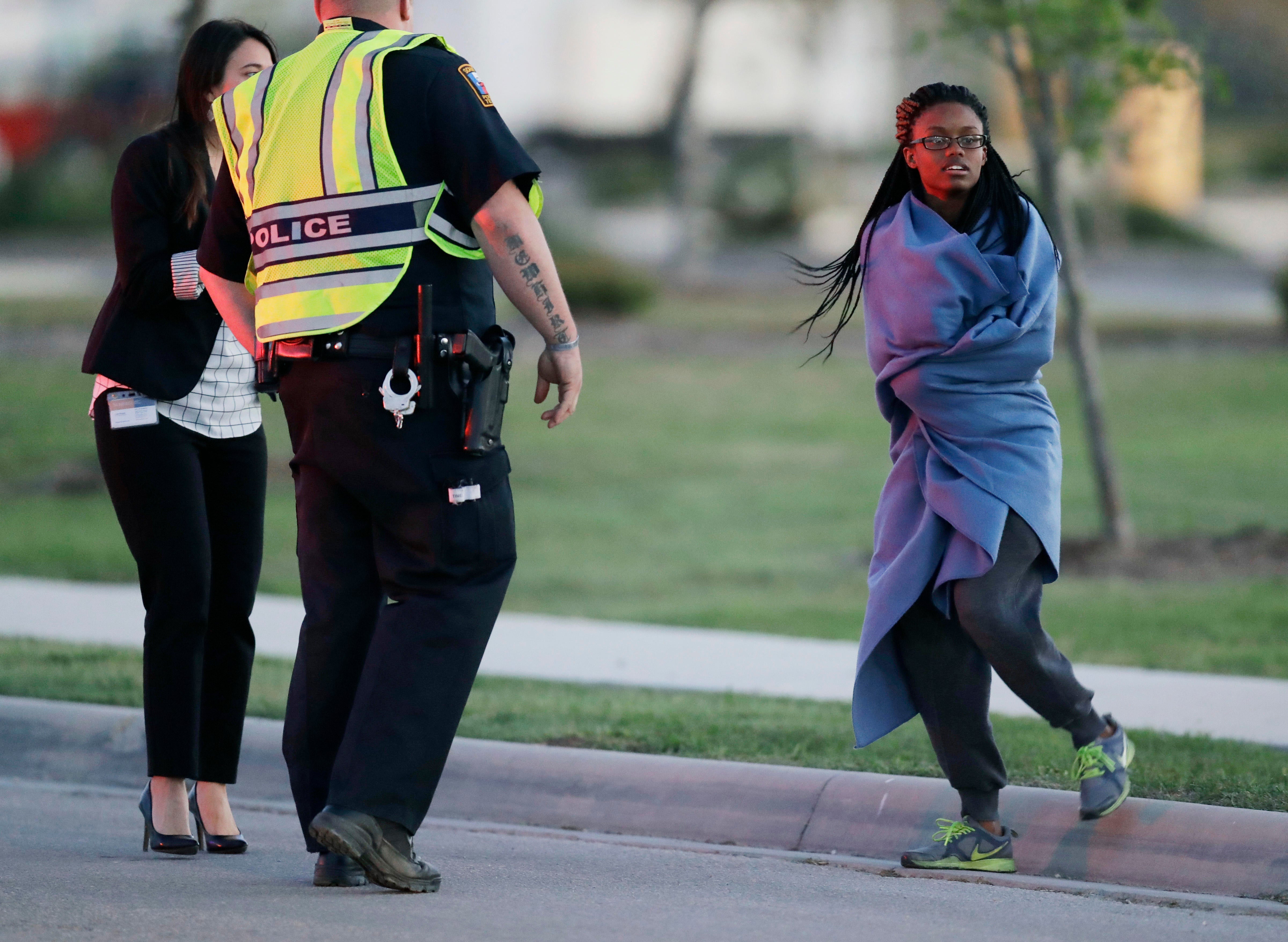 Package bound for Austin blows up at FedEx building near San Antonio
AUSTIN, Texas -- Investigators pursuing a suspected serial bomber in the Texas capital shifted their attention Tuesday to a FedEx shipping center near San Antonio where a package exploded on a conveyor belt in the middle of the night and caused minor injuries to a worker. Although the latest blast did not inflict serious harm, it added to the widening fear of more strikes like those that have already killed two people and badly wounded four others.
FBI officials said Tuesday night that the suspicious package at the shipping facility "contained an explosive device" and federal officials say the latest incident is connected to the four previous package explosions this month:
Hours after the blast, police sent a bomb squad to a FedEx facility outside Austin's main airport to check on a suspicious package that was reported shortly before sunrise.
CBS News correspondent Omar Villafranca points out the different type of bombs so far:
Investigators also closed off an Austin-area FedEx store where they believe the bomb was sent to the distribution center. Authorities roped off a large area around the shopping center in the enclave of Sunset Valley.
"We suspect it's related"
FBI agent Michelle Lee said the explosion happened around 1 a.m. at a FedEx facility in Schertz, which is just northeast of San Antonio and about 60 miles southwest of Austin.
"It would be silly for us not to admit that we suspect it's related" to the other four Austin bombings since March 2, Lee said. She did not have details about the size, weight or description of the package.
Agents from the FBI and Bureau of Alcohol, Tobacco, Firearms and Explosives (ATF) were at the scene of the FedEx facility Tuesday morning analyzing components of the explosive device. They were looking for any similarities of ingredients or components that are "a signature" that would link this package explosion to the other four bombing incidents in Austin, reports CBS News senior investigative producer Pat Milton.
Schertz Police Chief Michael Hansen said the package was moving along an automated conveyor belt when it exploded, and that an employee standing near the blast later complained of ringing in the ears. She was treated and then released, according to Hansen.
CBS affiliate KENS-TV received a call from one woman whose husband works at the FedEx facility. She told the station that he was not being allowed to leave.
Before it exploded, the package had been sent from Austin and was addressed to a home in Austin, Texas Attorney General Ken Paxton said.
Police initially reported finding an unexploded parcel at the same FedEx facility, but later said they were mistaken and that the only bomb found was the one that exploded.
FedEx hands over "extensive evidence"
FedEx said it has turned over "extensive evidence" to authorities after the package exploded in Schertz. In a statement Tuesday, the company said "the individual responsible" for sending the package that blew up also shipped a second package that has been secured and turned over to law enforcement.
FedEx said it gave authorities evidence "related to these packages and the individual that shipped them collected from our advanced technology security systems."
A company spokeswoman subsequently refused to say if that second package might have been linked to a suspicious package that authorities seized at another FedEx shipping facility on Tuesday, this one in south Austin, near the city's airport.
"Higher level of sophistication"
The FedEx blast came less than two days after another bombing wounded two men Sunday night in a quiet Austin neighborhood. It was triggered by a nearly invisible tripwire, suggesting a "higher level of sophistication" than agents saw in three package bombs left on doorsteps, according to Fred Milanowski, the agent in charge of the Houston division of the ATF.
Authorities have not identified the two men who were hurt Sunday, saying only that they are in their 20s and white. But William Grote told The Associated Press on Monday that his grandson was one of them and that he had what appeared to be nails embedded in his knees.
Grote said his grandson was in a lot of pain. On the night of the bombing, one of the victims was riding a bike in the street and the other was on a sidewalk when they crossed a tripwire that he said knocked "them both off their feet."
"It was so dark they couldn't tell, and they tripped," he said. "They didn't see it. It was a wire. And it blew up."
Grote said his son, who lives about 100 yards from the blast, heard the explosion and raced outside to find both of the young men bleeding profusely.
The presence of a tripwire was a departure from the first three bombings, which involved parcels left on doorsteps that detonated when moved or opened. The tripwire also heightened fears around Austin, a town famous for its cool, hipster attitude.
Police repeated prior warnings about not touching unexpected packages and issued new ones to be wary of any stray object left in public, especially ones with protruding wires.
"We're very concerned that with tripwires, a child could be walking down a sidewalk and hit something," Christopher Combs, FBI agent in charge of the bureau's San Antonio division, said in an interview.
Brian Manley, chief of the Austin Police Department, urged people to remain vigilant.
Motive remains unknown
While the first three bombings all occurred east of Interstate 35, a section of town that tends to be more heavily minority and less affluent, Sunday's attack was west of the highway. The differences in location, the lack of a motive and other unknowns make it harder to draw conclusions about any possible pattern.
Police originally pointed to possible hate crimes, but the victims have now been black, Hispanic and white and from different parts of the city.
"We are clearly dealing with what we believe to be a serial bomber," Austin Police Chief Brian Manley said, citing similarities among the bombs. He would not elaborate, saying he did not want to undermine the investigation.
Thad Holt said he is now watching his steps as he makes his way through a section of town near the latest attack. "I think everybody can now say, 'Oh, that's like my neighborhood,'" he said.
The latest bomb was anchored to a metal yard sign near the head of a hiking trail, Milanowski said.
"It was a thin wire or filament, kind of like fishing line," he said. "It would have been very difficult for someone to see."
Police asked anyone with surveillance cameras at home to come forward with the footage on the chance it captured suspicious vehicles or people.
During an Oval Office meeting Tuesday with Saudi Arabia's Crown Prince Mohammed bin Salman, President Trump described the situation as "terrible."
"This is obviously a very sick individual or individuals," and authorities are "working to get to the bottom of it."
Public's help needed
Anyone with information is urged to contact the TIPS Hotline at 512-472-TIPS (8477) or 1-800-893-8477. Individuals who provide information may remain anonymous.
There is a reward of up to $100,000 for information that leads to the arrest and conviction of person(s) responsible for these incidents. An additional $15,000 reward has been offered separately through Texas Crime Stoppers.
Thanks for reading CBS NEWS.
Create your free account or log in
for more features.