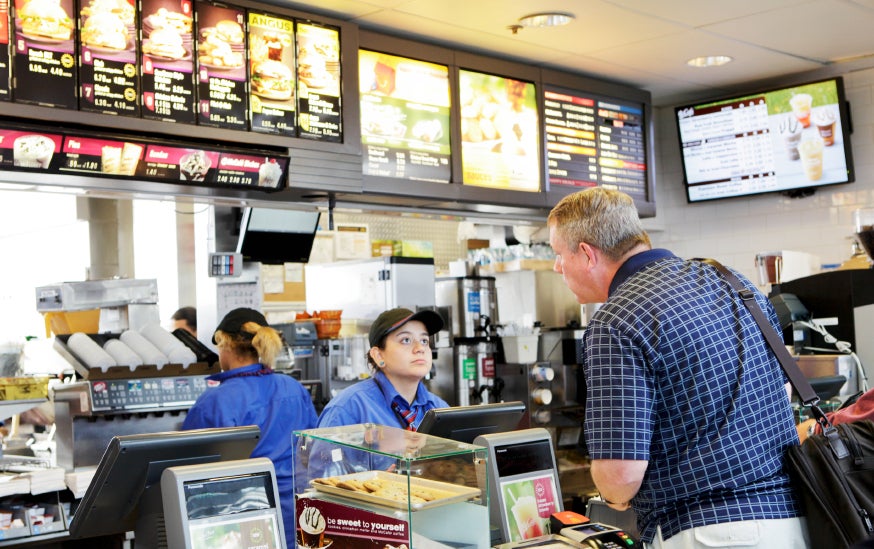 FDA chief says writing new menu labeling law has been "extremely thorny"
WASHINGTONDiners will have to wait a little longer to find calorie counts on most restaurant chain menus, in supermarkets and on vending machines.
Writing a new menu labeling law "has gotten extremely thorny," says the head of the Food and Drug Administration, as the agency tries to figure out who should be covered by it.
The 2010 health care law charged the FDA with requiring restaurants and other establishments that serve food to put calorie counts on menus and in vending machines. The agency issued a proposed rule in 2011, but the final rules have since been delayed as some of those non-restaurant establishments have lobbied hard to be exempt.
While the restaurant industry has signed on to the idea and helped to write the new regulations, supermarkets, convenience stores and other retailers that sell prepared food say they want to no part of it.
"There are very, very strong opinions and powerful voices both on the consumer and public health side and on the industry side, and we have worked very hard to sort of figure out what really makes sense and also what is implementable," FDA Commissioner Margaret Hamburg said in a recent interview with The Associated Press.
Hamburg said menu labeling has turned out to be one of the FDA's most challenging issues, and while requiring calorie counts in some establishments might make sense on paper, "in practice it really would be very hard." She did not say what specific types of establishments she was referring to.
The challenges of putting such a law in place - and deciding whom it should apply to- were made clear Monday when a judge struck down New York City's ban on large sugary drinks. State Supreme Court Justice Milton Tingling said in his ruling that the 16-ounce limit on sodas and other high-calorie drinks arbitrarily applied to only some sweet beverages and some places that sell them. The new limits, championed by Mayor Michael Bloomberg, were supposed to take effect Tuesday. http://www.cbsnews.com/8301-204_162-57573654/bloomberg-confident-soda-ban-will-be-upheld/
Hamburg said the FDA is in the final stages of writing the menu labeling regulations and the final rules should come out in the "relative near term." The FDA has tentatively said the rules are due this spring, but that deadline may be optimistic as the food industry and regulators continue to haggle over how they will be written.
The 2011 proposed rules would require chain restaurants with 20 or more locations, along with bakeries, grocery stores, convenience stores and coffee chains, to clearly post the calorie count for each item on their menus. Additional nutritional information would have to be available upon request. The rules would also apply to vending machines if calorie information isn't already visible on the package.
The proposed rules exempted movie theaters, airplanes, bowling alleys and other businesses whose primary business is not to sell food. Alcohol would also be exempted.
Supermarkets and convenience stores are looking for similar exemptions in the final rules. Representatives for the supermarket industry say it could cost them up to a billion dollars to put the rules in place - costs that would be passed on to consumers.
"It's a huge problem for us," says Erik Lieberman of the Food Marketing Institute, which represents retail grocery chains. He says fighting the menu labeling rules is one of his group's top priorities.
Lieberman says the rules could cover thousands of items in each store, going beyond just the prepared foods case and extending to cut fruit, bakery items like pies and loaves of bread and other store items that aren't already packaged and labeled. Lieberman says that means each store has to send all of those items out to labs to be tested, do paperwork to justify the ingredient and nutritional information for each item to the FDA and then create signage and train employees to use it.
Convenience stores say they will have similar problems.
"In a small store like a convenience store that is really putting a lot of signage all over the place," says Jeff Lenard of the National Association of Convenience Stores, referring to the calorie labels. "You just hit a point where words become noise and that's not good."
Nutrition lobbyist Margo Wootan of the Center for Science in the Public Interest says consumer advocates heard the same kind of complaining from the packaged foods industry before they were required to put nutrition information on the backs of food items. Supermarkets and convenience stores should be included because they are breaking more and more into the prepared foods business, she says.
"The supermarket industry is positioning itself as a place to buy prepared items so you don't have to go out to eat or cook," she says, arguing that a rotisserie chicken that is labeled with a calorie count at a takeout restaurant should also be labeled at a grocery store.
The idea of menu labeling is to make sure that customers process the calorie information as they are figuring out what to eat. Many restaurants currently post nutritional information in a hallway, on a hamburger wrapper or on their website. The new law will make calories immediately available for most items.
Menus and menu boards will also tell diners that a 2,000-calorie diet is used as the basis for general nutrition advice, noting that individual calorie needs may vary.
The labeling requirements were added to the health bill with the support of the restaurant industry, which has faced a patchwork of laws from cities and states. New York City was the first in the country to put a calorie posting law in place. Since then, other cities and states have followed.
Scott DeFife of the National Restaurant Association says the supermarkets are exaggerating how much it would cost them to implement the rules. The restaurant industry has lobbied for the prepared foods in supermarkets and convenience stores to be included, saying they are selling essentially the same things.
DeFife says some convenience stores have even joined the National Restaurant Association as many gas stations now include full restaurants in their stores.
"It's about the food, not the format," he says.
Not all restaurants have been fully supportive, though. A coalition of pizza chains - including Domino's, Papa John's and Pizza Hut franchise holders - have pushed for changes to the proposed rules that would allow more flexibility in how calories are posted because of endless combinations of pizza toppings. The coalition claims there are 34 million ways to order a pizza.
"When you're a small pizza operator trying to get by on tight margins, regulations like this really affect your bottom line, hurting your ability to grow and hire," Domino's Pizza franchisee Jonathan Sharp of Abilene, Texas, said last summer.
Thanks for reading CBS NEWS.
Create your free account or log in
for more features.