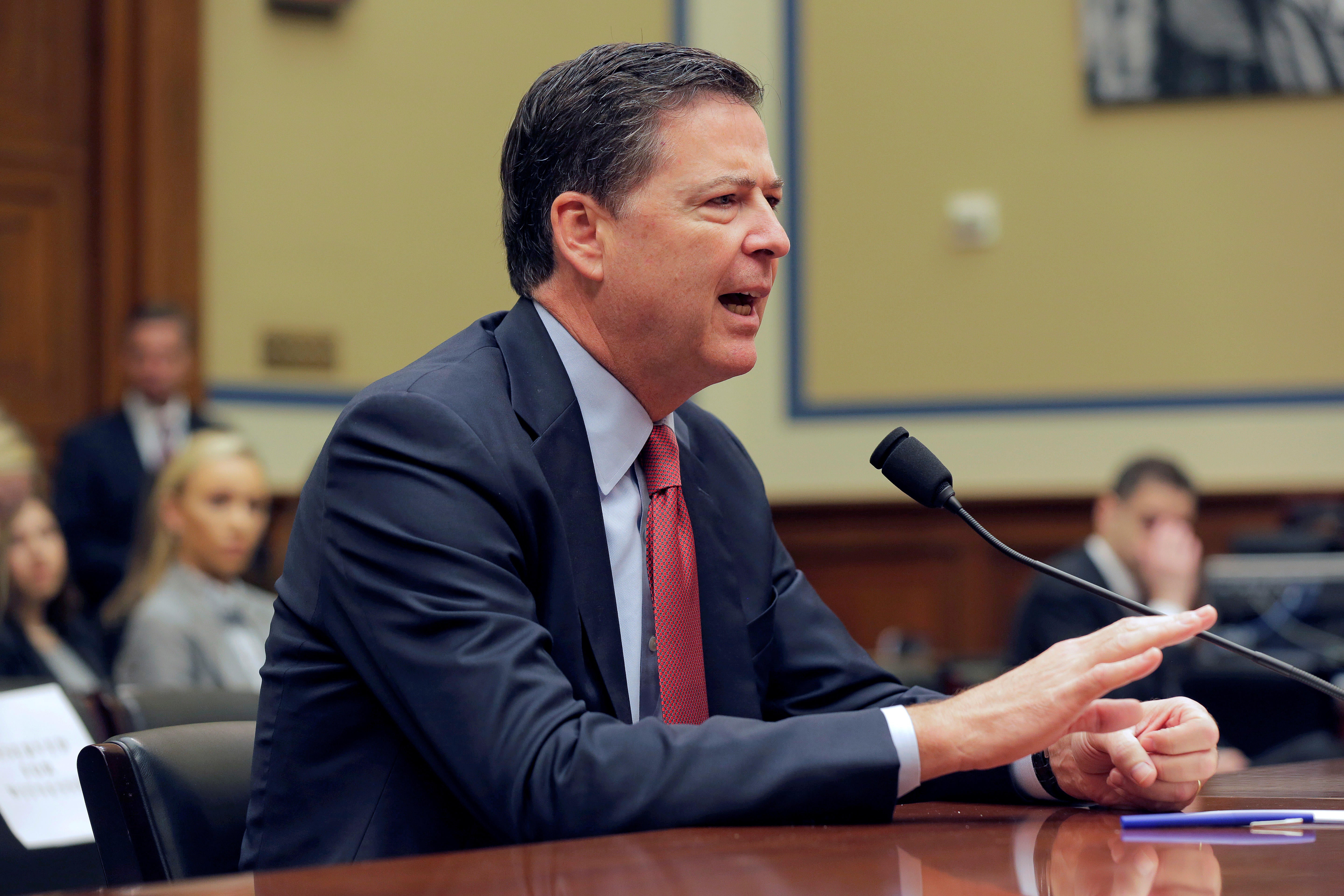 James Comey defends integrity of Clinton FBI probe
WASHINGTON -- House Republicans spent most of Wednesday's four-hour congressional oversight hearing grilling FBI Director James Comey on the handling of the investigation into Hillary Clinton's use of a private email server as secretary of state, questioning everything from his decision granting Clinton's top aides immunity to an anecdote suggesting the computer scientist who posted on an online forum asking how to hide the email address of a "very VIP" person.
But Comey, who recommended against prosecution in July, spoke with vigor and passion--defending the integrity of the investigation and the work of his agents as critics accused the FBI probe of being biased.
"You can call us wrong, but don't call us weasels. We are not weasels," Comey declared to the Homeland Security and Governmental Affairs Committee. "We are honest people and....whether or not you agree with the result, this was done the way you want it to be done."
Under particular scrutiny was the Justice Department's decision that granted a few of Clinton's top aides, including her former chief of staff, immunity in exchange for their cooperation, and in some cases, their laptops. Rep. John Ratcliffe (R-TX) took it a bit further, raising concern with the number of witnesses who had been permitted to stay in the room during Clinton's testimony with the FBI in July.
"We had already concluded that we didn't have a prosecutable case against Heather Samuelson or Cheryl Mills at that point," Comey defended. "If they were targets of our investigation, maybe we would have canceled the interview but frankly our focus was on the subject. The subject at that point was Hillary Clinton."
Meanwhile, Rep. Jason Chaffetz (R-UT) honed in on Clinton's computer scientist, Paul Combetta, who posted to Reddit--a public forum website--asking how to delete the email address of a "very VIP" client in July 2014, and who also used BleachBit, a software tool used to clear computer storage space.
"How is this not a conscious effort to alter federal records? Chaffetz demanded of Comey. "These federal records were under subpoena. They were under a preservation order. Did Mr. Combetta destroy documents?"
Comey responded, "I have no reason to believe that he destroyed federal records." He continued, I never affirmatively believe anybody-- except my wife. But the question is, do I have evidence to disbelieve him? And, I don't."
It was the second time in two days that Comey has faced questions from members of Congress. He is the sole witness as the House Judiciary Committee reviews the FBI's performance in what is likely to be the agency's final oversight hearing this year. The discussion regarding the FBI probe into Clinton's mishandling of an email server, however, is likely to resurface last this week. The House could vote as soon as Thursday on a resolution to hold computer specialist Bryan Pagliano in contempt of Congress.
Though the majority of the hearing focused on Clinton's use of an unsanctioned email account while a government employee, Comey also told lawmakers that the FBI will have up and running within two years a database that tracks instances of police use of deadly force.
The database is intended to capture how often police officers kill citizens in the line of duty and to correct a record-keeping gap that Comey said has resulted in uninformed conversations, based on anecdotes and not facts, about use of force. Demands for more complete records have grown in the past two years amid a series of high-profile deaths at the hands of police officers.
"Everybody gets why it matters," Comey said of the planned database at an oversight hearing of the House Judiciary Committee.
Republican senators also pressed Comey on whether anything could have been done differently to prevent recent acts of extremist violence, such as the Orlando nightclub massacre or the Manhattan bombing. Comey told senators that the FBI is transparent about mistakes, but under questioning from Republicans, he did not agree that anything should have been done differently.
Thanks for reading CBS NEWS.
Create your free account or log in
for more features.