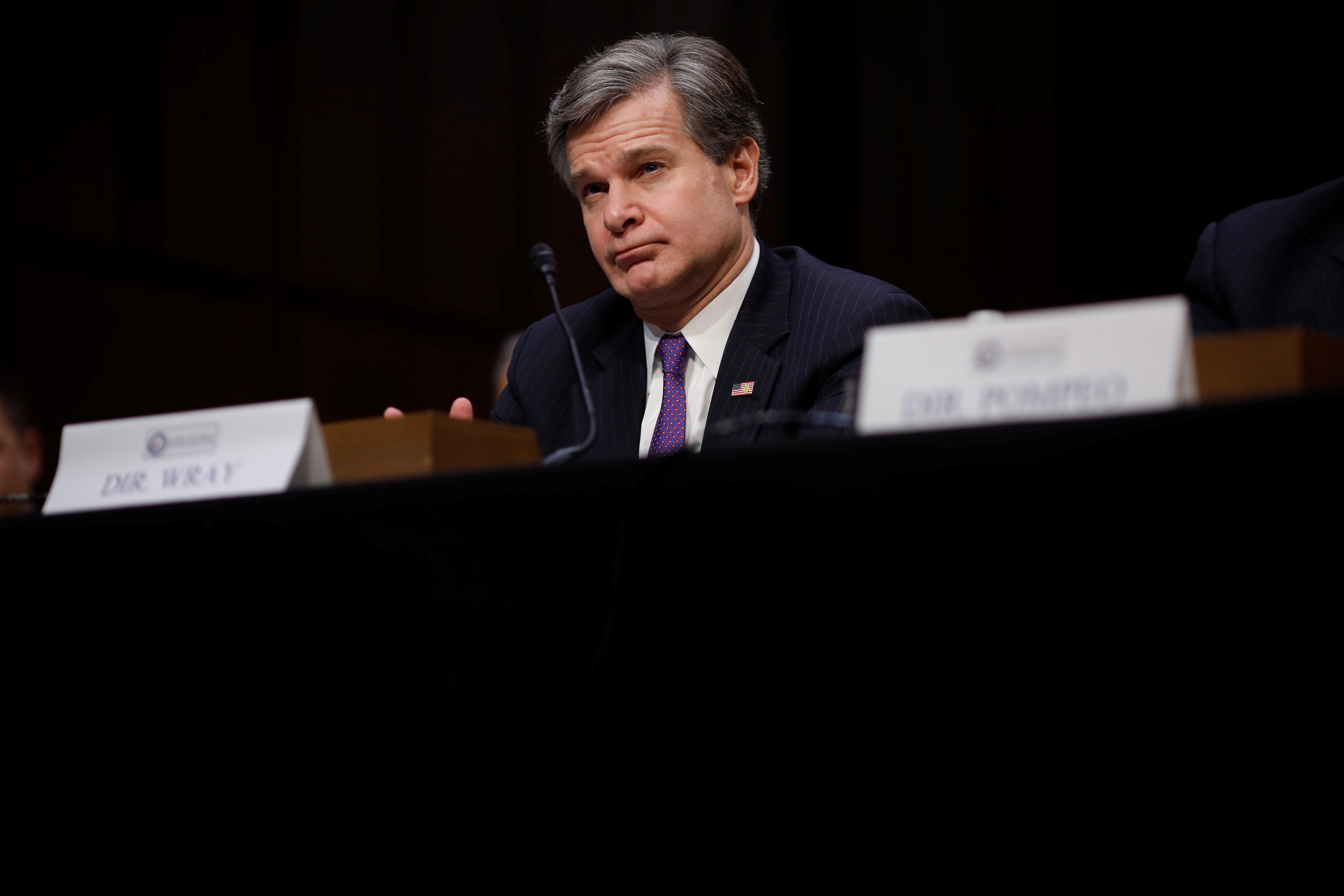 FBI director's timeline on Porter security clearance contradicts White House
FBI Director Christopher Wray testified at Senate Intelligence Committee hearing on Tuesday that the FBI followed protocol and procedures with its background investigation for the security clearance of former White House staff secretary Rob Porter. His timeline of events, however, does not match the timing that has been put forth by members of the Trump administration.
"There's a limit to what I can say about the content of any particular background investigation," explained Wray. He added, "I would say the background investigation process involves a fairly elaborate set of standards, guidelines, protocols, agreements, etcetera that have been in place for 20-plus years, and I'm quite confident in this particular instance the FBI followed established protocol."
While he declined to give exact details, Wray then provided lawmakers the following timeline into Porter's security investigation:
March 2017: FBI submits a partial report on Porter's background investigation

Late July 2017: A completed background investigation is submitted. Soon thereafter, FBI received requests for follow-up inquiry

November 2017: Follow-up conducted and information from request is provided

January 2018: FBI administratively closes Porter's investigation file

February 2018: FBI receives additional information it passed along

The timeline has prompted questions about the administration's claims about its reaction to delays in Porter's security check. White House chief of staff John Kelly said he was "shocked by the new allegations" against Porter, and he became "fully aware" of the allegations until recently. President Trump himself also said he was "saddened and surprised" by the claims.
And as recent as Monday, Press Secretary Sarah Huckabee Sanders told reporters that the White House did not learn "of the extent of the situation involving Rob Porter" until last Tuesday, when the allegations became public.
Sanders added that Porter's process for his background investigation was "ongoing" and "hadn't been completed" and that the White House "had not received any specific papers regarding the completion of that background check," even though Wray said the FBI completed its investigation in late July, and the file had been "administratively closed" in January. On Tuesday, Sanders said that while the FBI investigation was closed, the information was still being processed by the White House personnel security office. And that process, she said, was ongoing at the time that Porter resigned.
The White House said it was originally informed of the Porter allegations by the FBI in November, though Wray said the investigation was completed in July. Porter was still working under an interim security clearance while the FBI conducted its background investigation and reported its findings to the White House.
A statement issued by the FBI on Monday addressed the FBI's role in conducting background checks for the administration:
"The FBI does not grant, deny, or otherwise adjudicate security clearances for individuals on behalf of these clients; nor does it make any security clearance recommendations. After the FBI has completed a background investigation, it provides the information to the client agency adjudicator authority, who determines whether to grant or deny the security clearance."
The Daily Mail first reported the abuse allegations against Porter, and The Intercept first published photos of Porter's ex-wife Colbie Holderness with what appears to be a swollen and bruised eye. Porter has denied all allegations that he abused his ex-wives.
The White House's handling of Porter's resignation has raised questions about whether high-ranking officials within the Trump administration had security clearances that were appropriate to access to top-secret information. Former Secretary of Defense and CIA Director Leon Panetta told "CBS This Morning" on Tuesday that the lack of full clearances in place for West Wing staffers "creates a risk because individuals are going to see highly classified information coming across their desk."
CBS News' Emily Tillett, Pat Milton and Arden Farhi contributed to this report.
Thanks for reading CBS NEWS.
Create your free account or log in
for more features.