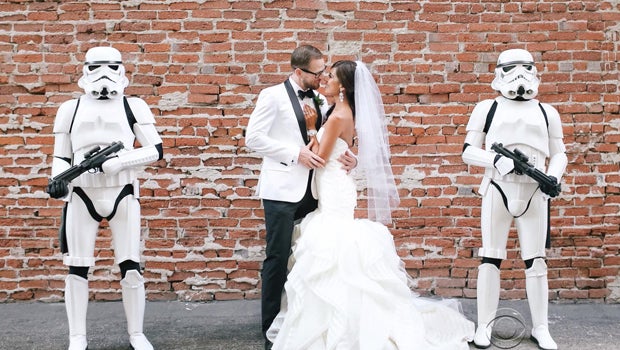 Fans live "Star Wars" far, far beyond the movie theater
LOS ANGELES -- "Star Wars: The Force Awakens" opens at midnight in theaters nationwide.
For some rabid fans, "Star Wars" is not just a couple of hours in a fantasy world -- it's part of their everyday reality.
Jenifer Landa is a California-based wife and mother who loves to play with her daughter. But start talking about "Star Wars," and it's like the force awakens.
"I think when I was younger, it was definitely more of a secret," Landau told CBS News. "But now, it's okay to be a geek, it's actually a good thing, so I wear my fandom proudly."
There's her artwork, her costume collection -- She even had a "Star Wars" wedding.
"That was the one thing where I always dreamed of walking in just like the movie, Darth Vader with storm troopers at my side," Landau said with a laugh. "That was -- it was awesome."
Near San Francisco, 70-year-old Steve Sansweet runs Rancho Obi-Wan: a non-profit museum that, according to the Guinness Book of World Records, holds the world's largest "Star Wars" collection, with 500,000 items that date back to the first movie in 1977.
"The politics were so dark in America, the Vietnam War, the impeachment of Richard Nixon, the movies were dark," Sansweet said. "And here came something really fresh."
Every year until 2020, a new "Star Wars" movie is set to be released -- keeping fans like Sansweet and Landa collecting, creating and longing for more.
"I think it is safe to say that Star Wars is forever," Sansweet said.
Thanks for reading CBS NEWS.
Create your free account or log in
for more features.