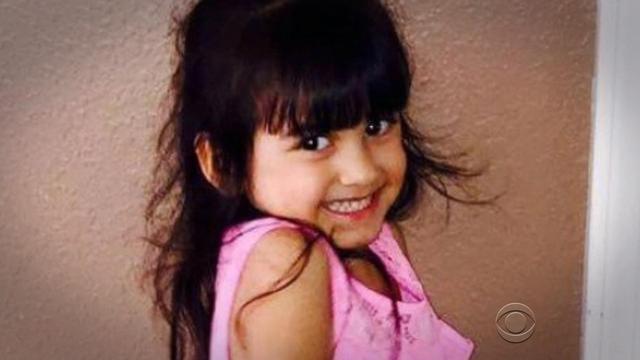 Hundreds say goodbye to 4-year-old killed in road rage shooting
ALBUQUERQUE, N.M. -- Several mourners filed into a small Catholic church Tuesday wearing T-shirts that said "Justice for Lilly," helping hundreds of people remember a 4-year-old girl killed in a road rage shooting on a New Mexico highway as a happy child with a big smile.
About 300 friends and relatives, some in tears, said goodbye to Iliana "Lilly" Rose Garcia at a funeral Mass exactly a week after a gunman shot her in the head shortly after she finished her second day of preschool. But she herself rarely said those words.
Instead, the girl with bright eyes often told others "see you later," her family said in an obituary that recalled the girl's love for blue Icees and reading time.
A small white and light blue coffin stood at the front of the Albuquerque church, a pink My Little Pony stuffed animal resting on top amid a spray of flowers before it was wheeled out of the sanctuary.
"She touched the lives of so many people," Deacon Michael Illerbrun said. "We express our true regrets for this loss."
Lilly's father, Alan Garcia, had just picked up her and her 7-year-old brother from school on Oct. 20 and pulled onto Interstate 40 when he got into an argument with another driver, who opened fire on the family's pickup truck. The fight started with a dispute over a lane change, police said.
Authorities arrested Tony Torrez, 31, a day later and said he confessed to the killing. He has been charged with murder, assault, child abuse and other crimes and is being held on a $650,000 cash-only bond.
The father told authorities that he was trying to exit the freeway when a red car forced him out of his lane, a police statement said.
Garcia said he threw up his hands and gestured towards the red car's driver, yelling an expletive at him, according to a criminal complaint obtained by CBS affiliate KRQE. He said the red car's driver said something in response, but he didn't know what.
Garcia said he accelerated to try and put distance between the two cars, and that's when he heard two shots strike his vehicle.
His son told him his sister was bleeding, according to the complaint.
Garcia said the red car continued to pursue him, and the driver fired twice more at his car.
The complaint says 911 dispatchers received a call about two hours later from a caller who refused who identify himself, saying, "I'm actually calling about the 4-year-old I shot on I-40."
The caller "continually" asked for a description of the vehicle the police were looking for, saying, "I just want to find the person." The caller asked the dispatcher if he could give her information "off the record," and then hung up, according to the complaint.
After the shooting, the girl's father pulled over and tried to give his daughter first aid as a bystander called 911.
In a roughly minute-long call released by police, a man alerts a dispatcher to a truck stopped on an I-40 median with "an adult holding an unresponsive child."
Two nurses showed up and tried to save the girl's life before an ambulance rushed her to the hospital, where she died, Albuquerque Police Chief Gorden Eden said.
At the funeral Tuesday, mourners received a leaflet with a photograph of Lilly on the front and one of her favorite sayings: "Peace and Love, Peace and Love." Her family said in her obituary last week that she liked to sing the phrase. She also liked taking selfies and talking over FaceTime with her grandparents in Nevada.
"Lilly enjoyed singing, dancing, talking with everyone and made friends everywhere she went," the obituary said.
Vehicles lined up in a funeral procession after the funeral Mass, windows scrawled with "Love for Lilly" as they drove across the city.
At a candlelight vigil last weekend, hundreds of people gathered in downtown Albuquerque, hearing from Lilly's parents, Police Chief Gorden Eden and others.
"I would ask that your anger not to turn into hate, but your anger to turn into action," Eden said Saturday. "There's absolutely no reason for a 4-year-old to lose her life in such a manner."
Torrez's public defender, Todd Farkas, said he would issue a statement after Lilly's funeral out of respect for the family.
Thanks for reading CBS NEWS.
Create your free account or log in
for more features.