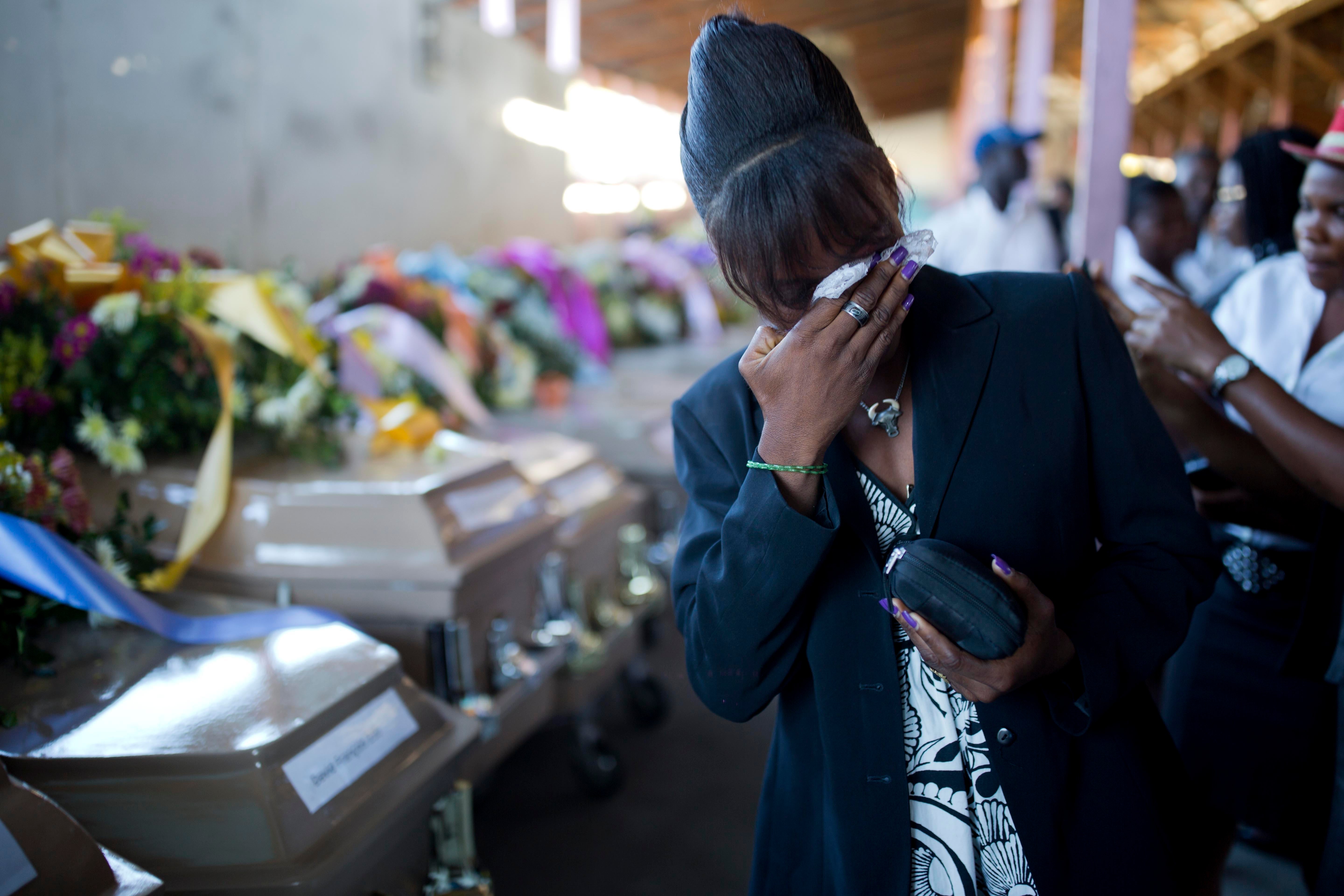 Mass funeral held for inmates who died in "cruel, inhuman" Haitian prison
PORT-AU-PRINCE, Haiti -- Relatives wailed in grief or stared stoically as flowers were placed on 20 caskets at a mass funeral for the latest group of inmates who died miserably in Haiti's largest prison, most without ever having been convicted of any crime.
Marie Lumane Laurore broke into piercing screams as she collapsed in a church pew before the coffin of her son, Eddy. The 30-year-old inmate fell ill with tuberculosis and severe anemia while he was jailed in Haiti's filthy and overcrowded National Penitentiary on a rape charge.
"Jesus, give me back my son! He was my only boy," she sobbed, banging her fists against a wooden pew in a Catholic church in downtown Port-au-Prince.
Emotions that had been dammed up, in some cases for years, over their loved ones' lengthy detentions broke in a crescendo of grief as a priest called out the names of the dead.
It was the third funeral service for National Penitentiary inmates organized by Port-au-Prince chief prosecutor Danton Leger since April. It came a day after The Associated Press published an exclusive report on record overcrowding and appalling conditions inside Haiti's biggest lockup.
Recurrent shortages of food and medicine as well as infectious diseases that flourish in packed Haitian prisons and jails have led to an upsurge in malnutrition-related illnesses and other preventable diseases.
U.N. Special Representative Sandra Honore said in a statement that 42 detainee deaths so far this year are linked to "the worsening of cruel, inhuman and degrading" conditions. She called on Haitian authorities to urgently improve the situation, saying it was "the responsibility of the state to ensure respect for the rights of detainees and access to basic services."
Similar calls have gone unheeded for years and dismal prison conditions worsened over the last year as a caretaker government was in power.
Ludjy Belizaire said she visited her incarcerated 25-year-old brother Etzer as often as she could over the last year, especially when he started complaining that he was weak with hunger and getting sick. He began shedding weight rapidly.
"He got skinnier and skinnier. After a while, he didn't even look like himself anymore," she said, adding that her brother was jailed for six years on illegal gun charges without ever going before a judge.
The 22-year-old woman said that even if her older brother had broken the law he didn't deserve to be jailed for years without a conviction in unsanitary, desperate conditions.
Inmates at the National Penitentiary and other lockups are crammed shoulder-to-shoulder in cellblocks so overcrowded they have to sleep in makeshift hammocks suspended from the ceiling or squeeze into shared bunks. New arrivals jostle for space on filthy floors where inmates on lockdown 22 hours a day are forced to defecate into plastic bags in the absence of latrines.
Prison authorities say they try their best to meet inmates' needs, but receive insufficient funds from the state to buy food and cooking fuel, leading to deadly cases of malnutrition-related ailments such as thiamine deficiency and anemia.
Haiti's penal system is by far the globe's most congested, with a staggering 454 percent occupancy level, according to the most recent ranking by the University of London's Institute for Criminal Policy Research.
The majority of Haiti's 11,000 inmates have not been sentenced and are awaiting trial.
Laurore's grief exploded into anger at Haitian politicians after two lower-house lawmakers who attended the mass funeral promised parliamentary investigations into precisely how the men died.
"This is a country without justice!" she yelled, as a few relatives threw their arms around her.
Thanks for reading CBS NEWS.
Create your free account or log in
for more features.