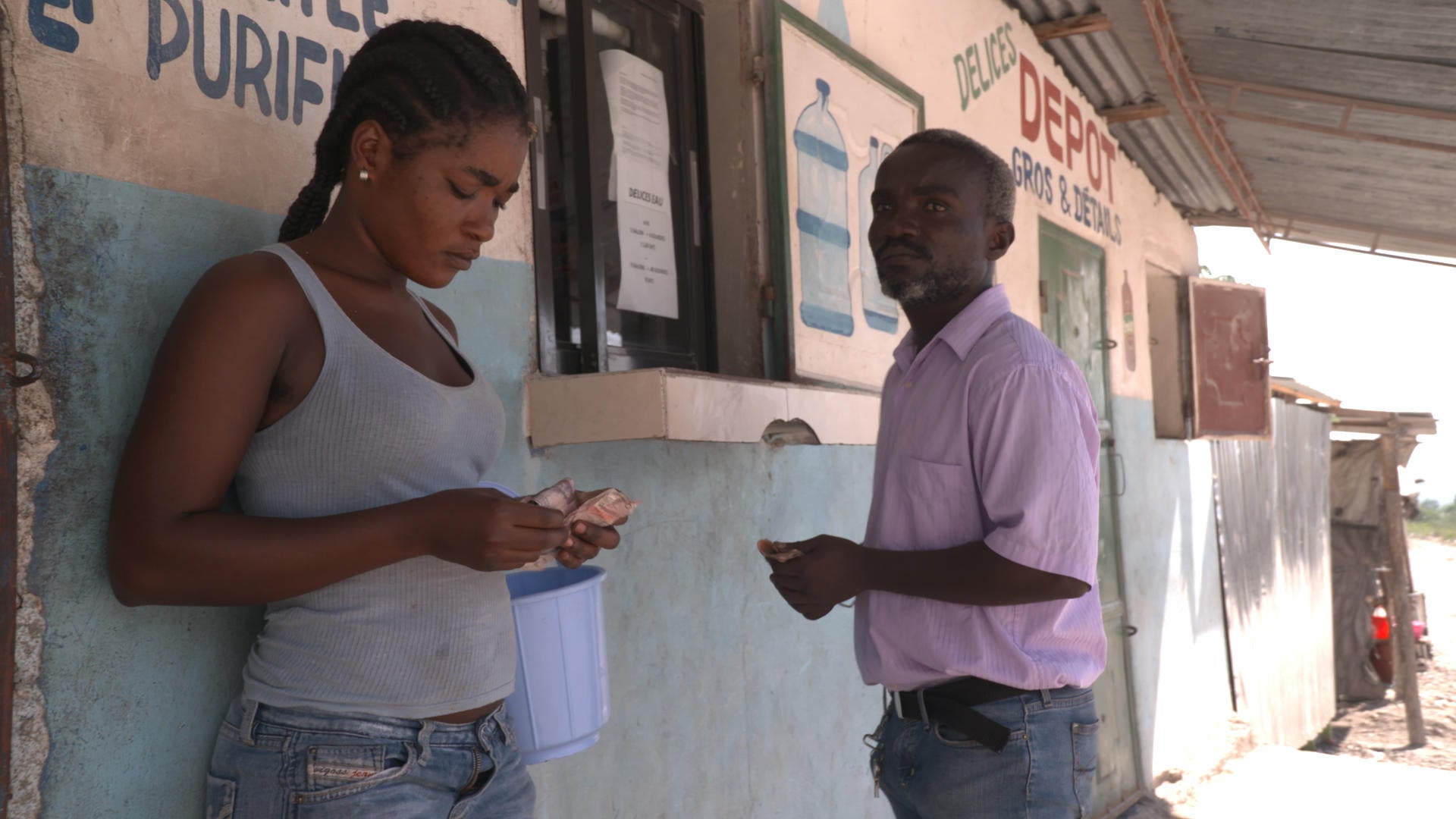 Rebuilding Haiti: Hopes for a homegrown recovery
"I was in my towel about to take a bath when the earthquake hit," Mireille Valle, a survivor of the devastating 2010 earthquake in Haiti, remembered. "We ran outside and then our house collapsed."
Valle's story is all too common in Haiti, which is extremely vulnerable to natural disasters.
The 7.0 magnitude earthquake that struck on Jan. 12, 2010, killed more than 220,000 people and displaced more than 1.5 million. The limited recovery after that earthquake was turned upside down in October 2016, when Hurricane Matthew killed more than 900 and displaced thousands.
"You have to be prepared for anything. Because no one will come and help if another disaster hits," Valle said.
Haiti's 2010 earthquake was followed by an explosion in international donations. That year, $1.4 billion in aid for Haiti was raised by international non-governmental organizations, or NGOs. Today, a clearer picture is emerging of how those dollars were actually spent.
Justin Elliott, a reporter with ProPublica, has looked closely into how the American Red Cross, specifically, handled half a billion dollars of donations on the ground in Haiti.
"What we found is that the program really fell short," Elliot said.
In 2015, Elliott and NPR's Laura Sullivan investigated the true story behind the Red Cross's claims that it provided homes to more than 130,000 people in Haiti. In reality, they found the organization had built a total of six homes.
CBS News met with Chantelle Sylvie of the Red Cross in Campeche, Haiti, to hear the organization's take.
Sylvie agreed that hundreds of millions of dollars in donations to build six homes "doesn't make a lot of sense," but said those houses were just "part of a grant that we gave one smaller organization." She pointed to other projects the Red Cross has completed: 120 rebuilding projects in Port au Prince and elsewhere, rental subsidies and training to build safe houses for 22,000 families. The Red Cross has been working in Haiti for over a decade.
Earlier this year, a withering Senate report led by Sen. Chuck Grassley, R-Iowa, also raised fundamental questions about the charity's activities in Haiti. Specifically, the report concluded that the Red Cross spent tens of millions of dollars more than it had previously acknowledged on internal expenses. When probed, the organization said the money was largely spent on oversight of its aid program in Haiti, but Sen. Grassley found the organization was "unable to provide any financial evidence that oversight activities in fact occurred."
In response, Sylvie said she invites Sen. Grassley to come down to Haiti to see Red Cross's work now.
"I would be happy to show him what we've been doing, just to see the quality of the work that is being done here," Sylvie said.
But nearly seven years after the quake, the Associated Press reported last week that at least 50,000 people are still living in "temporary" settlement camps.
Good intentions often fell short in Haiti due to a lack of coordination between foreign NGOs and the government. Currently, over 80 percent of the infrastructure projects currently underway in Haiti are funded by NGOs. There are more than 10,000 NGOs operating in the country, sometimes referred to as the "NGO Republic of Haiti," working away on the seemingly never-ending recovery.
"A lot of foreign money streamed into Haiti but despite the best efforts, the money was largely spent on ... foreign organizations run by foreigners," Elliott said. "The Haitian government wasn't brought in to be involved in a lot of the efforts, and so you end up in this cycle where Haitian institutions are not built up and there's this sort of bonanza of like failing NGO work."
That situation has improved more recently, U.S. government officials told CBS News; in response to Hurricane Matthew this past fall, the Haitian government showed improved response capabilities and better coordination in recovery efforts.
For Valle, though, the flood of foreign donations to Haiti has not translated into concrete change for families like hers.
"They might have given people food for two or three days. But after that, you don't see anything else. I haven't heard anything about the money," Valle said in Creole.
The mother of two lives in Canaan, a city north of Port au Prince named after the biblical Canaan — the promised land where Moses led his people. After the 2010 earthquake, some 200,000 people like Valle moved to Canaan, an area which was uninhabited before, and tried to carve out new lives on this harsh terrain.
In Canaan and across the country, poverty is endemic. Fifty-nine percent of Haitians live in poverty and almost 25 percent in extreme poverty.
Valle, who sells liquor and cigarettes for a living, said "no one" is helping her family in Canaan.
"This community needs a hospital. Because if there's a problem, we have nowhere else to go. Life is hard for me. I have nowhere else to live. And if I have a problem, people have to help me. Because life is bad," she said.
"We can do it"
President-elect Jovenel Moïse said the Haitian government's record of largely offloading aid work to NGOs has been "an error."
"For nearly 30 to 40 percent of the country, the government is not present. And I am going to work so that the government is present across the entire country," he said.
Sylvie agreed with this view.
"The role of the international community that works in development has to be to work themselves out of a job. That has to happen," she said, emphasizing that the Red Cross is focused on strengthening local organizations.
Daniel Tillias runs one such organization, the largest urban garden in Haiti, in the community of Cité Soleil. The garden, which is part of the Sakala Foundation, employs youth from the community and is built on a former landfill. It's been created "by the hands, with the hands, for the hands of the people in Cité Soleil, for Haiti," Tillias said.
Tillias has seen the shortcomings of international NGOs firsthand, calling their approach "not enough Haitian-oriented." He says aid groups were initially dismissive of his vision to build this garden, and believes the now-thriving facility is proof that homegrown efforts pay off.
"Haitians can do way more, better than the NGOs that are coming down. People actually want to work really hard, but they need the opportunity," Tillias said.
He hopes that the young people who currently work at his garden can grow to be part of Haiti's "agricultural tech" workforce as adults.
Two of Tillias's former students embody that hope: they now work for a local NGO that turns human waste into compost to help dozens of local farmers. It's part of the movement of homegrown recovery in Haiti.
"What is good about this is it's not like someone from far away coming to tell people in the community what's good for you. It's actual people that they grew up with — that they know, they trust," Tillias said.
"We want to send a powerful message, which is, we can do it."
Thanks for reading CBS NEWS.
Create your free account or log in
for more features.