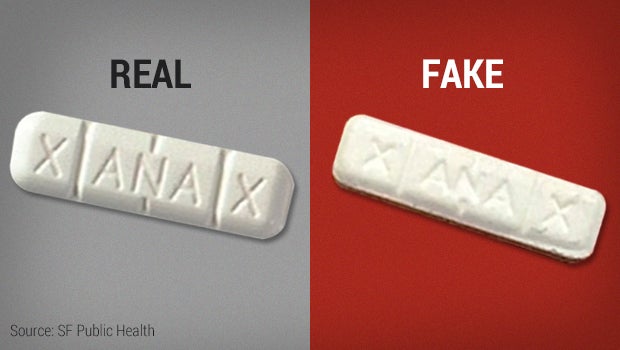 Fake Xanax blamed for woman's death
SAN FRANCISCO -- Health officials in San Francisco say fake Xanax pills killed one woman and made several others extremely sick.
CBS San Francisco reports paramedics rushed two men and a woman to a hospital last week after they took pills they thought were Xanax. Paramedics found a fourth person already dead in the same home, officials said. The medical examiner identified the woman who died as 34-year-old Andrea Choye.
Doctors said the Xanax pills turned out to be fake and contained an extremely strong narcotic painkiller known as fentanyl, which can cause overdose and death.
"This is particularly concerning to me because it involves a pill, Xanax, that is commonly bought by people who are looking to, say, calm down from a night of partying," Dr. Phillip Coffin of the city's health department told CBS San Francisco.
"The front and the back [of the fake pills] look almost identical to a real Xanax pill. It's extremely hard to distinguish them," Coffin said.
Officials said recreational drug users often buy Xanax off the street or on Craigslist.
Health officials are investigating whether the same type of pills also sent a number of high school students to the hospital in nearby Contra Costa County. Last Thursday, paramedics rushed several Pinole Valley High School students to the ER. The students said they took Xanax, but doctors don't know yet if those were real or fake pills.
If they were fakes, "It would not surprise me," Coffin said.
Thanks for reading CBS NEWS.
Create your free account or log in
for more features.