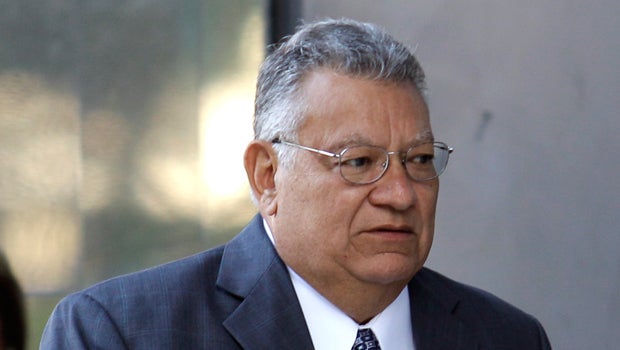 Ex-Stanford execs get 20 years for $7 billion swindle
HOUSTON The last two defendants convicted for helping disgraced financier R. Allen Stanford bilk investors out of more than $7 billion in one of the biggest Ponzi schemes in U.S. history were each sentenced to 20 year prison terms by a federal judge on Thursday.
Lawyers for Gilbert Lopez Jr., the ex-chief accounting officer for one of Stanford's companies, and Mark Kuhrt, the ex-global controller for another company, had asked for lesser prison terms, saying their clients were not as culpable as two other former executives who received significantly smaller sentences.
Jack Zimmermann, Lopez's attorney, told U.S. District Judge David Hittner that his client was "down the chain" of Stanford's business empire and "had no decision making authority in any of the things that ran this fraud."
Richard Kuniansky, Kuhrt's attorney, said his client had believed Stanford legitimately borrowed investor funds and was going to pay the money back.
Lopez and Kuhrt were both convicted at trial last year of conspiracy to commit wire fraud and nine counts of wire fraud. Hittner sentenced each defendant to 20 years for each count, to be served at the same time. The judge also fined Lopez $25,000, but waived a fine for Kuhrt.
Lopez, 70, covered his face with his hands after being sentenced, while Kuhrt, 40, stared down at the floor with his eyes closed. Family members who were in the courtroom cried after the sentences were announced. Lopez's attorney had asked for a three-year prison term, asking for leniency in part based on his client's age. Kuhrt's attorney had asked for five years.
Prosecutors said Stanford, a one-time billionaire, persuaded investors to buy certificates of deposit from his bank on the Caribbean island nation of in Antigua, then used that money to bankroll a string of failed businesses and his lavish lifestyle, which included yachts, a fleet of private jets and sponsorship of cricket tournaments. Authorities said Stanford and others in his companies lied to investors from more than 100 countries, telling them their funds were being safely invested in stocks, bonds and other securities.
Prosecutor Jeffrey Goldberg told Hittner that both Lopez and Kuhrt helped hide the massive fraud by misrepresenting to investors in reports and other documents that their money was safe and Stanford's bank was on solid financial ground.
Goldberg also said neither former executive had expressed remorse and added that lengthy prison terms would send a message to other senior corporate executives that "they too will face criminal liability if they implement fraudulent orders." Goldberg had asked for 25-year prison terms for each defendant, saying their actions had caused many victims to be "robbed of their retirements."
"Gil Lopez and Mark Kuhrt were working behind the scenes to prop up Allen Stanford's lies," he said.
Both Zimmerman and Kuniansky said their clients were remorseful for what happened. Neither Lopez nor Kuhrt gave a statement before being sentenced.
Stanford, 62, was convicted last year on 13 fraud-related counts and sentenced to 110 years in prison.
Two other former executives with Stanford's now dismantled business empire - which stretched from the U.S. to Latin America and the Caribbean - were sentenced previously after pleading guilty.
James M. Davis, the former finance chief for Stanford's various companies and the prosecution's star witness at Stanford's trial, received a five-year prison term. Former chief investment officer Laura Pendergest-Holt was sentenced to three years in prison.
The remaining defendant in the case, a former Antiguan financial regulator, awaits extradition to the U.S.
Thanks for reading CBS NEWS.
Create your free account or log in
for more features.