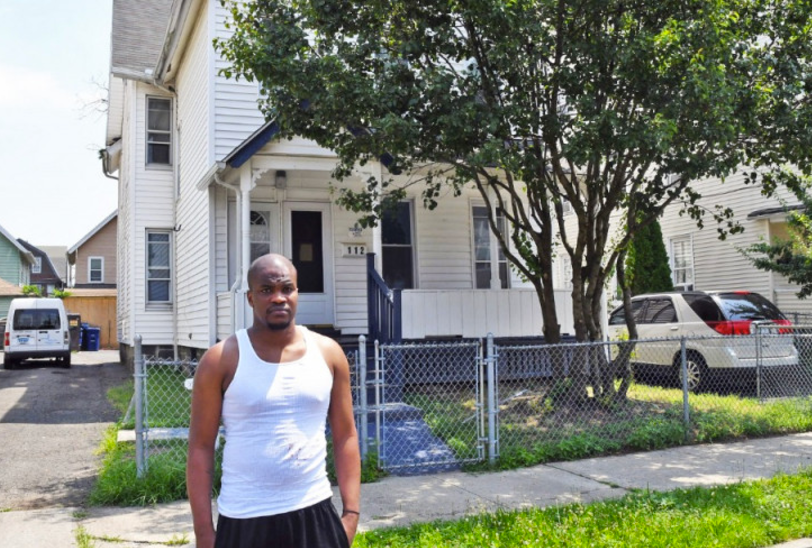 Man skips job interview, jumps off bus to rescue car crash victim
It had only been seven days since he got released from prison, but Aaron Tucker had already done the impossible — he landed a job interview.
Last Thursday, the 32-year-old from Bridgeport, Connecticut, woke up at 5 a.m., grabbed a dress shirt he had been given at the halfway house he was living in, and hopped onto a city bus to meet the manager at a nearby Dinosaur Bar-B-Que.
He was starting to drift off to sleep, then awoke and looked up to check the stop. He was startled to see a car hit a tree and flip over.
The bus driver quickly hit the brakes and came to a stop.
"Are you going to help?" he shouted to the bus driver.
"No, but if you get out I'm going to leave," the driver replied, explaining that he had to stick to his route.
Tucker didn't let that stop him. He jumped off the bus and sprinted toward the totaled car, which was upside down and spewing smoke. He kneeled down next to the passenger-side window and saw the driver covered in blood.
"The guy had a lot of blood coming from his head," Tucker told CBS News.
He unbuckled the man's seatbelt and dragged him away from the vehicle as it started to catch on fire. Several others also ran over to help, including three employees from a local auto body shop who brought over a fire extinguisher.
"You're going to be all right," Tucker repeated to the man as they lay on the pavement. "Your family wants to see you. Keep your eyes open."
Tucker pulled off his shirt and used it to help stop the man's head from bleeding. Within minutes, firefighters and EMTs arrived.
"I had a grip on his arm to keep him calm as they put an oxygen mask on him," Tucker said. "I just wanted to make sure he was all right, and that's what I did."
Tucker skipped his interview in order to stay with the man until an ambulance arrived. The man was taken to Norwalk Hospital and was in stable condition as of Wednesday, the Westport News reported. Police are still investigating the crash.
"I feel like a job can come and go, but a life is one time thing," Tucker said. "The job just wasn't in my mind at that time."
Community members who read a local news story about Tucker's heroic rescue decided to help the man turn his life around. They set up a GoFundMe page, raising more than $16,000 in only a day.
Kami Evans, a Westport community activist, used several Facebook pages she managed to help organize donation drives, collecting clothes and non-perishable goods for Tucker and his 21-month-old son.
"I think everybody was just so moved. This guy did such a selfless act," Evans told CBS News. "It wasn't about anything but doing the right thing — and he did the right thing."
A business owner reached out to Evans Friday to offer Tucker a tailored suit so he will have confidence at his future job.
The suit will come in handy, as job offers have started rolling in since Tucker's story was shared.
"I've been given a lot of job offers," Tucker said. "Right now, I don't have the money, so I want to get the best job I can to support my son."
Tucker said any money he makes will go toward taking care of his family.
"I got locked up three weeks before my son was born," Tucker explained. "When he was born, I got a phone call from the hospital. I heard my son crying in the background, and right then and there I was like, 'I'm changing my life.'"
Tucker got his GED and became a tutor in prison, hoping to be a role model for his son.
"I came out here with nothing, literally nothing," Tucker said. "But I knew if I worked hard things are going to come my way."
Thanks for reading CBS NEWS.
Create your free account or log in
for more features.