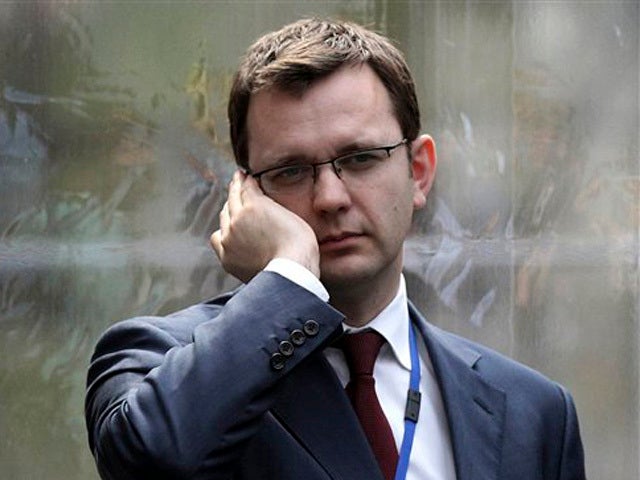 Ex-Murdoch tabloid editor suing over legal fees
LONDON - A former tabloid editor who was once the British prime minister's media aide is suing News International over its refusal to pay his legal fees, his lawyers said Friday.
Andy Coulson's law firm DLA Piper said in a statement that it has begun proceedings against Rupert Murdoch's News International for reneging on an agreement to pay legal costs. Coulson is among those who have been arrested in the phone hacking scandal.
Coulson, a former News of the World editor who later went on to serve as Prime Minister David Cameron's top media aide, resigned as the phone hacking scandal began to boil over earlier this year. News International has not commented on whether it was paying Coulson's fees, and declined to comment Friday.
Special Section: Murdoch in Crisis
Murdoch's News Corp. facing legal action in U.S.
UK police drop newspaper hacking source demand
News International has also refused to confirm in the past whether or not it is paying legal fees for Coulson.
The development comes as Lawyers from the U.S. and Britain said Friday they are looking to see if American courts can take up a case against Rupert Murdoch's News Corp., the parent company of News International.
If a case is filed, it would broaden the scope of a scandal that has shaken the media mogul's empire and potentially expose it to greater financial penalties.
British attorney Mark Lewis revealed few details but suggested the legal action could begin by taking depositions from News Corp. officials and focus on alleged "corrupt practices." He said he had retained U.S. lawyer Norman Siegel, who represents families of many Sept. 11 victims, to take on News Corp.
But while Lewis predicted the first hearing could occur within two or three months, Siegel downplayed the prospect of immediate action, telling The Associated Press that he'd only been asked "to explore whether there's legal options."
Lewis "asked us to do the research. That's what we're doing," Siegel said.
News Corp. declined comment. Its stock price dipped slightly in early morning trading but bounced back up to about $15.80 a share in New York.
The media conglomerate is best known in the U.S. for its properties such as Fox News Channel, The New York Post and The Wall Street Journal. But it's been under pressure in Britain since July over revelations that its flagship Sunday tabloid, the News of the World, routinely hacked into people's phones in its quest for scoops.
The now-defunct paper is accused of systematically intercepting private voice mail of Britons in the public eye, including, notoriously, a teenage murder victim whose family Lewis now represents.
The New York-based company has already been forced to abandon its bid for full control of satellite broadcaster BSkyB Ltd. amid the scandal, and faces a multimillion pound legal bill to settle victims' claims. That bill could climb if cases were brought in U.S. venues, where penalties and settlements are far more generous.
But one law professor said such a maneuver "seems like a stretch."
Typically lawyers file a class-action lawsuit first and then solicit depositions afterward, said Chris Fairman, a law professor at Ohio State University. While the rules of American civil procedure don't prohibit the reversal, such a move is highly unusual, he said, describing Lewis' proposed actions as "a fishing expedition."
Although it's been alleged — in a thinly sourced story carried by a rival U.K. tabloid — that the News of the World sought to target the phones of Sept. 11 victims, Lewis said that wasn't the focus of his U.S. legal thrust.
No evidence has surfaced to back up the Sept. 11 claim, and News Corp. has dismissed it as "anonymous speculation."
Nevertheless, U.S. prosecutors are investigating the claim, and recently sent a letter to the company requesting information on any payments made by its employees to British government workers, a person familiar with the case said.
The person spoke anonymously because the information was not meant to be disclosed publicly.
Thanks for reading CBS NEWS.
Create your free account or log in
for more features.