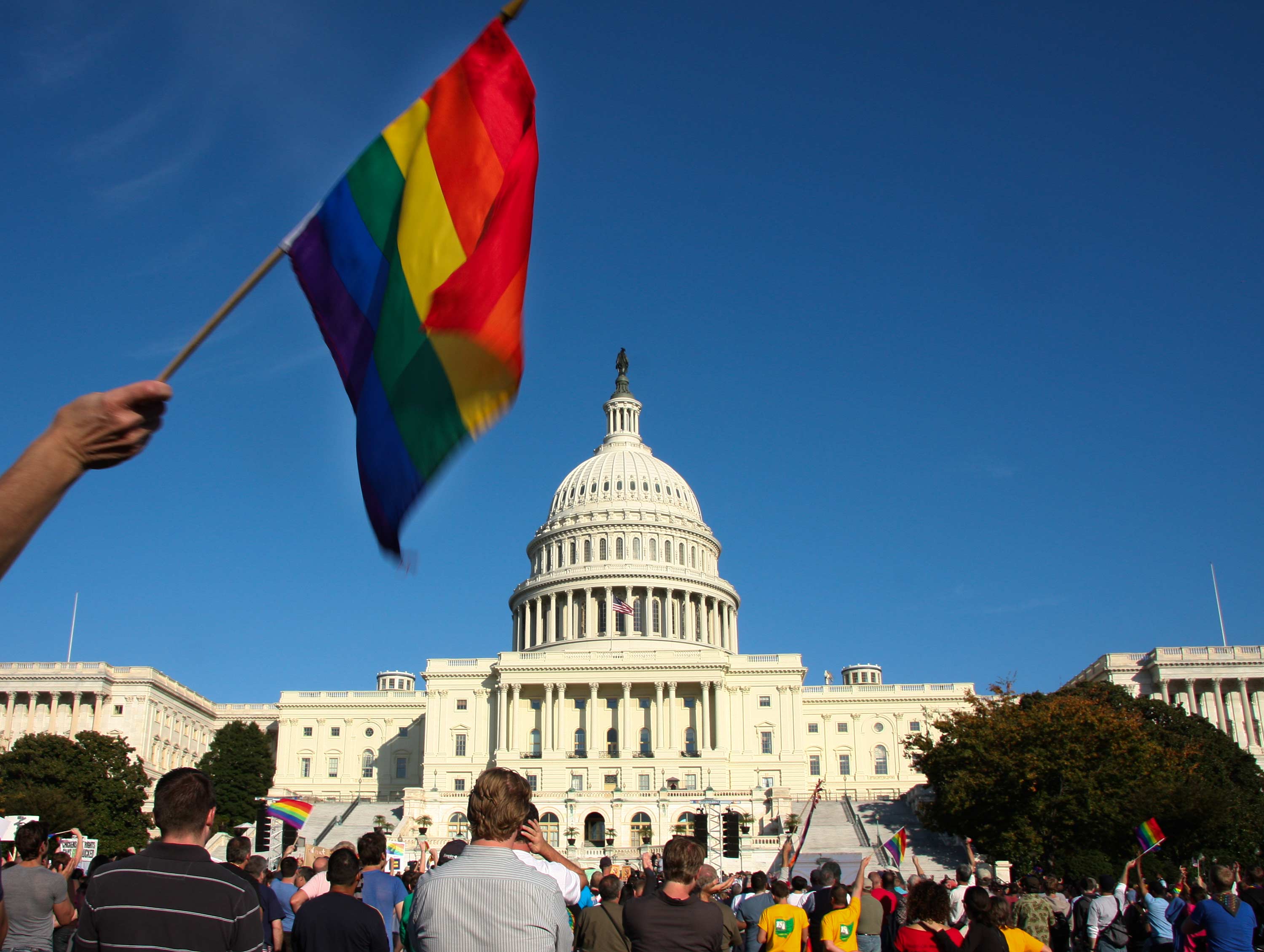 Employment Non-Discrimination Act (ENDA) makes progress in the Senate
With the support of every member of the Democratic caucus and some Republicans, the Senate on Monday voted to move forward with the Employment Non-Discrimination Act (ENDA), a bill that would prohibit discrimination in the workplace on the basis of sexual orientation or gender identity.
The bill is now all but sure to pass in the Senate, where a handful of Republicans voted Monday to proceed with the bill -- including one stalwart conservative, Sen. Orrin Hatch, R-Utah. Still, its fate in the Republican-led House is unclear. A spokesman for House Speaker John Boehner, R-Ohio, said Monday that the speaker opposes the legislation.
The bill's supporters on Monday sounded optimistic that after a decades-long struggle, ENDA's time had come. Sen. Tom Harkin, D-Iowa, chairman of the Senate Health, Education, Labor, and Pensions (HELP) Committee, called the bill's consideration "a huge step forward, one too long in coming."
The Senate last considered a version of ENDA in 1996, but the bill failed by one vote. On the Senate floor Monday, Harkin called that a "dark day" but noted attitudes about gay rights in America have "changed dramatically" since then. Twenty-one states now have laws with basic workplace protections for LGBT Americans.
A poll conducted this fall by Republican pollster Alex Lundry and the Americans for Workplace Opportunity campaign showed that more than two-thirds of registered voters, including 56 percent of Republicans, support the protections offered by ENDA. In fact eight out of 10 thought that such federal workplace protections were already in place.
Conservatives like Hatch came to support the bill in part because of its exemption for religious institutions. Some, however, want to see broader exemptions for those with religious objections to the law.
"The underlying part of the bill I agree with, but I'm still working on some of the religious liberty issues," Sen. Rob Portman, R-Ohio, whose son is openly gay, told the Cincinnati Enquirer last week.
Stronger religious exemptions and other issues may come up as amendments this week as the Senate continues debate on the bill.
If it passes in the Senate, the bill would go to the House. However, Boehner spokesman Michael Steel said Monday, "The Speaker believes this legislation will increase frivolous litigation and cost American jobs, especially small business jobs."
In spite of the opposition from leadership, there are paths the bill could take to pass in the House. In one sign of hope, ENDA supporters point to the Violence Against Women Act, which stalled in the House for months because of conservative concerns. However, Democrats and the bill's backers kept the pressure on Republicans, and ultimately the bill passed in the House with bipartisan support. Alternatively, ENDA could pass like the hate crimes legislation that passed in 2009, which was attached to a must-pass defense spending bill.
ENDA supporters also point out that when the Democratic-led House voted on a version of the bill in 2007, 35 Republicans joined 200 Democrats to pass it. Rep. Paul Ryan, R-Wis., voted for ENDA and has since reiterated his support for it.
"They didn't roll out of bed one morning and choose to be gay. That's who they are," Ryan said in 2010, acknowledging he "took a lot of grief" for his ENDA vote from some in his own party. Earlier this year, Ryan again said, "My position's very clear on ENDA."
President Obama, meanwhile, penned an op-ed in the Huffington Post Monday urging Congress to pass ENDA. "Our nation's journey toward equality isn't complete until our gay brothers and sisters are treated like anyone else under the law, for if we are truly created equal, then surely the love we commit to one another must be equal as well," he wrote.
However, gay rights advocates have criticized the president for refusing to sign an executive order banning sexual orientation and gender identity discrimination by federal contractors -- violating a clear 2008 campaign promise.
When the Houston GLBT Political Caucus in 2008 asked Mr. Obama if he would support a "formal written policy of non-discrimination that includes sexual orientation and gender identity or expression ... for all Federal contractors," Mr. Obama gave a written response: "Yes."
On Monday, White House spokesman Jay Carney reiterated that the White House wants the issue to be handled legislatively, rather than through an executive order.
"What we've said about this is two things: one, the preferable and better path has been through Congress because that would be inclusive," Carney said. "An executive order that addresses federal contractors...would not be inclusive."
Thanks for reading CBS NEWS.
Create your free account or log in
for more features.