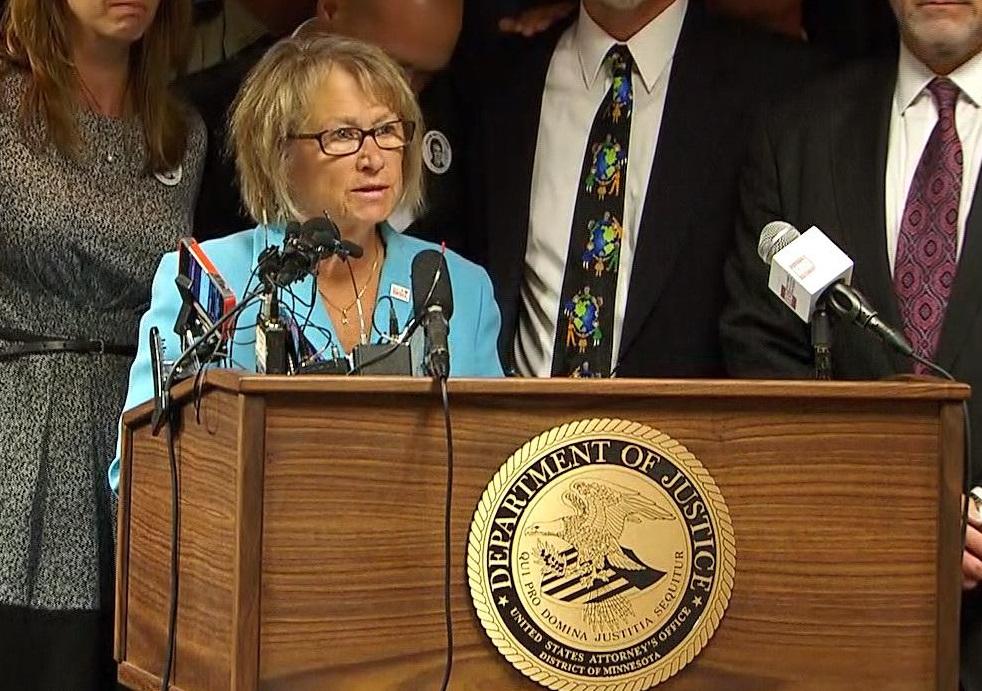 After murderer's confession in court, tearful mother of Jacob Wetterling speaks
MINNEAPOLIS -- Patty Wetterling, the mother of 11-year-old Jacob Wetterling, spoke at a press conference Tuesday afternoon following news that Danny Heinrich confessed to kidnapping and killing her son 27 years ago.
This is the first time Patty has spoken out since Heinrich led authorities to Jacob's remains last week in a Minnesota field.
"What I really to say today is about Jacob. He has taught us all how to live, how to love, how to be fair, how to be kind," she said. "He speaks to the world that he knew. That we all believe in."
"His legacy will go on. I want to say Jacob, I am so sorry. It is incredibly painful to know his last days, last hours, last minutes," Patty continued.
Patty, and her husband Jerry Wetterling, have worked tirelessly for more than two decades in search for answers after their son Jacob disappeared in October 1989.
"We love you Jacob. We will continue to fight, our hearts are hurting," Patty said. "For us, Jacob was alive until we found him. We need to heal."
Sources told CBS Minnesota Heinrich's lawyers have long been in talks with federal prosecutors over some kind of plea agreement.
Appearing in court, Heinrich admitted abducting Jacob from a road near the boy's home in the central Minnesota community of St. Joseph on Oct. 22, 1989. Authorities named him as a person of interest in Jacob's disappearance last October when they announced the child pornography charges.
Heinrich took the stand and gave disturbing details of the attack, CBS Minnesota reported via Twitter. Heinrich said he had a mask and a revolver with him as he handcuffed the boy and put him in his car, CBS Minnesota's Nina Moini reported via Twitter.
He said the boy asked him, "What did I do wrong?"
Heinrich described sexually assaulting Jacob in rural area of Paynesville, according to Moini. He said the boy cried and said he was cold and wanted to go home.
Heinrich said he panicked later in the day and killed Wetterling. He said he went home for awhile before returning later to hide the child's body, taking a shovel from a construction company to dig a grave and filling it in with a Bobcat.
He said he later threw the child's shoes into a body of water because he had forgotten to bury them, Moini reports. He confirmed he acted alone.
Heinrich had long been under investigators' scrutiny. They first questioned him shortly after Jacob's abduction, but he maintained his innocence and they never had enough evidence to charge him. They turned a renewed spotlight on him as part of a fresh look into Jacob's abduction around its 25th anniversary.
As part of that effort, investigators took another look at the sexual assault of 12-year-old Jared Scheierl, of Cold Spring, nine months before Jacob's disappearance. Investigators had long suspected the two cases were connected.
While addressing the media Tuesday, Patty Wetterling specifically thanked Jared.
"Jared had the courage to stand up and say this happened to me," Patty said.
Using technology that wasn't available in 1989, investigators found Heinrich's DNA on Scheierl's sweatshirt, and used that evidence to get a search warrant for Heinrich's home, where they found a large collection of child pornography. The statute of limitations had expired for charging him in the assault on Scheierl, but a grand jury indicted him on 25 child pornography counts.
The AP and CBS News typically don't identify victims of sexual assault, but Scheierl has spoken publicly for years about his case, saying it helped him cope with the trauma and that he hoped it could help investigators find his attacker and Jacob's kidnapper.
Jacob's abduction shattered childhood innocence for many rural Minnesotans, changing the way parents let their kids roam. His smiling face was burned into Minnesota's psyche, appearing on countless posters and billboards over the years.
Patty Wetterling always kept hope her son would be found alive. She became a national advocate for missing children, and with her husband, Jerry, founded the Jacob Wetterling Resource Center, which works to help communities and families prevent child exploitation.
In 1994, Congress passed a law named after Jacob that requires states to establish sex offender registries.
Thanks for reading CBS NEWS.
Create your free account or log in
for more features.