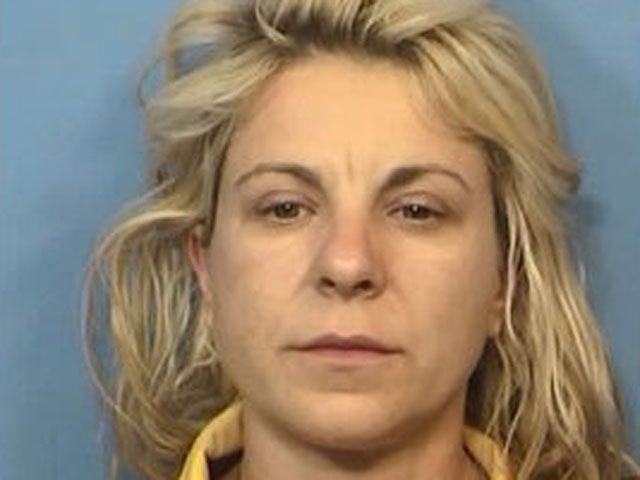 Elzbieta Plackowska Update: Illinois mom stabbed son 100 times and girl 50 times, prosecutors say
(CBS/AP) -- A Chicago woman stabbed her 7-year-old son 100 times and a 5-year-old girl she was babysitting 50 times at the girl's Naperville home, prosecutors said Thursday morning in a bond hearing.
PICTURES: Cops: Ill. mom stabbed son 100 times, girl 50 times
Elzbieta Plackowska, 40, was charged with two counts of first-degree murder in the stabbing deaths her son, Justin, and Olivia Dworakowski on Tuesday night in Olivia's suburban Chicago home. She was denied bail this morning during her first court appearance.
Plackowska told investigators several stories, at first blaming the attack on a stalker who got into her home in Naperville, 25 miles west of Chicago. She later said the children had evil inside of them and she was fighting the devil in the house, DuPage County State's Attorney Robert Berlin
said at a bond hearing.
Plackowska eventually admitted that she was angry with her husband, who works as a truck driver and is often gone, because he left her alone to care for her son, Justin, and work as a maid, which she felt was beneath her, Berlin said.
"She told the detectives that she thought by killing Justin she would make her husband hurt the way she hurt in their relationship," Berlin said.
Berlin said that Plackowska told investigators she found the children jumping on the bed and then attacked them, also slitting their throats.
"She had grabbed a knife and she made both victims kneel and begin praying. She began stabbing her son Justin and told him he was going to heaven tonight. He pleaded for his life and told her to stop. But she continued stabbing him until he was dead," he said.
"She then turned her attention to 5-year-old Olivia and began stabbing her with the knife multiple times."
Berlin said that Plackowska killed the girl, Olivia Dworakowski, because the child had witnessed the attack on her son.
DuPage County Judge John Kinsella ordered Plackowska held without bond. Plackowska didn't speak during the hearing other than to indicate she could not afford an attorney. The judge appointed a public defender.
Police discovered the bodies of the children after Olivia's mother, Marta Dworakowski, requested a welfare check when she couldn't find her daughter after she finished her evening shift at a dialysis lab, according to neighbors and officials.
After the slaying, Plackowska drove to a church before arriving at a different Naperville home where her adult son called 911, the Tribune reported.
The Illinois Department of Children and Family Services joined in the ongoing investigation.
More on Crimesider
Nov. 1, 2012 - Elzbieta Plackowska, Illinois mom, accused of fatally stabbing her son and another childOct. 31, 2012 - Two children found dead in Illinois home, police say
Thanks for reading CBS NEWS.
Create your free account or log in
for more features.