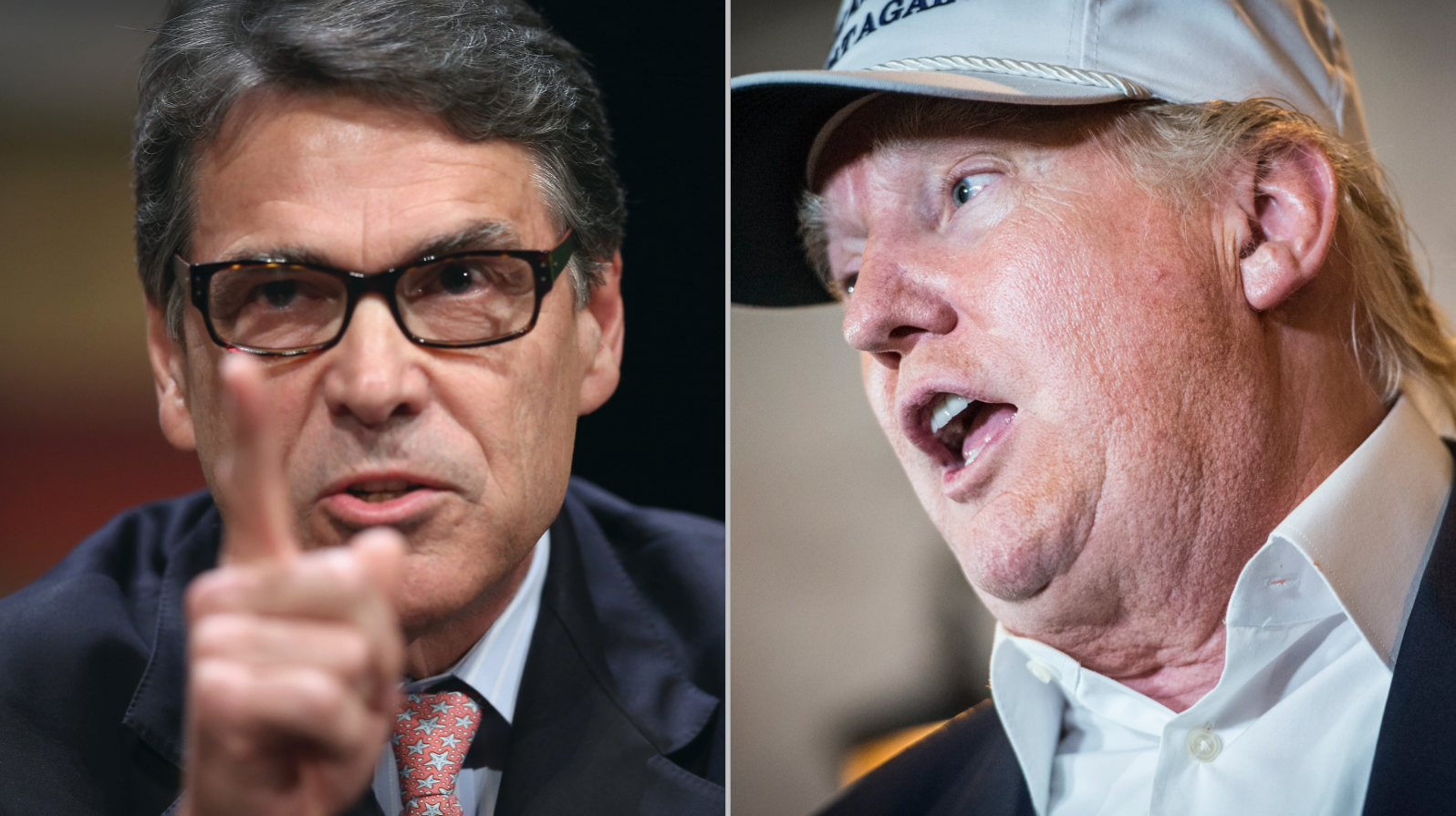 Rick Perry to Donald Trump: You, me, pull-up contest
After enduring Donald Trump's barrage of insults for weeks, former Texas Gov. Rick Perry told the billionaire businessman to put up or shut up on Wednesday, challenging him to a pull-up contest.
Trump, who's currently leading polls of the 2016 Republican primary, told the Daily Mail on Wednesday that Perry lacks the "energy," the "brain power," and the "toughness" to be an effective president.
Perhaps it was that last charge that stung the most. Perry, a former Air Force captain who's worn his tough-guy image on his sleeve during a long career in politics, fired back during an appearance at the Yale Club.
"Let's get a pull-up bar out there and let's see who can do the most pull-ups," Perry said, inciting a round of laughter and applause from the audience.
Perry has become perhaps Trump's harshest critic among the GOP contenders, calling the businessman a "cancer on conservatism" and excoriating his recent inflammatory comments about Mexican immigrants and Arizona Sen. John McCain.
Trump, who rarely declines an opportunity to bash his critics, has mocked Perry's gubernatorial record and questioned his intelligence. He said Perry should "have to take an IQ test" to qualify for the GOP primary debates, and that the former governor started wearing glasses "so people will think he's smart."
Wednesday's scuffle underscored the divergent approaches Trump and Perry are taking as they seek the GOP nomination. Trump's comments came during an interview in his Manhattan office with a British tabloid website. Perry's came during a question-and-answer session following a speech he gave on reforming Wall Street.
In it, the former governor laid the blame for the 2008 financial crisis on Republicans and Democrats alike, saying former Presidents Bill Clinton and George W. Bush both relaxed restrictions on housing loans and regulations on Wall Street, and average Americans "were screwed."
He also took a shot at former Florida Gov. Jeb Bush, attributing much of Florida's economic growth during Bush's tenure to the housing bubble, and he panned Democratic frontrunner Hillary Clinton's call to raise capital gains taxes, saying it would crimp economic growth.
Thanks for reading CBS NEWS.
Create your free account or log in
for more features.