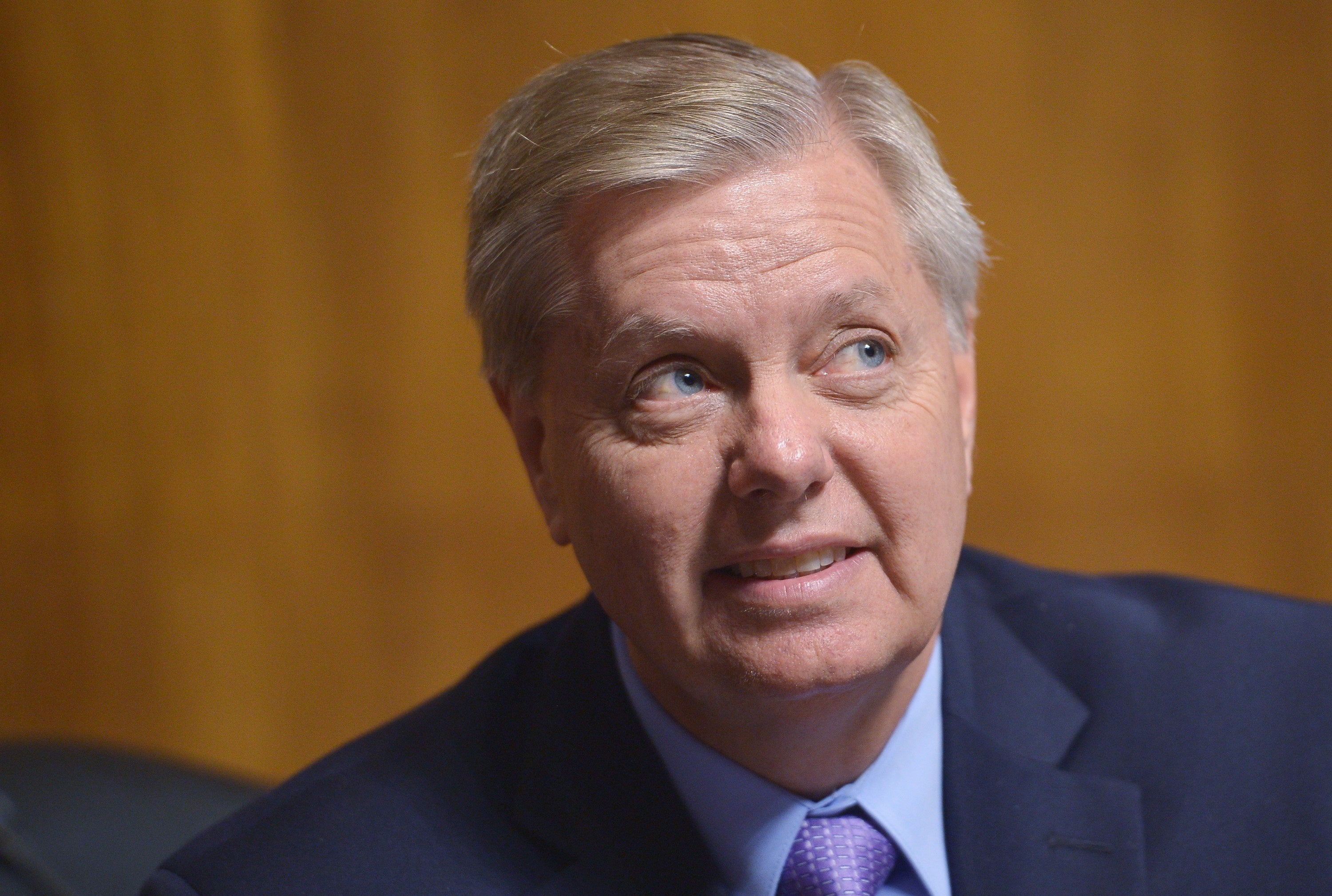 Lindsey Graham aims to be first bachelor president of modern era
Lindsey Graham: veteran South Carolina senator, longshot presidential candidate, lifelong bachelor.
The first two labels are what made Graham a national figure, but all anyone wants to discuss recently is the third.
If Graham wins the presidency in 2016, he'll be only the third bachelor ever elected to the office. (The first, history buffs might recall, was James Buchanan. Grover Cleveland was a bachelor when he was elected but later married while in the White House.)
The Daily Mail asked Graham earlier this week how he would fill the role of first lady if he makes it to the White House.
"Well, I've got a sister, she could play that role if necessary," the senator responded. "I've got a lot of friends. We'll have a rotating first lady."
Graham later told Politico that remark was "a joke," and he shrugged off the intense interest in his personal life.
"At the end of the day, there's nothing wrong about not being married. Having a marriage and a good family and children is a blessing. But I don't think I'm a defective person by any means," he said. "I don't think there's anything in the Constitution that says single people need not apply for president. And if it bothers some people, then they won't vote for me. I offer what I offer."
In the past, unmarried presidents have turned to their relatives to act as first lady, so there would be some predicate for Graham's sister, Darline Graham Nordone, playing that role.
In 1982, Graham assumed legal guardianship of his sister after their parents both passed away within 15 months of one another. His sister was a teenager at the time. Graham was in college at the University of South Carolina and headed into a career with the Air Force.
The senator said he came close to marrying "once, early on, [as I was] taking care of my sister."
Sen. John McCain, R-Arizona, who's formed a close friendship with Graham through the years, told Politico Graham has "dated some attractive women from time to time, but I've never seen him get real serious."
"I've often told Lindsey that he could never find anybody that loves him as much as he does," McCain joked.
Some other jokes on the subject haven't gone over so well. Illinois Sen. Mark Kirk, landed himself in hot water on Thursday when he said during a committee hearing that Graham is a "bro with no ho...that's what we'd say on the South Side." The remark was apparently meant to be private, but it was picked up by microphones in the room.
Kirk later apologized to any offended parties, but it struck more than a few observers as racially tinged, particularly with its reference to Chicago's historically black South Side.
In the end, the joke may be on Kirk, not Graham. Chicago Tribune columnist John Kass wrote Friday that the remark has made Kirk's already steep climb to reelection in 2016 even steeper.
"Now he's hip-deep in Ho-Gate, with no way out except one," Kass wrote. "Discreetly step down and let Illinois Republican bosses pick a replacement candidate to run for election in 2016."
On Thursday, White House Press Secretary Josh Earnest was asked by a reporter what he thought about Graham and the idea of the White House without a first lady. He first said it would be hard to imagine the White House without its current first lady, Michelle Obama, and he went on to praise her accomplishments.
And then he added, "So it's hard for me to imagine both a Graham White House and what a Graham White House would be without a First Lady. But I would obviously defer to the Senator to describe what that would be."
Graham's campaign seized on the comment and put it at the top of a fundraising email, saying that the Obama administration had set its sights on "taking down" Graham's campaign." Playing off Earnest's language, the email continued, "Friend, let's imagine a White House without Barack Obama."
Thanks for reading CBS NEWS.
Create your free account or log in
for more features.