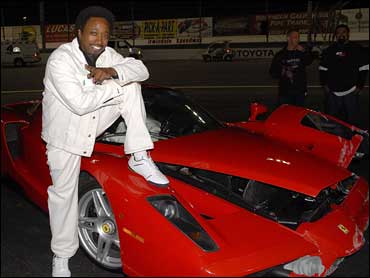 Eddie Griffin Wrecks $1.5 Million Ferrari
Eddie Griffin crashed a rare Ferrari Enzo worth $1.5 million into a concrete barrier Monday, destroying the car but escaping without injuries.
The comedian was practicing for a charity race to promote his upcoming film, "Redline," when he drove too fast around a curve at the Irwindale Speedway and smashed into a divide. Video footage showed the red sports car screeching before it ricocheted off the barrier with heavy damage to its front.
"Undercover Brother's good at karate and all the rest of that, but the brother can't drive," Griffin, referring to one his past films, told reporters after the accident.
"I was coming around the track and came into a tight turn and I hit a cone and the cone got caught underneath the tire. So the tire locked up and … slammed into the wall," Griffin told CBS News.
The film's publicist, Wendy Zocks, said Griffin was "doing OK."
"He walked away completely unscratched, but probably a little shaken," Zocks said.
"You know I'm not a race car driver, I'm a comedian," Griffin said. "Uh, just glad that I'm OK."
The Enzo was owned by the film's executive producer, Daniel Sadek, whose exotic car collection was featured in the movie.
Sadek said the car was beyond repair and that he had "mixed feelings" about the wreck.
"I'm glad Eddie came out of the crash OK, but my dream car got destroyed," Sadek said. "I went to my trailer for about 15 minutes and I thought, there's people dying every day. A lot of worse things are happening in the world."
Only 400 Ferrari Enzos were ever produced, all between 2002 and 2004.
Griffin's credits include the comedies "Undercover Brother," "Deuce Bigalow: Male Gigolo" and its sequel, "Date Movie," and "Norbit."
Thanks for reading CBS NEWS.
Create your free account or log in
for more features.