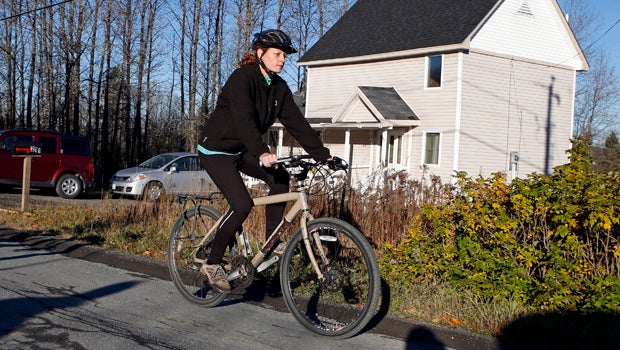 Nurse defies Ebola quarantine in Maine, rides bike
FORT KENT, Maine -- Maine Gov. Paul LePage says that negotiations with a nurse who treated Ebola patients have broken down and that he is ready to exercise the "full extent" of his authority to protect the public.
LePage said Thursday that the state was willing to agree to arrangements that would have allowed Kaci Hickox to go for walks, runs and bicycle rides while preventing her from going into public places or coming within 3 feet of others.
But the governor said those discussions failed.
The state previously vowed to go to court to have Hickox confined to her home against her will for the remainder of the 21-day incubation period for Ebola that ends on Nov. 10.
Hickox, who treated Ebola patients in Sierra Leone, says confinement violates her rights. She says that she has no symptoms and poses no risk to the public.
On Thursday morning, Hickox left her home for a bike ride.
Hickox, 33, earlier told reporters that she hoped for a compromise with health officials, but her actions indicated she had no intention of remaining in isolation.
"I really hope that we can work things out amicably and continue to negotiate," she said as she and her boyfriend rode on a dirt path in this small town of 4,300 people.
It was the second time Hickox broke quarantine. She left her home Wednesday evening briefly to speak to reporters, even shaking a hand that was offered to her.
After returning from Africa, Hickox stepped into the media glare last week when she became subject of a mandatory quarantine in New Jersey.
After being released from a hospital there, she returned to this small town, where she was placed under what Maine authorities called a voluntary quarantine.
She said she is following the federal Centers for Disease Control and Prevention recommendation of daily monitoring. But she said she is no threat to others because she has no symptoms.
"I'm not willing to stand here and let my civil rights be violated when it's not science-based," she said Wednesday evening.
States have broad authority when it comes to such matters. But Maine health officials could have a tough time convincing a judge that Hickox poses a threat, said attorney Jackie L. Caynon III, who specializes in health law in Worcester, Massachusetts.
"If somebody isn't showing signs of the infection, then it's kind of hard to say someone should be under mandatory quarantine," he said.
Ebola, which is spread through direct contact with the bodily fluids of an infected person, has killed thousands of people in Africa, but only four people have been diagnosed with it in the United States. People can't be infected just by being near someone who's sick, and people aren't contagious unless they're sick, health officials say.
Guidelines from the federal Centers for Disease Control and Prevention recommend daily monitoring for health care workers like Hickox who have come into contact with Ebola patients. But some states like Maine are going above and beyond those guidelines.
Steven Hyman, one of Hickox's attorneys, told CBS News correspondent Michelle Miller that there was no reason for her to adhere to the quarantine, even just to play it safe.
"All I hear is, 'Why don't you because maybe I'm afraid,' not that maybe the facts or science say you will catch the disease," Hyman told Miller.
"There's a lot of misinformation about how Ebola is transmitted, and I can understand why people are frightened. But their fear is not based on medical facts," Norman Siegel, another of Hickox's attorneys, said Wednesday.
In other Ebola-related developments:
- Ebola fears infected a medical conference on the subject. Louisiana state health officials told thousands of doctors planning to attend a tropical-diseases meeting this weekend in New Orleans to stay away if they have been to certain African countries or have had contact with an Ebola patient in the last 21 days.
- Liberia is making some progress in containing the outbreak, while Sierra Leone is "in a crisis situation which is going to get worse," the top anti-Ebola officials in the two countries said.
- The World Bank announced it will give an additional $100 million to help bring in more foreign health workers. That raises the money it has given to the fight to $500 million.
Thanks for reading CBS NEWS.
Create your free account or log in
for more features.