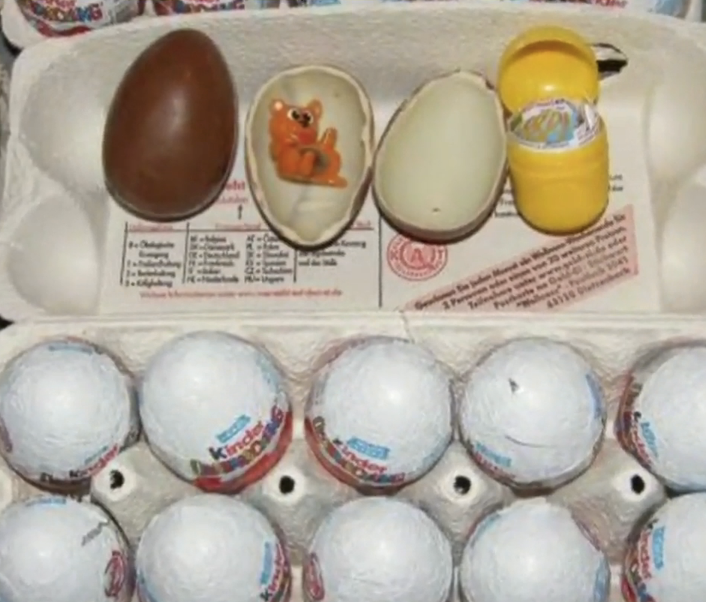 Banned Easter candy still found in stores
Will there be something illegal in your kid's Easter basket this year? A popular treat — banned in the United States — is still widely available in New York City.
At the famed Sorriso Salumeria in the Astoria neighborhood in Queens, big chocolate eggs are ready to put a smile on someone's face come Easter morning. But the owner told CBS New York there's one candy he no longer stocks: the now illegal "Kinder eggs," a chocolate egg with a toy surprise inside made by Ferrero, a European company that also manufactures Nutella and Ferrero Roche chocolates.
"It's a minute toy," said owner Frank DePaola. "Children have a chance of choking on them so they kind of banned them."
Federal regulators banned the candies years ago because the tiny plastic trinkets inside pose a choking hazard for young children, but it's still easy to find them.
Some parents think the ban is nonsense.
"It's really ridiculous," Astoria resident Diana Gabriel said. "My son has had these. You know, it's fine. Nothing's gonna happen."
She said Enzo, who turns 6 on Thursday, has indulged in many of the candies while visiting family in Europe, where they're wildly popular.
But some physicians might not agree that the eggs are harmless, especially when it comes to younger children and babies.
"Any food product given to a child with a small toy inside would cause a choking hazard," Dr. Brahim Ardolic, chair of the Department of Emergency Medicine at Staten Island University Hospital in New York, told CBS News.
"Children can and do choke on small items like beads, small balls or small toys often," he said, explaining that infants and toddlers in particular will put almost everything in their mouths.
"It is one of the ways they explore their surroundings," Ardolic said.
He added, "This is especially true of things inside of sweets. It's just a bad idea to have these around small children."
The toy-filled chocolate eggs are legal in Canada, which sometimes leads to a surprise for those carrying the contraband candy when they reach the border. Travelers trying to bring the product, called Kinder Surprise on Ferrero's website, into the U.S. have been stopped and thousands of the treats have been confiscated since the ban went into effect.
But somehow, someone who has a confection connection manages to smuggle them into the States.
DePaola says a man comes into his shop from time to time offering to provide the forbidden candy, but he doesn't buy them.
"It's not worth the fine," he said.
Fans of the eggs have launched an online petition asking federal regulators to back off the ban on the sweet treats with the toy surprise inside.
Thanks for reading CBS NEWS.
Create your free account or log in
for more features.