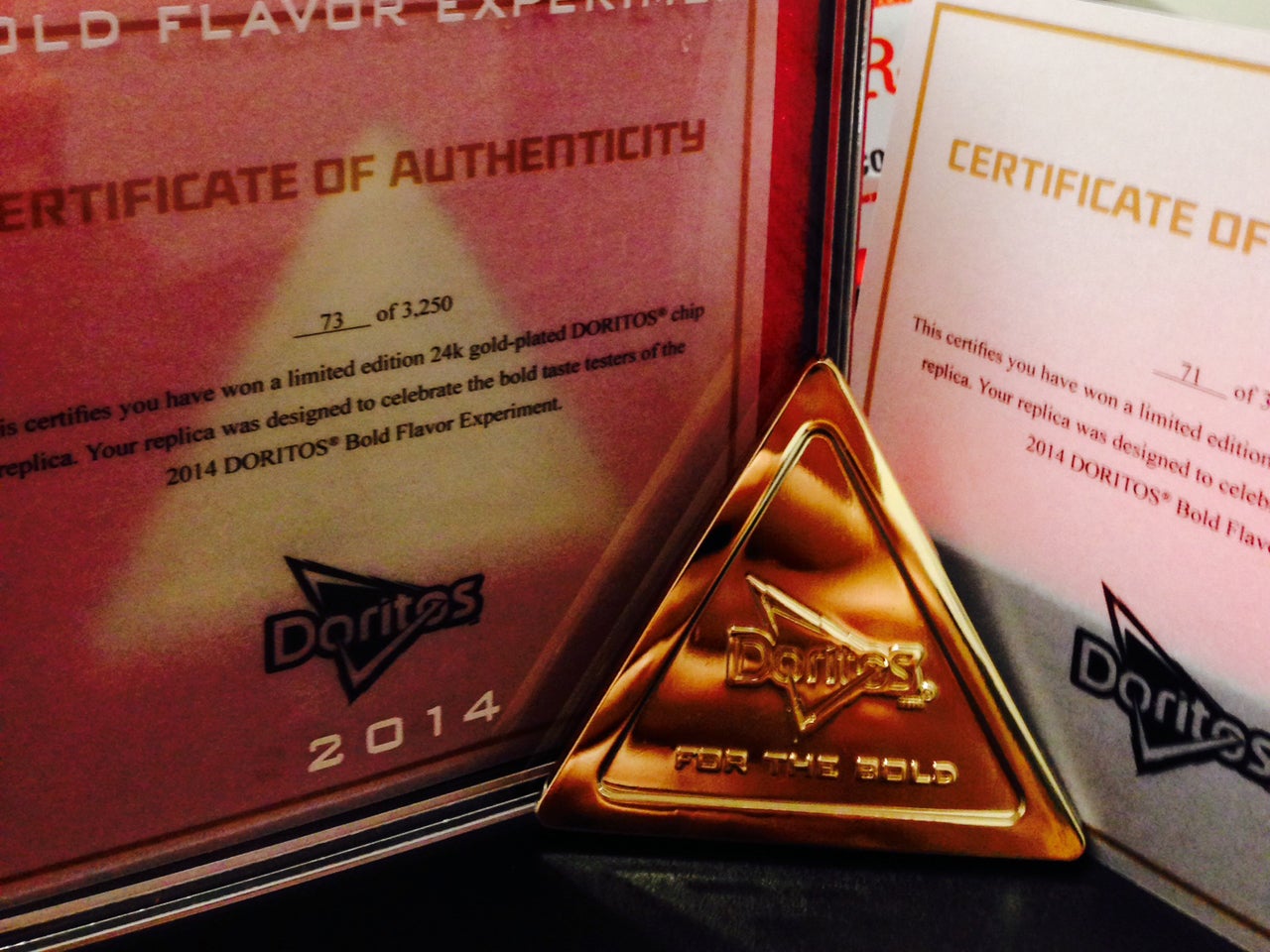 Doritos is giving away thousands of gold-plated chips
Frito-Lay, perhaps channeling Willy Wonka, has decided to give away a special golden Dorito chip in more than 3,000 bags of its Jacked Bold Mystery Flavor.
The gold-plated Doritos aren't actually in the bag -- that could really hurt your teeth -- instead winners will find a special ticket with a phone number to call and claim the prize.
We're not exactly talking massive levels of wealth here. One gold-plated Dorito is valued at $31.05, the company said. Winners will also get the chance to get one of two 24-karat solid gold Doritos chips, each valued at $1,263 based on the price of gold last December. The price of gold has dropped slightly, so the chip would likely be worth about $1,257 today. Not as good as seizing control of a candy factory and commanding an army of oompa-loompas, but hey, not bad, either.
To enter, look for specially marked bags of mystery flavor Doritos. E! Online tested three of the flavors and came up with such descriptions as "chili cheese," "rubber tire," "spicy smokey chili" and "I never want to taste it again." Is it worth the risk for the 1-in-140 odds of winning a gold-plated chip?
Frito-Lay, a unit of PepsiCo (PEP), will be the biggest winner of all, of course. The company is using social media for part of the contest, offering chances to win to followers on Twitter (TWTR) and Instagram. It's also calling attention to its Jacked Bold Mystery Flavors, dangling a little incentive to buyers who might be wary of spending hard-earned cash on an unknown flavor.
Will the offer of a gold-plated chip work magic for Frito-Lay? The contest is already generating enthusiasm on Twitter. "I don't eat chips, but a golden chip . . . want," wrote one user.
The contest ends Aug. 1.
Thanks for reading CBS NEWS.
Create your free account or log in
for more features.