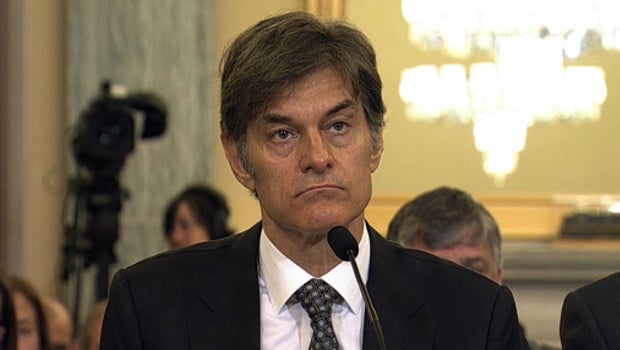 Don't believe everything you see on "Dr. Oz," researchers say
His TV talk show is so popular it's earned him the nickname "America's doctor," but a new study warns you really shouldn't believe everything you hear from Dr. Oz.
Researchers looked at a broad range of advice offered on "The Dr. Oz Show" and another popular medical program, "The Doctors." They found that fewer than half of Dr. Oz's recommendations -- just 46 percent -- were backed up by medical evidence. "The Doctors" had a slightly better track record, with 63 percent of their recommendations supported by evidence.
The host of "The Dr. Oz Show," Dr. Mehmet Oz, has come under fire before for touting unproven "miracle" weight-loss supplements. He was grilled by a Senate committee in June and accused of misleading consumers about the supposed fat-burning benefits of green coffee bean extract. After he promoted the product on his show in 2012, viewers eagerly snapped up half a million bottles of the pills.
But the product was not clinically proven and FDA approved for weight loss, and the Florida company that manufactured the pills later agreed to a $3.5 million settlement with the Federal Trade Commission over charges of false advertising.
At the hearing, Oz defended the role his advice can play in bettering people's lives. "My show is about hope. We've engaged millions in programs -- including programs we did with the CDC -- to get folks to realize there are different ways they can rethink their future," he said.
"I've got no problem with celebrity endorsements of any product but I do have a problem when a science-based doctor says something is a miracle when there's no science to back it up," committee chair Sen. Claire McCaskill, D-Missouri, told CBS News' Nancy Cordes at the time.
The lack of evidence in that case was further highlighted a few months later when the original study claiming to show benefits of green coffee bean extract was retracted. The authors admitted they could not verify the data, and investigators found key facts appeared to have been falsified.
While that may have been Dr. Oz's most public fumble, the new study published this month in the journal BJM shows it was far from the only time his advice has strayed from proven medical evidence.
For the study, researchers at the University of Alberta and the University of British Columbia in Canada evaluated recommendations made in 40 randomly selected episodes of "The Dr. Oz Show" from early 2013.
The show offered an average of 12 recommendations per episode, and 39 percent of the recommendations involved dietary advice, the study found.
The researchers say they were able to find at least one case study or better evidence in the medical literature to support 46 percent of Dr Oz's recommendations. There was no evidence found to support 39 percent. And 15 percent of the time, the evidence actually contradicted his show's recommendations.
Overall, the study determined that about one-third of the recommendations on "The Dr. Oz Show" and half of those on "The Doctors" were based on believable or somewhat believable evidence.
Potential harms or side effects of the recommendations were mentioned less than 10 percent of the time.
"Consumers should be skeptical about any recommendations provided on television medical talk shows," the study concludes. "If the shows are perceived as providing medical information or advice, viewers need to realize that the recommendations may not be supported by higher evidence or presented with enough balanced information to adequately inform decision making."
Thanks for reading CBS NEWS.
Create your free account or log in
for more features.