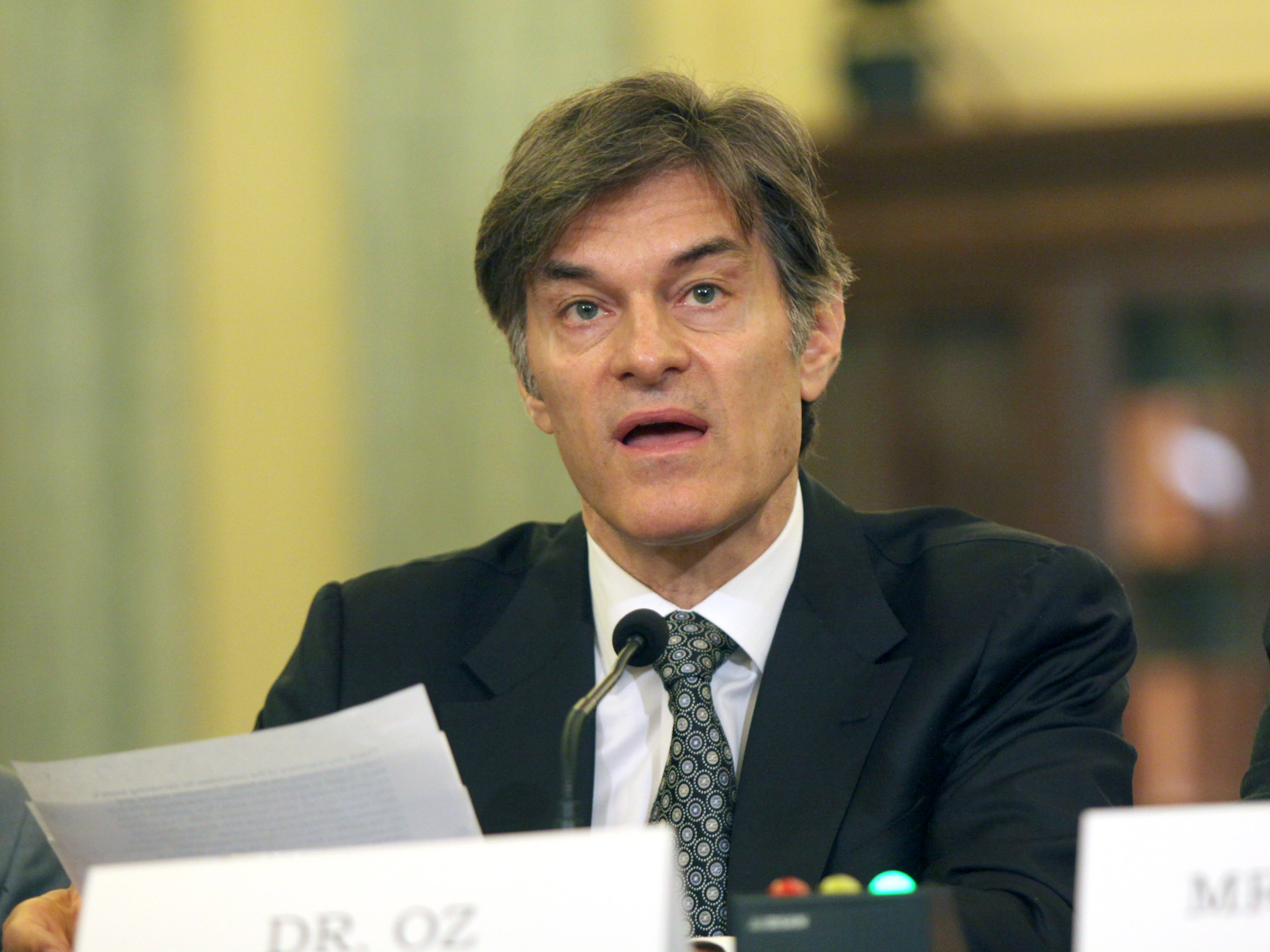 Dr. Oz defends weight-loss advice at Senate hearing on diet scams
Popular TV talk show host Dr. Mehmet Oz is defending his claims of "miracle" weight-loss supplements amid criticism from members of Congress.
Oz testified at a Senate hearing Tuesday on deceptive advertising for over-the-counter diet supplements and products.
For some time, Oz has been accused of false advertising for featuring some questionable dietary and health supplements on "The Dr. Oz Show," his daytime television program with a viewership of more than 12 million.
"I get that you do a lot of good on your show," said Sen. Claire McCaskill, who chairs the Senate's Consumer Protection panel. "But I don't get why you need to say this stuff because you know it's not true."
Oz defended his right to suggest ways to kick-start weight loss by using products that are easily available online but have little data to back up their claims.
He said many of the segments on his show about these product are in the spirit of the message he tries to impart to his viewer each day: "My show is about hope. We've engaged millions in programs - including programs we did with the CDC -- to get folks to realize there are different ways they can rethink their future," he said.
But critics say that's no excuse for making unfounded promises about diet and weight-loss "miracles." McCaskill told "CBS This Morning" that she believes Oz is fueling the diet industry with unscientific claims.
"I've got no problem with celebrity endorsements of any product but I do have a problem when a science-based doctor says something is a miracle when there's no science to back it up," she told CBS News' Nancy Cordes.
McCaskill argues TV programs such as "The Dr. Oz Show" and major websites need to do a better job of weeding out advertisers that make fraudulent claims.
The "Dr. Oz Effect" is known to be the most powerful sales pitch in the diet industry. One mention of a product by him can send sales skyrocketing.
On his show in May 2012, Oz touted a product called green coffee bean extract. After the show aired, a company in Florida sold half a million bottles of the pills. The Federal Trade Commission then filed a lawsuit against the company for false advertising.
As a result, the following September, Oz revisited the topic by conducting his own clinical trial on the efficacy of the supplement. All 100 women in the studio audience participated in his study, modeled after a randomized control trial; half of the women received the green coffee bean extract, while the other half received the placebo. Oz and his fellow researchers reported that after two weeks the women who took the supplement lost an average of two pounds, while the women taking the placebo lost an average of one pound.
"People want to believe you can take an itty-bitty pill to push fat out of your body," McCaskill told Oz during the hearing. But "the scientific community is almost monolithically against you."
Oz said he agreed to testify at the hearing because he wants to join in efforts of lawmakers to make companies accountable and require transparency about their products' claims. "I strongly support the need to look at whether the products are safe or not," he said.
Members of Congress say they are making efforts to return power to the U.S. Food and Drug Administration when it comes to regulating these supplements.
Currently, under the Dietary Supplement Health and Education Act, signed into law by President Bill Clinton in 1994, testing on safety and efficacy of supplements is in the hands of the manufacturer. The FDA is not required to approve these products, and by law, companies can selectively provide information to FDA and consumers. If a product is suspected to be unsafe, the FDA must investigate before they can take the product off the market.
The Dietary Supplement Labeling Act, which was introduced in August 2013 by Senators Dick Durbin of Illinois and Richard Blumenthal of Connecticut, would amend the current regulations for dietary supplements by requiring all companies and manufacturers to register their products with the FDA and disclose information on known risks and adverse effects. The legislation would also require companies to include more information on product labels.
McCaskill told Oz -- who launched his TV career as a medical expert for "The Oprah Winfrey Show" -- that she hopes he could help lawmakers make a difference. "I know you know how much power you have," she said. "I know you take it seriously."
"You can be part of the police here or you can be part of the problem," she said.
Thanks for reading CBS NEWS.
Create your free account or log in
for more features.