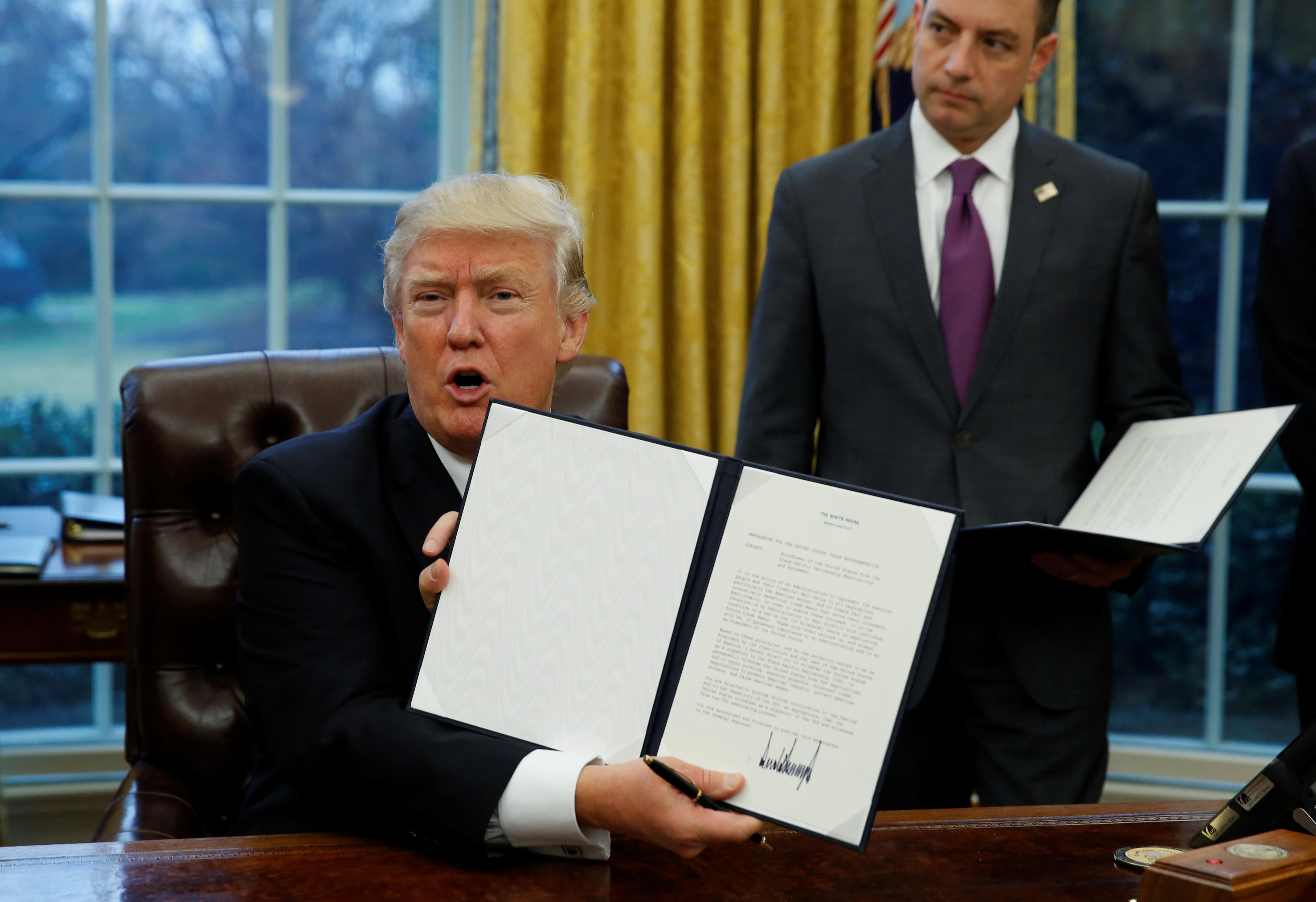 Donald Trump signs three executive memos
President Trump signed three executive memos on trade Monday morning -- one withdraws the U.S. from the Trans Pacific Partnership (TPP), another reinstates the Mexico City Policy dealing with non-governmental organizations (NGOs) and abortion access, and a third freezes federal workforce hiring.
Asked about the ethics lawsuit filed against him, Mr. Trump said only, "Without merit. Totally without merit."
TPP was an enormous trade deal that would have aligned the U.S. and 11 nations in the Asia-Pacific region including Japan, Australia, Vietnam, Canada and Mexico under an agreement that would have eliminated thousands of tariffs and streamlined regulations. The countries involved in the deal collectively conduct 40 percent of global trade.
"Everyone knows what that means, right? We've been talking about this for a long time," Mr. Trump said as he signed the order withdrawing the U.S. from the TPP. "Great thing for the American worker, what we just did."
As he signed the federal workforce hiring freeze, Mr. Trump noted that the military was exempted from the hiring freeze.
TPP also would have required ratification by Congress, and President Obama had hoped to see it ratified before he left office.
The Mexico City Policy was originally announced by President Reagan in 1984 and required nongovernmental organizations to agree as a condition of receiving any federal funding that they "would neither perform nor actively promote abortion as a method of family planning in other nations."
Then-President Bill Clinton rescinded it in January 1993 upon taking office, and George W. Bush reinstated it when he took office. And then Barack Obama rescinded it again in 2009.
On Friday evening, President Trump signed one executive order that cancelled an FHA mortgage premium cut that helps low-income home buyers and another that waived provisions of the Affordable Care Act that impose a financial burden on states or individuals.
CBS News' Major Garrett contributed to this report.
Thanks for reading CBS NEWS.
Create your free account or log in
for more features.