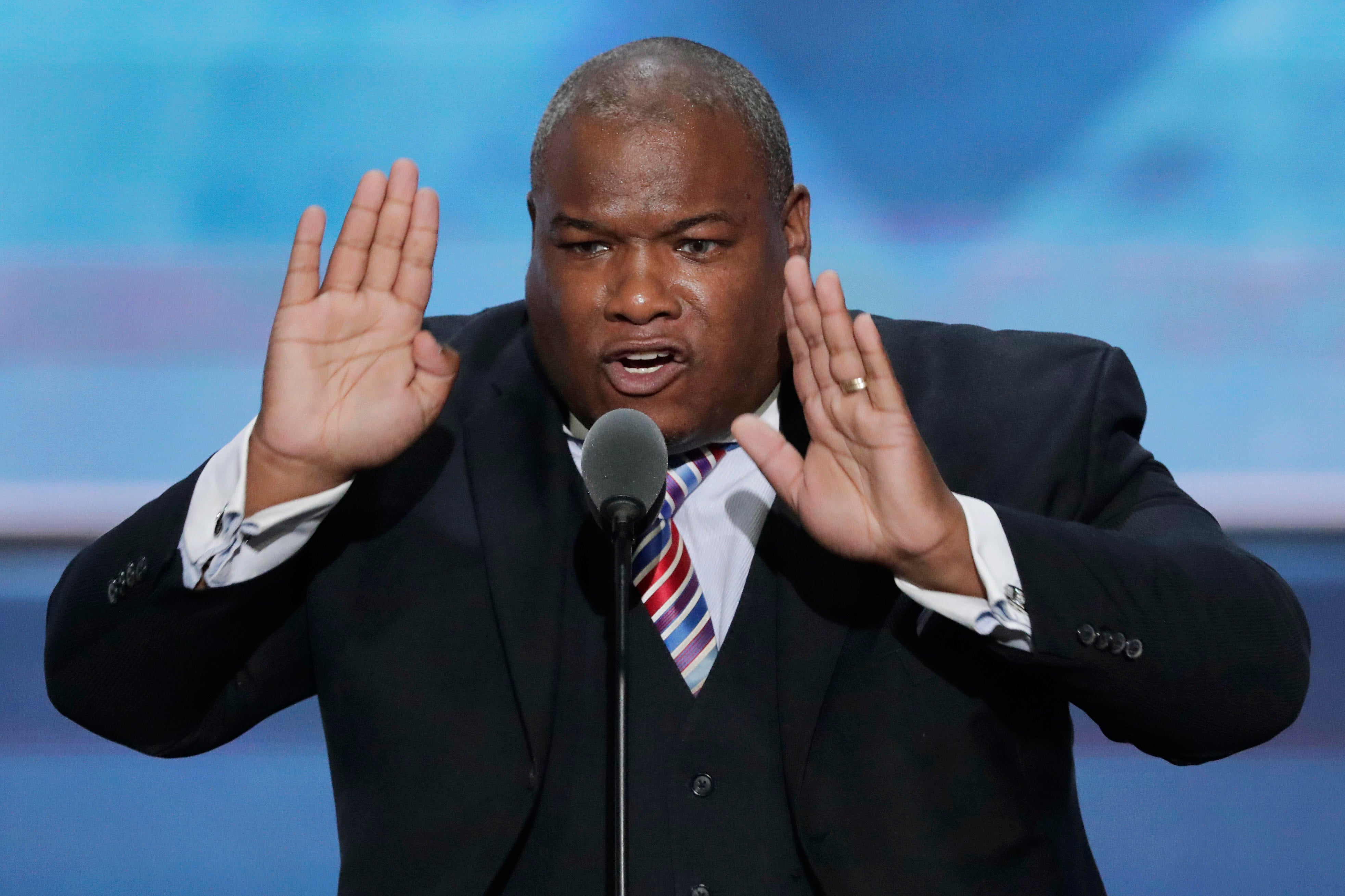 Pro-Trump pastor regrets cartoon of Clinton in blackface, but "not the message"
Donald Trump always has something to say on Twitter, but now, a supporter's tweet is creating outrage.
It shows an image of Hillary Clinton in blackface, at a time when Trump is reaching out to minority groups. Now, the top African American adviser to Trump is apologizing for posting the racially offensive cartoon of Clinton, undercutting any serious Trump effort to appeal to African-American voters, reports CBS News correspondent Major Garrett.
In Atlanta Monday night, supporters defended Donald Trump.
"I know Donald Trump. He does not look down on anybody, he is not racist at all," 2012 Republican presidential candidate Herman Cain told a crowd at the Cobb Galleria Centre.
This came just hours after Trump loyalist Pastor Mark Burns posted a tweet depicting Hillary Clinton in blackface and accusing her of pandering to African American voters.
"It's not racist to be proud to be an American," Burns told a rally in Jackson, Mississippi.
Burns -- a frequent warm-up act for Trump -- at first said he did no wrong.
"The picture is designed to do draw attention to the very fact that Hillary Clinton do pander after black groups, after black people," Burns told MSNBC.
But later, Burns deleted the tweet, apologizing for the imagery, saying, "I regret the offensiveness of the black face," but not the message.
"I still stand by what the image represents but I think that, you know, I should have used better judgment," Burns said.
The cartoon firestorm heightens the tension around the presidential conversation about race relations, with the candidates' ongoing exchanging of attacks that accuse each other of racism.
Also Monday, former KKK Grand Wizard and now U.S. Senate candidate David Duke released a campaign robocall, linking himself to Trump.
"We're losing our country. It's time to stand up and vote for Donald Trump for president and vote for me, David Duke for the U.S. Senate," Duke said.
The Trump campaign denies any relationship to Duke or white supremacist groups.
"We don't want the support of people who think like David Duke," Trump's running mate, Mike Pence, told CNN.
The Trump campaign released a statement to CBS News, saying they have no knowledge of and strongly condemn the David Duke robocalls.
As for Pastor Burns, Trump will be with him in Detroit this weekend, attending a church service and doing an interview with an African-American Christian television network.
Burns also apologized again Tuesday morning for the "offensive" image, but also stressed to "stand by the message that we blacks are being used" by Democrats for votes.
Thanks for reading CBS NEWS.
Create your free account or log in
for more features.