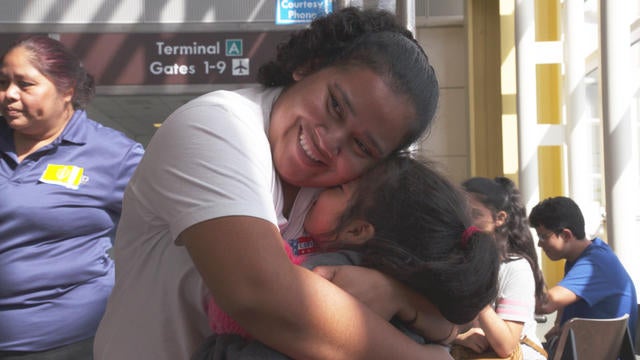 Trump reacts to "60 Minutes" investigation on child separation policy
WASHINGTON — President Trump pushed back Monday on a "60 Minutes" investigation that found his controversial family separation policy began earlier and impacted thousands more children than the administration admits.
Mr. Trump responded by repeating the claim his predecessor Barack Obama also separated families.
"Yeah, so I'll tell you what — Obama had a separation policy. We all had the same policy," Mr. Trump said before leaving the White House. "I tried to do it differently but Obama had the same separation policy but people didn't like to talk about it."
But the Trump administration's "zero tolerance policy" was different. All adults who crossed the border illegally were ordered to be prosecuted — and separated from their children, who could not be held in adult jails.
In May, then-Attorney General Jeff Sessions laid out the details.
"If you are smuggling a child, then we will prosecute you, and that child will be separated from you as required by law," Sessions said.
On Sunday, "60 Minutes" reported the child separation policy began nine months earlier than the administration acknowledged. While the White House said more than 2,600 children were detained under the policy, "60 Minutes" reported at least 5,000 children have been separated from their parents since the beginning of Mr. Trump's administration.
Former Homeland Security official Scott Shuchart, who served in both the Obama and Trump administrations, told "60 Minutes" experts inside the government were not consulted.
"If they had come to you, what would your office have said?" correspondent Scott Pelley asked Schuchart.
"We would've had advice on the way that needed to be done, on the recordkeeping that needed to be done," Schuchart responded. "And our advice on that wasn't sought out. And when we tried to provide it, it was ignored."
The Department of Homeland Security said in a statement Monday denying it adopted a policy of separation for the purpose of deterring people from coming to the U.S. illegally, but both White House chief of staff John Kelly and Sessions have publicly said the policy was mean to serve as a deterrent.
CBS News' statement Monday said "we stand by the facts in our story."
Thanks for reading CBS NEWS.
Create your free account or log in
for more features.