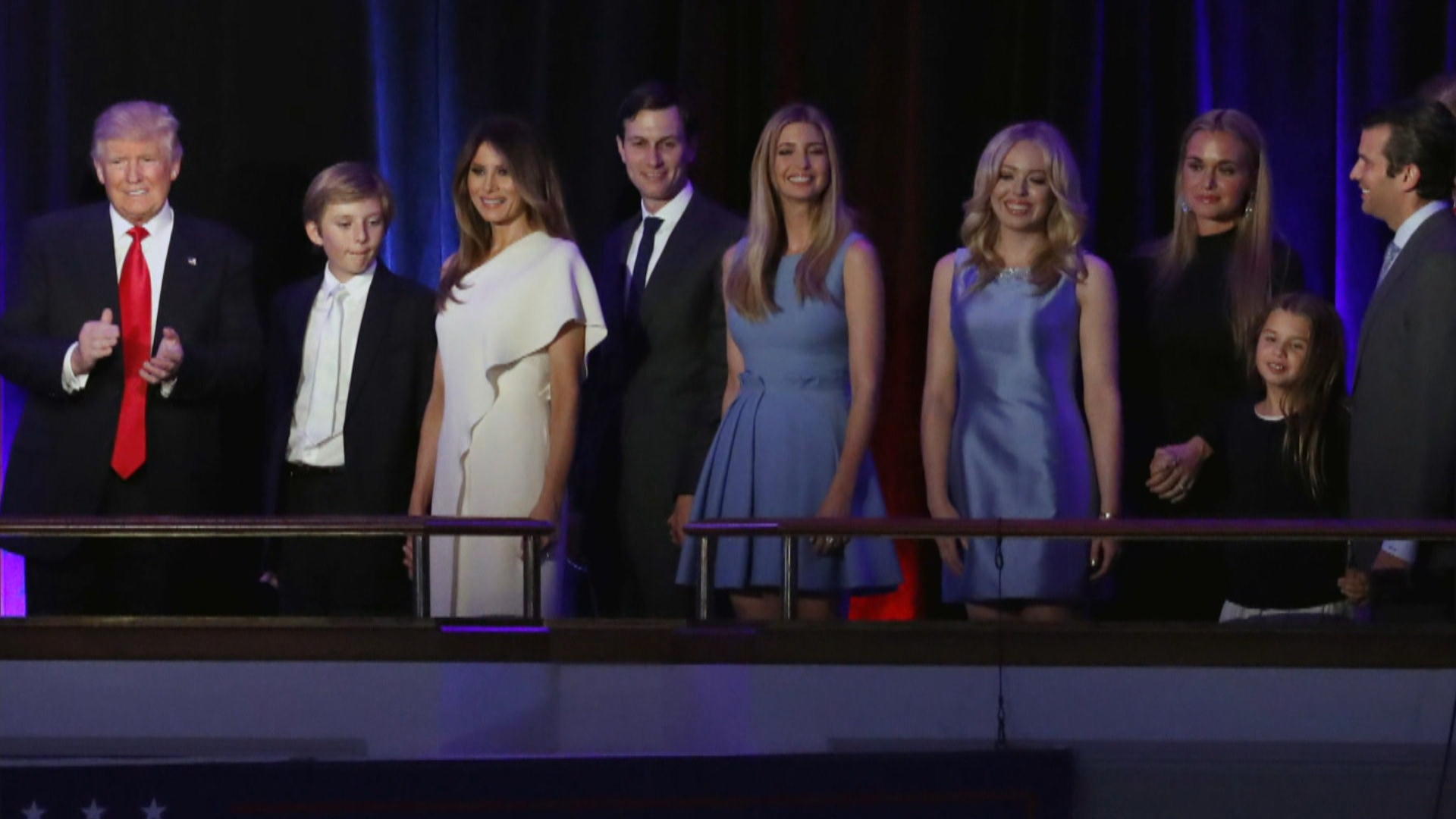 How America's next first family is "breaking the mold"
Donald Trump will soon become familiar with some new real estate. The president-elect will move into the White house with his wife, Melania, and his 10-year-old son, Barron. His adult children are expected to be frequent guests.
No one knows what to expect. Donald Trump -- married three times with children by all three wives -- will now move part of that first family into the historic home. And some of his children may be the closest advisers to the most powerful man in the world, reports CBS News correspondent Margaret Brennan.
During Wednesday morning's acceptance speech, Donald Trump was surrounded by his most trusted political allies and advisers -- his family members.
"So I want to thank my family very much. Really fantastic, thank you all," Trump said.
"They're definitely breaking the mold. Washington will see a family they've never seen the likes of before," said Monica Langley, a senior writer at the Wall Street Journal. "Just as he is brash and very vocal, his wife Melania is the exact opposite. Melania will present herself as an elegant, more thoughtful woman. She's smart, she speaks four languages. She likes to say that she is a legal immigrant to this country."
As first lady, Melania promises to fight cyber bullying. She limited her campaign appearances to be a stay-at-home mom for 10-year-old Barron. It's unclear how much that will change once that home becomes the White House.
"People didn't really understand that her priority is her son," Langley said. "So it's going to be interesting now that she is going to have to be a first lady and her priority is going to have to become the country as well as her son."
Perhaps Donald Trump's most trusted confidant during the campaign was his oldest daughter and businesswoman in her own right, Ivanka.
"I've seen your siblings quoted saying that your Donald Trump's favorite child," "CBS This Morning" co-host Norah O'Donnell told her in an interview before the election.
"Well, daddy's little girl," she responded, laughing.
When Ivanka talked, Donald listened, convincing him to advocate for guaranteed, federally-financed maternity leave.
"'Daddy, daddy, we have to do this.' And it's true. She is very smart, and she's right," Trump said.
Ivanka's husband, Jared Kushner, also stepped in as a trusted adviser, overseeing the campaign's digital strategy.
"I predict that Ivanka Trump and Jared Kushner will be a very important couple in the new administration," Langley said.
Eric Trump often worked as his father's surrogate for interviews, and his brother Donald Jr. was also a constant presence on the Trump campaign trail. But now, the brothers are expected to take over their father's business interests once he becomes president, while daughter Tiffany is said to be pursuing a law degree.
"The Trump family that we saw on the campaign trail is a really close one and they helped put him in office," Langley said. "I think we'll continue to see a Trump family that helps support him as he runs the country."
Barron Trump will be the youngest boy to live in the White House since John F. Kennedy Jr. And he'll be raised in the public spotlight, where the American people will be able to see another side of Trump for the first time, as the father of a pre-teen, and in a few years, a teenager.
Thanks for reading CBS NEWS.
Create your free account or log in
for more features.