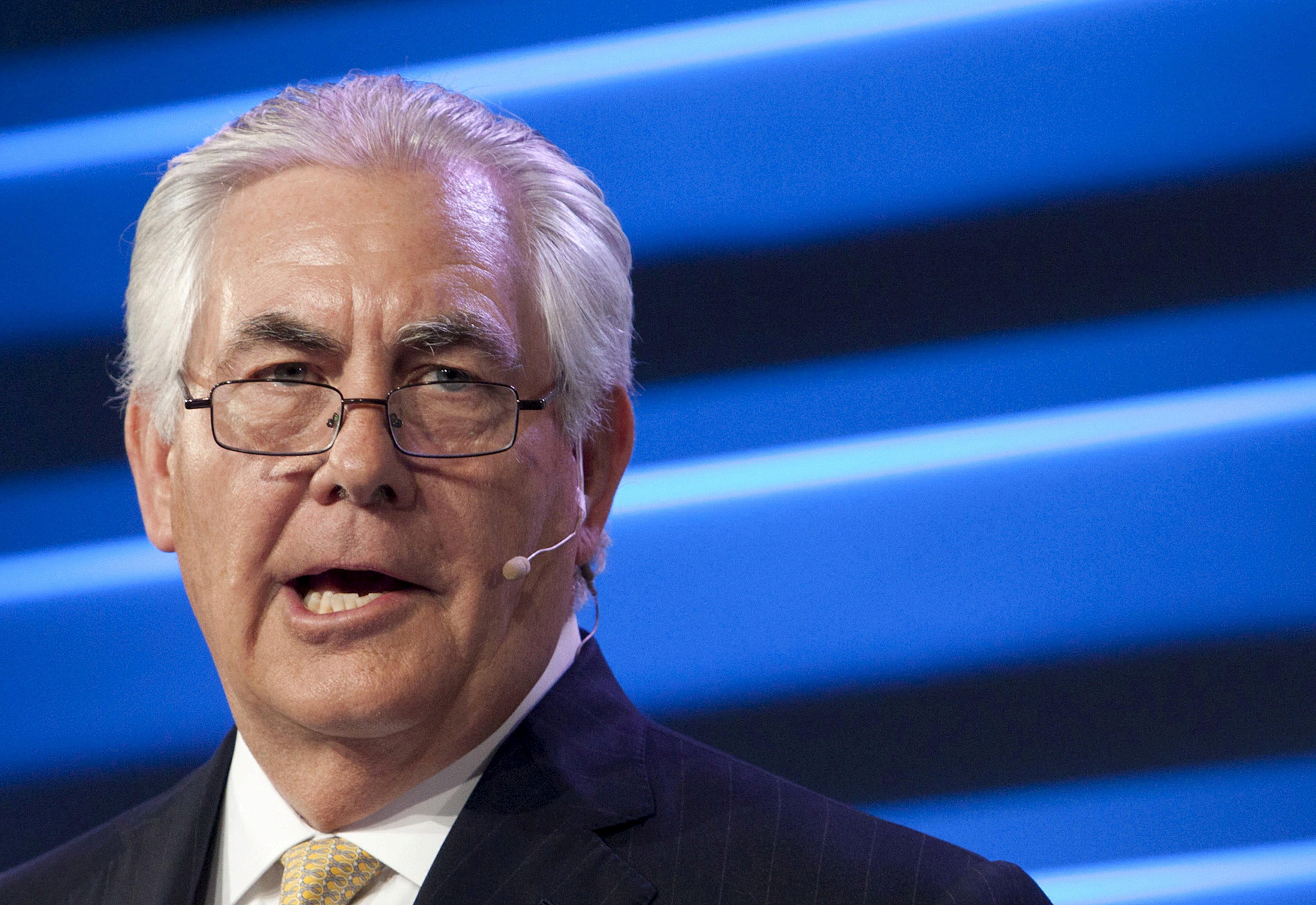 Who is Rex Tillerson, Exxon chief and Donald Trump's top secretary of state candidate?
Who is Rex Tillerson, the CEO, president and chairman of Exxon Mobil Corp. that has emerged as the distinct front-runner in the race to be President-elect Donald Trump's secretary of state?
The 64-year-old executive is the head of the largest oil company in the world. It operates in dozens of countries -- including Russia, which has sparked controversy recently for the Kremlin's alleged involvement in the U.S. elections -- and has oil and natural gas interests on six continents.
Tillerson began his career at Exxon in 1975 as an engineer. (He graduated with a civil engineering degree from the University of Texas in Austin). Eventually, he worked his way up through the ranks to become president and join the Board of Directors in 2004. He was made CEO two years later.
The Texas native, a multi-millionaire, has experience entirely in the private sector, with no past work in government. But Tillerson, as the chief of one of the most valuable publicly traded energy corporations, certainly knows his way around international deal-making. His money, Texas swagger and board room moxie (in 2008 he defeated an attempt to separate the chairman and CEO titles he held) are all qualities that Mr. Trump admires and respects.
Earlier this week on NBC's "Today," Mr. Trump called Tillerson a "great, great gentleman" who had built a "tremendous company...with great style."
In a clip from an interview with "Fox News Sunday" that was released Saturday, Mr. Trump also called Tillerson a "world-class player."
"He's in charge of a - an oil company that's pretty much double the size of its next nearest competitor. It's been a company that's been unbelievably managed," the president-elect said.
Tillerson, however, could face significant pushback during a Senate confirmation hearing for his significant business connections to Russia and for his potential conflicts of interest.
Here are the key things to know about Tillerson:
Business ties to Russia
If Tillerson is nominated, the oil executive may face further scrutiny before the Senate because of his ties to Russian President Vladimir Putin.
Tillerson and Putin met in the 1990s when Tillerson worked for Exxon in Russia during Boris Yeltsin's presidency and Putin worked for Yeltsin's KGB with an eye toward Russian economic revitalization. Tillerson, in the '90s, was president of Exxon Neftegas Limited, which operated the Sakhalin-1 project, located in far eastern Russia.
In 2011, Tillerson negotiated Exxon access to drilling rights in the Arctic. As part of the deal, Russia's state-owned oil company, Rosneft, became an investor in Exxon global operations, specifically concessions. In 2014, U.S. sanctions against Russia put the brakes on the deal.
Tillerson has spoken out repeatedly in general terms against economic sanctions imposed on Russia by the U.S. and European Union after the incursion and subsequent seizure of Crimea in Ukraine.
At Putin's behest, the Kremlin conferred on Tillerson Russia's Order of Friendship in 2013. The state decoration rewards foreign nationals whose work has been aimed at bettering relations with Moscow.
John Hamre, president of the Center for Strategic and International Studies, where Tillerson is a board member, noted to the Wall Street Journal recently that the Exxon chief has had significant contact with the Russian president.
"He has had more interactive time with Vladimir Putin than probably any other American with the exception of Henry Kissinger," Hamre, who was also a former deputy defense secretary under President Clinton, told the Journal.
Mr. Trump acknowledged Tillerson's connections to Russia in his interview with "Fox News Sunday," noting them as positive qualifications.
"To me, a great advantage is he knows many of the players. And he knows them well," the president-elect said in the clip released Saturday. "He does massive deals in Russia, he does massive deals for the company. Not for himself. For the company."
Conflicts of interest
Tillerson, whose career at Exxon spans over four decades, also holds 2.5 million shares of the oil company's stock.
About 1.8 million of these shares are not vested and cannot be sold now, leading to questions over what the oil executive can do to avoid conflicts of interest as the nation's top diplomat.
Climate change stance
Tillerson himself is not a climate change skeptic, publicly calling the threat "real" and "serious."
But Exxon is being probed by several state attorneys general for allegedly misleading the public on climate change. Exxon has denied the charges.
In the case of the New York attorney general's office, the company is also under investigation for its accounting practices, particularly on the issue of not writing down the value of its assets.
"Our results are in accordance with the accounting and reporting standards of the SEC" and the Financial Accounting Standards Board, an Exxon spokesman told the Reuters news agency.
Thanks for reading CBS NEWS.
Create your free account or log in
for more features.