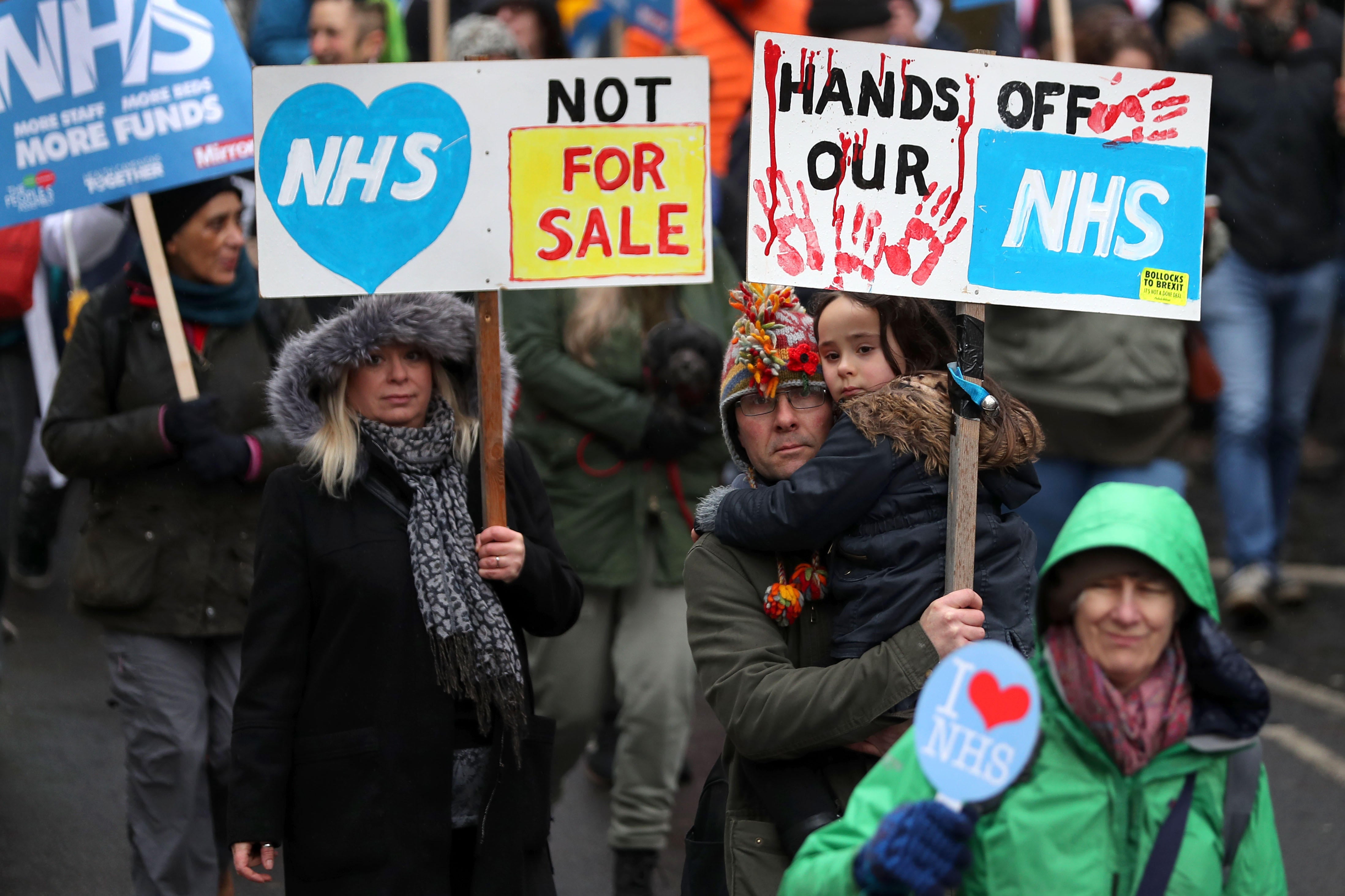 Trump claims U.K. health care system "not working"
President Trump mischaracterized protests over health care funding in Britain early Monday in a bid to attack Democrats for "pushing for Universal HealthCare." In an early morning tweet, Mr. Trump claimed the British system was "not working," however in spite of huge financial strain -- which many say has been politically inflicted -- the National Health Service continues to provide free care to all British residents as it has done for 70 years.
Mr. Trump said on Twitter Monday: "The Democrats are pushing for Universal HealthCare while thousands of people are marching in the UK because their U system is going broke and not working. Dems want to greatly raise taxes for really bad and non-personal medical care. No thanks!"
Thousands of people did march in London on Saturday, and in other cities across Britain -- but they marched in support of the NHS, demanding more funding for it and blasting the Conservative government which has been accused for years of underfunding the service. Mr. Trump was called out on Twitter for his inaccurate understanding of the protests by several notable Brits, among them journalist Piers Morgan, who counts himself as a personal friend of the president, and interviewed him recently at the World Economic Forum.
President Trump's tweet about the NHS came not long after right-wing British politician Nigel Farage appeared on
Fox and Friends, lambasting the NHS during a morning segment. Farage, who used NHS funding as a major lever to campaing for the Brexit vote, blamed Britain's immigration policies for what he described as a creaking NHS. The NHS itself is hugely reliant on immigrant doctors and nurses, and provides health care at zero cost for anyone in the UK who needs it.
Mr. Trump has sought to repeal President Barack Obama's health care law.
The U.S. Congress has already repealed the unpopular requirement that most Americans carry insurance or risk a tax penalty. That takes effect next year. But other major parts of the overhaul remain in place.
What is the NHS?
Even under the changes brought in by Obama, the U.S. system remains significantly different to Britain's entirely taxpayer funded NHS, which guarantees treatment to all living in the country legally and will turn away nobody in need of emergency care.
Every British resident with an income higher than 157 pounds (about $222) per week has 12 percent of their pay deducted automatically to fund the NHS. It is called the National Insurance, but it works like any other tax on personal income. On any earnings over about $1,200 per week, the amount deducted for the National Insurance is reduced to 2 percent. The funding pays for all health care apart from dentistry, including routine appointments and emergency care.
There is a fee for prescriptions, but it is an administrative fee of about $11 dollars per monthly medication -- not a charge for the drugs themselves, which are also covered by the NHS. The prescription fee is waived for people on low incomes or who are eligible for social benefits.
In spite of criticism from political opponents that the Conservative party has cut funding for the NHS and is working covertly to privatize parts of the system, just like every other mainstream political party in the country, the "Tories" remain hearty backers of Britain's universal health care, which was implemented in 1948.
Thus, President Trump's tweet -- the second time he has taken a British political theme out of context for his own political purposes -- risks stoking tension with the government of Prime Minister Theresa May, with whom Mr. Trump sought to show solidarity at the recent World Economic Forum in Davos, Switzerland.
British Health Secretary Jeremy Hunt, a member of May's cabinet and member of her own Conservative Party, hit back on Twitter himself, saying that while he "disagreed with claims made on that march" no-one wanted "to live in a system where 28m people have no cover."
"NHS may have challenges but I'm proud to be from the country that invented universal coverage -- where all get care no matter the size of their bank balance," Hunt said.
Mr. Trump sent his Monday tweet on the NHS abou an hour after Nigel Farage, a far-right, anti-European Union and anti-immigration former U.K. politician who has campaigned with the U.S. leader, appeared on Fox News, speaking about the NHS rallies over the weekend.
Early this year Mr. Trump was lambasted by British politicians of all stripes for re-tweeting videos posted online by a fringe anti-Muslim political group. During his meetings in Davos with May and other world leaders, Mr. Trump told British television journalist Piers Morgan that he "would" apologize for spreading the anti-Islam message of the Britain First group, "If you're telling me they're horrible racist people."
Mr. Trump claimed in the interview to "know nothing about" the group, whose deputy leader's tweets he recirculated to his millions of followers, garnering her personal praise and thanks.
Thanks for reading CBS NEWS.
Create your free account or log in
for more features.