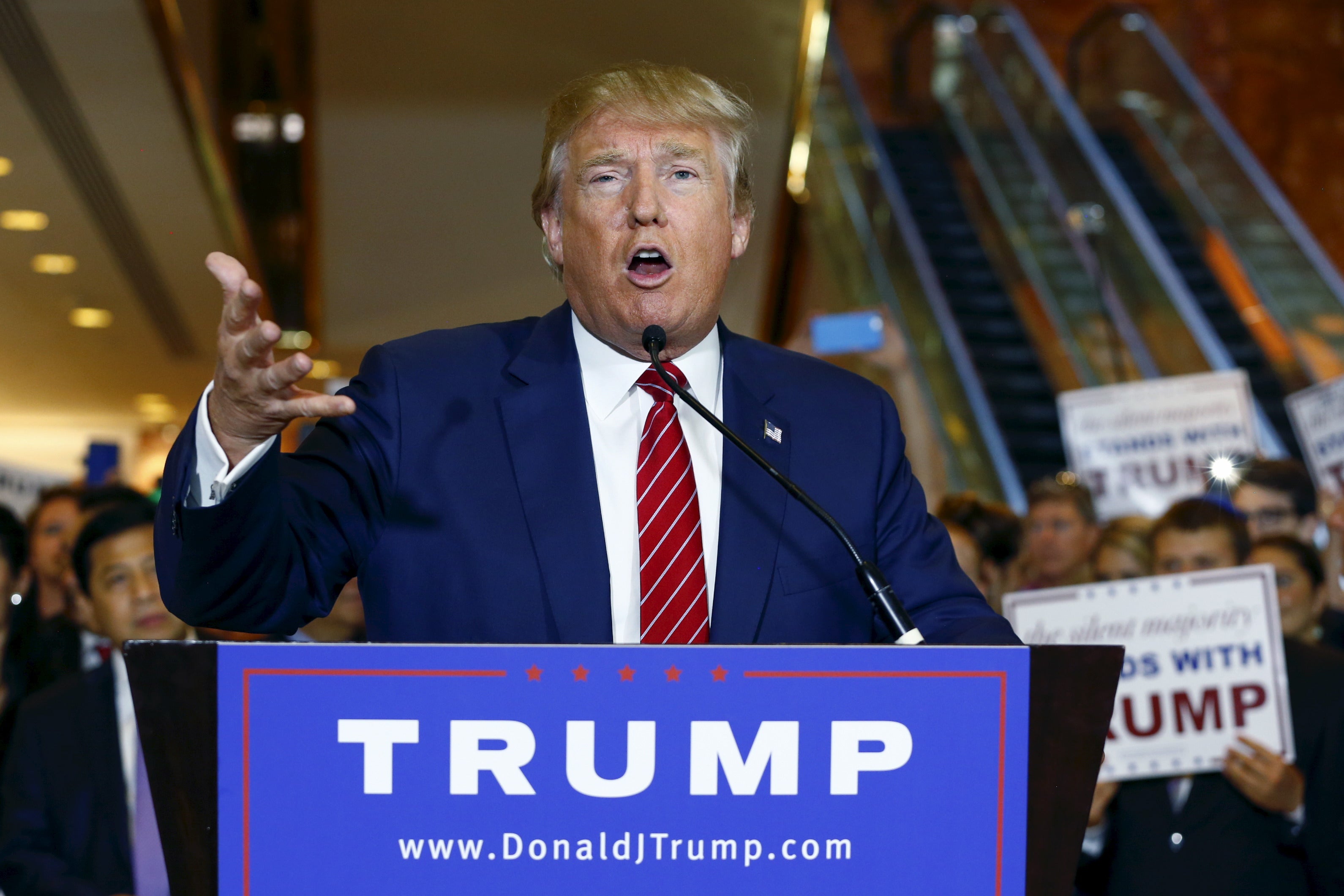 Donald Trump: I have signed the pledge
On his own terms, in front of hordes of cameras in the lobby of Trump Tower in New York City, real estate mogul Donald Trump pledged that he would not run as a third party candidate, should he lose his quest to become the Republican nominee.
He signed a non-legally binding piece of paper stating that, anyway.
"I just wanted fairness from the Republican Party," Trump said to reporters. "The best way for the Republicans to win is if I win the nomination and go directly against whoever [the Democrats] happen to put up. And for that reason, I have signed the pledge."
Applause rang out from the audience as Trump held up the signed pledge (see video below), which was mistakenly dated for August.
The drumbeat for such a pledge started after the first Republican debate - when Trump was the only candidate who raised his hand when the candidates were asked if anybody was unwilling to promise to forego a third party run. Many Republicans fear that if Trump ran as a rogue third party candidate, he would siphon off enough votes to hand the Democratic nominee the keys to the White House.
The Republican National Committee sent the pledge to the Republican field on Wednesday, and by 7 p.m. EST, all seventeen declared GOP candidates had signed it.
The pledge is not legally binding, meaning Trump can change his mind at any time without legal consequence. But when he was asked by CBS News' Julianna Goldman whether whether there was a circumstance under which he'd change his mind and tear up the pledge, he answered simply, "No, I see no circumstances under which I would tear up that pledge."
While the document is not legally binding, several states have "sore loser" laws on the books that would prevent a candidate who appeared in a party's primary and didn't get the nomination from filing as an independent candidate in the general election.
Before the press conference - populated by a spectacle of cameras, reporters and masses of curious tourists - the campaign handed out folders full of glowing poll numbers for Trump.
Reince Priebus, the chairman of the RNC, met with Trump before the press conference about the pledge. He did not take questions from reporters as he was hustled into Trump Tower and also did not appear at the press conference.
"He's not supposed to be here," Trump said. "You guys would say he's endorsing Trump. That would be inappropriate for him."
Trump also took questions on a litany of other issues. Some of them related to politics, such as his comments to Breitbart News that former Florida Governor Jeb Bush, one of his chief rivals for the GOP nomination, should speak English while he is in the United States.
"Well, I think that when you get right down to it, we're a nation that speaks English," Trump said. "I think that while we're in this nation, we should be speaking English."
More applause was heard from the crowd. And he was also asked questions that were a little more off-topic.
One reporter asked Trump to weigh in on the controversy surrounding topless painted women that pose with tourists in Times Square. Trump declined to respond. Another reporter asked about rapper Kanye West recently declaring that he would run for president in 2020.
"You know what? I'll never say anything bad about him," Trump said. "You know why? Because he loves Trump. He loves Trump. He goes around saying, 'Trump is my all-time hero!' He says it to everybody. So Kanye West - I love him. Now maybe in a few years, I'll have to run against him, so I'll have to take that back."
He even commented on New England Patriots quarterback Tom Brady's suspension being overturned.
"Tom Brady is a very good friend of mine," Trump said, with a shrug. "He's a great guy. For those of you that don't know him, he's a very honorably guy and a honest guy and a truly great athlete. "
"I think what they've done is terrible," he continued. "And he's been exonerated, as I understand it. But I'm very happy for Tom."
At the end of the press conference, for an unknown reason, Trump introduced Indonesian House Speaker Setya Novanto.
"Do they like me in Indonesia?" Trump asked a slightly bewildered Novanto. He answered yes, and then shook his hand. The press conference ended on that note - as Trump staffers handed out copies of the RNC pledge. This time, it had the correct date.
While most Republican candidates had either spent the day officially signing the pledge or saying they would, one took it further. Kentucky Senator Rand Paul - a frequent critic of Trump's - even took credit for Trump signing the pledge.
Paul's barbs against Trump haven't helped his sagging poll numbers in the presidential race. A new national poll from Monmouth University tracks him at 2 percent, compared to 30 percent for Trump, who is leading the field.
The loyalty pledge from the RNC can be seen in full below:
CBS News' Duncan McKenna contributed to this report.
Thanks for reading CBS NEWS.
Create your free account or log in
for more features.