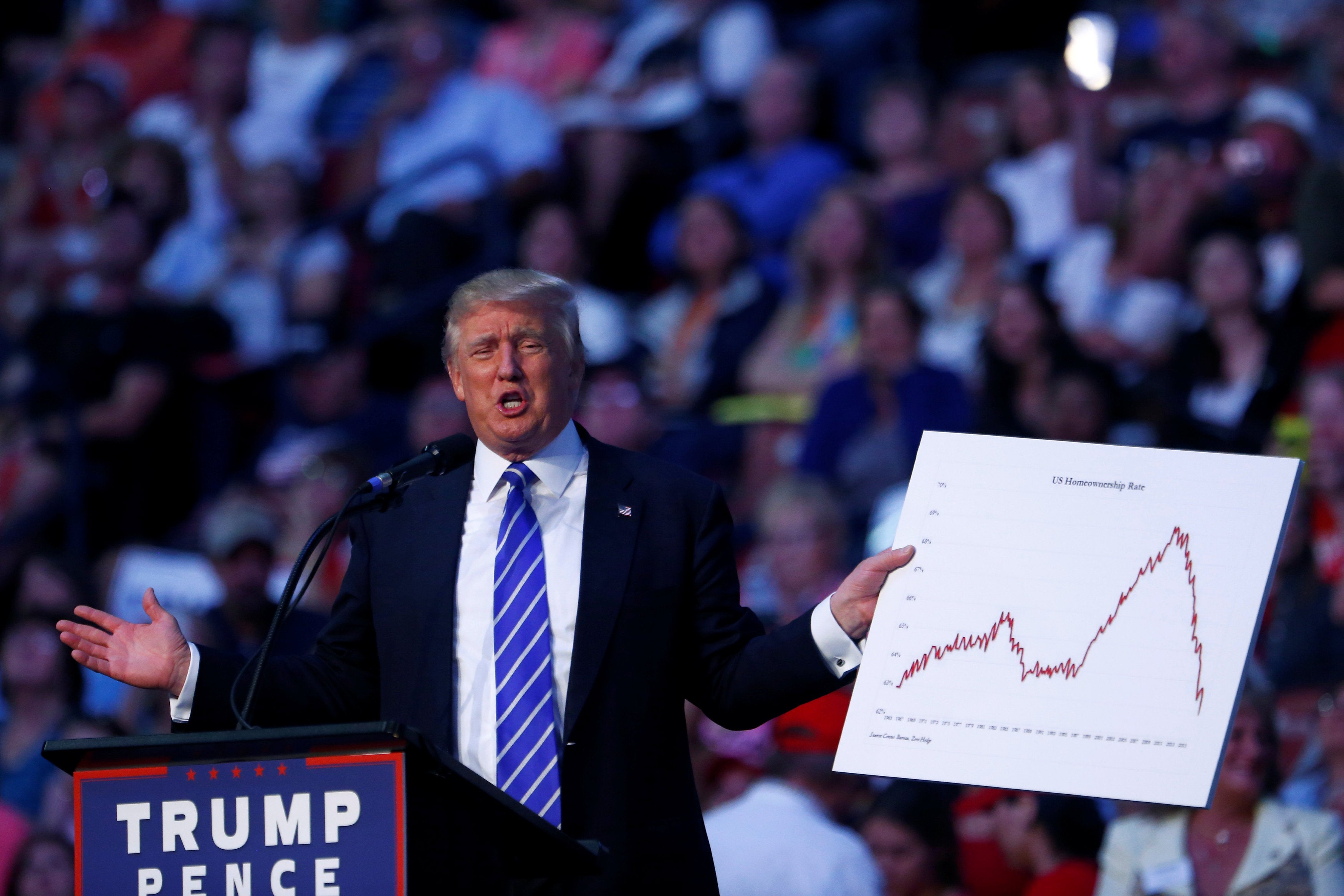 Trump: Seriously, Obama founded ISIS
MIAMI -- At a time when Republican leaders have essentially been begging for Donald Trump to become a more palatable general election presidential candidate, Trump repeated the latest in a long list of incendiary claims on Thursday - this time that President Barack Obama founded terrorist group ISIS.
"He was the founder of ISIS, absolutely," Trump said in a phone interview with CNBC.
Trump first made the claim on Wednesday night at a rally in Sunrise, Florida.
"In fact, in many respects, you know they honor President Obama," Trump said. "ISIS is honoring President Obama. He is the founder of ISIS. He is the founder of ISIS, okay? He's the founder! He founded ISIS! And I would say the co-founder would be 'Crooked Hillary Clinton.'"
At the rally, Trump also "awarded" a "Most Valuable Player" award, similar to ones handed out in all the major sports leagues, to Obama and the Democratic nominee, Hillary Clinton.
Soon after the CNBC interview, Trump refused to back down on Hugh Hewitt's radio show. Hewitt initially attempted to get Trump to tone down his comments. "I know what you meant, you meant that he created the vacuum, he lost the peace," Hewitt said.
Trump wasn't having it: "No, I meant he's the founder of ISIS. I do. He was the most valuable player. I give him the most valuable player award. I give her, too, by the way, Hillary Clinton."
Hewitt responded, "But he's not sympathetic to them. He hates them. He's trying to kill them."
Trump was undeterred.
"I don't care. He was the founder. His -- the way he got out of Iraq was that that was the founding of ISIS, okay?"
And then later, in typical Trump style, he added: "No, it's no mistake. Everyone's liking it. I think they're liking it. I give him the most valuable player award. And I give it to him, and I give it to, I gave the co-founder to Hillary. I don't know if you heard that."
After Hewitt's interview, Trump took the stage in front of the National Association of Home Builders in Miami and again repeated the claim.
"Our government isn't giving us good protection, our government has unleashed ISIS. I call President Obama and Hillary Clinton the founders of ISIS - they're the founders," he said Thursday. "ISIS will hand [Clinton] the most valuable player award. Her only competition is Barack Obama, between the two of them."
It wasn't the first Trump has made similar comments - but they've mostly been directed at Clinton. In an interview in mid-July with "60 Minutes," Trump told Lesley Stahl, "Hillary Clinton invented ISIS with her stupid policies. She is responsible for ISIS."
Just last week at another rally in Florida in Daytona Beach, Trump said the same.
"Take a look at what's going on," Trump said. "And then worldwide and we let ISIS take this position. It was Hillary Clinton. She should get an award from them as the founder of ISIS. It's what it was. That's what it was. Her weakness. Her weak policies."
And then just two days ago - on Tuesday - Trump targeted Clinton again.
"You know, I said before, also in North Carolina, I said that if they gave a trophy for the Most Valuable Player, we call it in sports, Most Valuable Player award, the winner of the trophy for ISIS would probably have to be Hillary Clinton. Right?" Trump told the audience at a rally in Fayetteville, North Carolina.
But Wednesday night, Trump turned his fire to Obama.
"I was against the war in Iraq," Trump told CNBC. "I was totally against it even though as a civilian so nobody cared. But we shouldn't have been in Iraq. I wouldn't have gone into Iraq. But that mistake was made. That was a horrible mistake. One of the worst mistakes of our country. We destabilized the Middle East. We've been paying the price of it for years. But he was the founder, absolutely the founder. In fact, he gets in sports they have awards -- he gets the Most Valuable Player award. Him and Hillary. I mean, she gets it too. I gave her co-founder if you really looked at this speech."
There's little evidence Trump was actually against invading Iraq beforehand. In 2002, Howard Stern asked Trump if he would invade Iraq. Trump said, "Yeah, I guess so," in an interview unearthed by BuzzFeed. He also laid out the case for regime change in his 2000 book, "The America We Deserve."
Thanks for reading CBS NEWS.
Create your free account or log in
for more features.