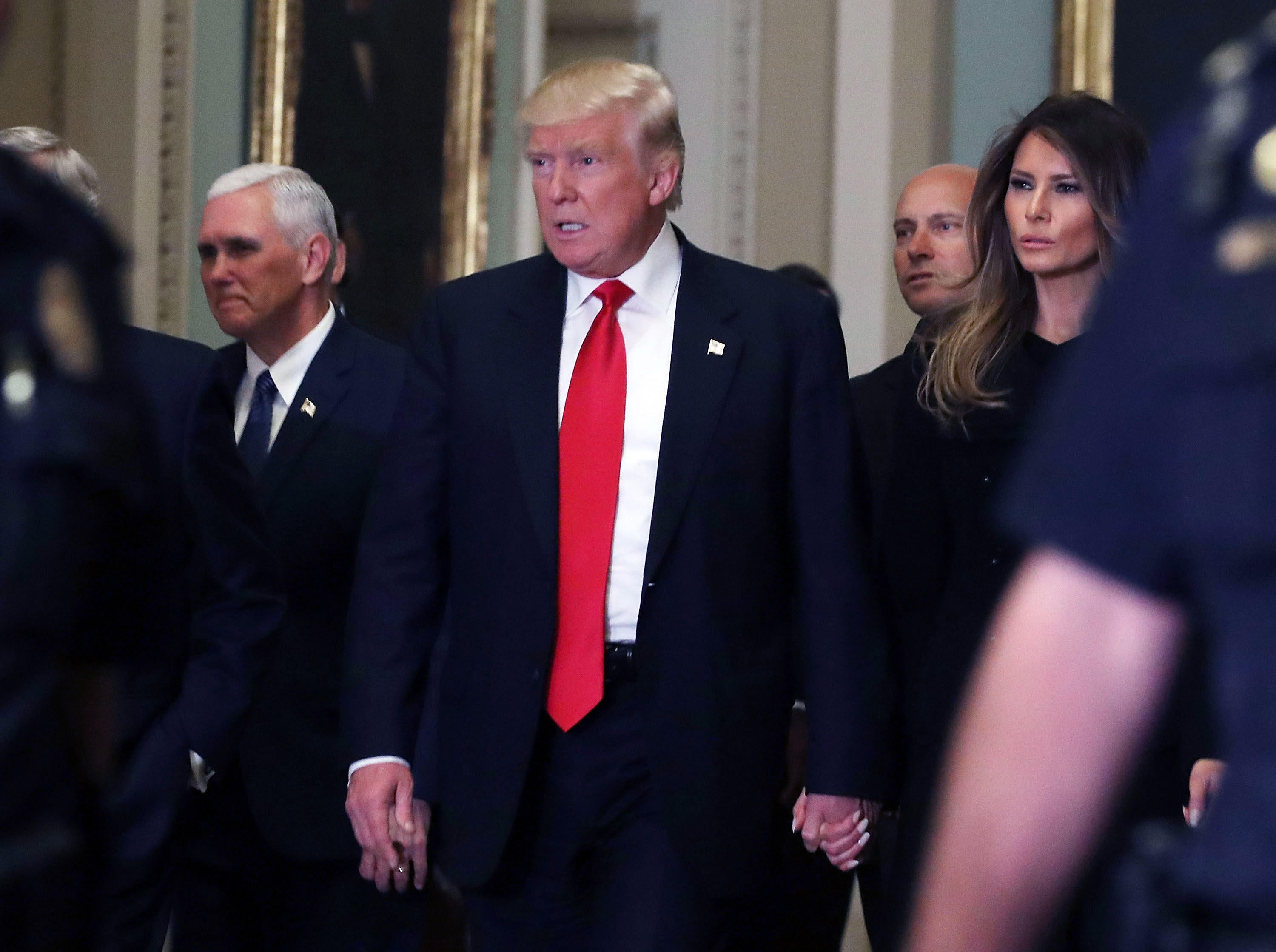 Amid transition controversy, Trump attacks actors on Twitter
President-elect Donald Trump is continuing his social media attacks on pop culture figures, targeting "Saturday Night Live" and the cast of "Hamilton" in his latest tweets -- all despite his vice president-elect's insistence that he "wasn't offended" by the actors in the Broadway musical.
Mr. Trump's tweets against members of the entertainment industry come just as the president-elect is facing mounting scrutiny over his transition team, business ties, and fraud case settlement.
Of NBC's comedy show, Mr. Trump called it Sunday "totally one-sided" and "biased," saying he found "nothing funny at all."
He then asked if there would be "equal time for us?" -- a seeming reference to equal time rules enforced by the Federal Communications Commission during the political campaign season that ensure if one candidate gets air time, the others are also allotted equal television exposure. There are no equal time laws once a candidate is elected.
Alec Baldwin, who acted as the president-elect on SNL, issued swift Twitter responses to Mr. Trump's criticisms, telling the future president to focus instead on leading the American people rather than attacking comedians:
The president-elect also continued to blast the cast and producers of of Tony-winning Broadway musical Hamilton, saying the musical is "highly overrated" and again demanding an apology on behalf of his vice president-elect Mike Pence "for their terrible behavior."
Trump's Sunday tweet against Broadway's hit musical -- a hip-hop take on the biography of American founding father Alexander Hamilton -- spilled over from earlier this week, when Pence attended a Friday showing in New York.
While some in the audience booed (along with others who cheered), the cast at curtain call addressed Pence directly with a respectful plea.
The star who plays Vice President Aaron Burr, Brandon Victor Dixon read a statement to Pence, thanking him for attending, and adding "we are the diverse America who are alarmed and anxious that your new administration will not protect us."
"We truly hope this show has inspired you to uphold our American values and work on behalf of all of us," Dixon said.
Pence himself has seemingly let the matter go, telling CBS' "Face the Nation" Sunday that he took no offense to the comments made by the cast.
"I wasn't offended by what was said, I'll leave to others whether it was the appropriate venue to say it," he said. "But I want to assure people who were disappointed in the election results, people who are feeling anxious about this time in the life of our nation, that President-elect Donald Trump meant exactly what he said on election night, that he is going to be the president of all the people of the United States of America."
Mr. Trump's tweets on Hamilton and Saturday Night Live come just as the president-elect is facing mounting pressure over several post-election developments.
Democrats and civil liberties groups have criticized Steve Bannon, the recently named chief strategist to the White House with strong ties to Breitbart News and the alt-right. Alabama Sen. Jeff Sessions, Mr. Trump's choice for attorney general, has also drawn scrutiny for past racist comments, including calling groups like the NAACP "un-American."
Mr. Trump's prolonged social media blitz on celebrities also comes at the same time as another business controversy: the president-elect's $25 million settlement of a fraud suit against Trump University and its now-defunct real estate education program.
Mr. Trump tackled the news on Twitter Saturday, alleging that he would have gone through with a "winning trial" for Trump University if he hadn't been so busy transitioning to the White House:
Thanks for reading CBS NEWS.
Create your free account or log in
for more features.