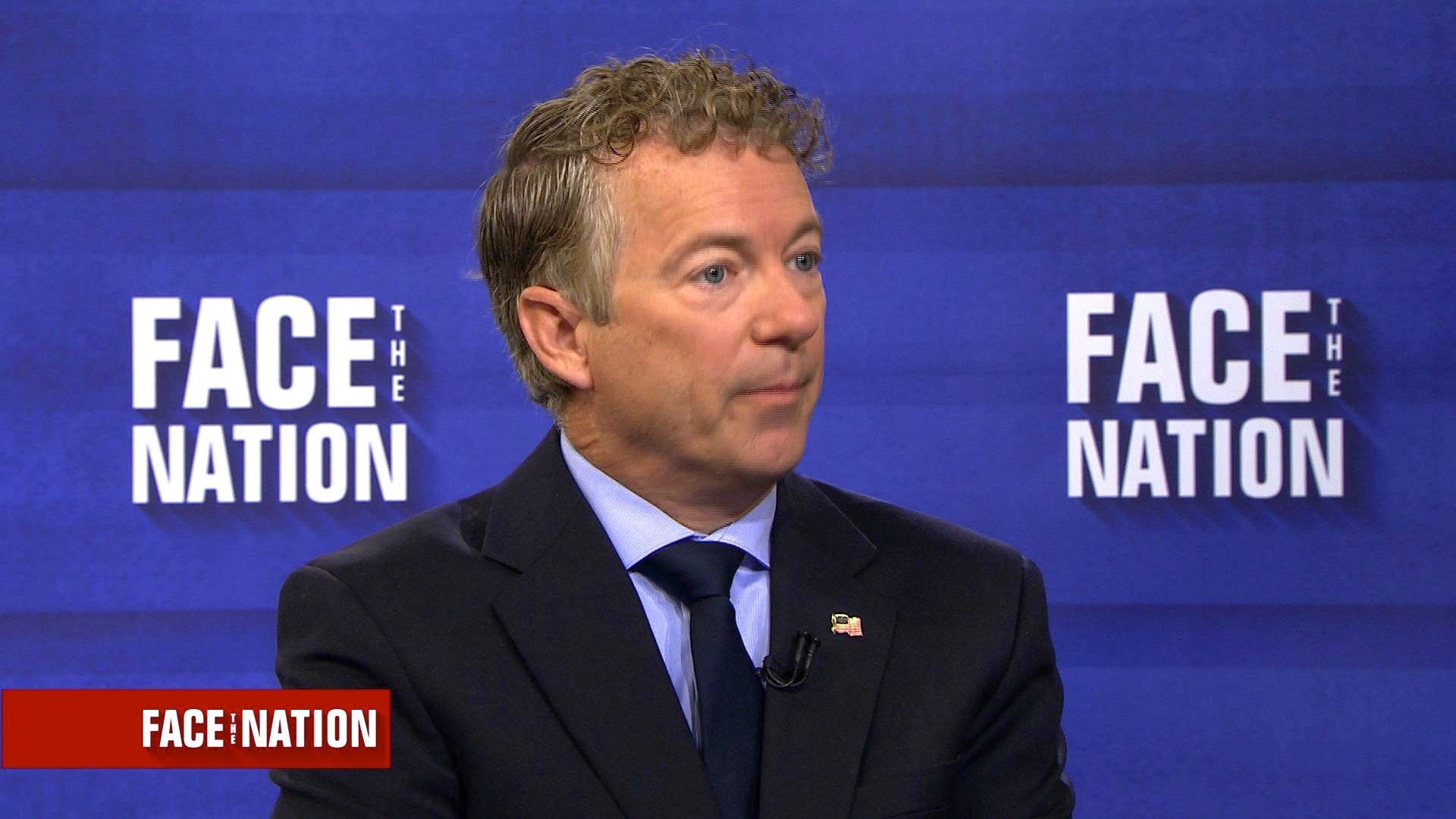 Rand Paul blasts Giuliani, Bolton as possible Trump Secretary of State picks
As President-elect Donald Trump assembles his cabinet, he'll have to have many of those top positions approved by the Senate -- and Kentucky Sen. Rand Paul said Mr. Trump might have a hard time getting people like former New York Mayor Rudy Giuliani or former U.N. Ambassador John Bolton passed as secretary of state.
"You know, it's a very close vote. I mean, there's 52 Republicans. Some of the people that have been put forward I think are not guaranteed to get any Democrat support," Paul told CBS' "Face the Nation." "So they lose my support and a couple of other Republicans … so I think that there are several potential Republican votes against someone like a Bolton. Possibly Giuliani."
Paul said Mr. Trump's opposition to the Iraq war is a big part of why he decided to support him -- and he wants to make sure that whoever is installed in the State Department's Foggy Bottom offices next year holds the same view on the issue. He has previously said he will vehemently oppose Bolton's confirmation should Trump tap him for the job.
"I want people that run the State Department who agree with Donald Trump. And so I'm trying to help. I'm trying to be helpful here," he said. "And the problem -- with both Bolton and Giuliani is they're unrepentant in their support for the Iraq war. They haven't learned any of the lessons."
"I think regime change in the Middle East hasn't worked," Paul added. "And so I think that it's important that we get someone in the head of the State Department that understands what Donald Trump said over and over again, the Iraq war was a mistake."
As for 2012 GOP nominee Mitt Romney, who met with Mr. Trump in New Jersey on Saturday and who Vice President-Elect Mike Pence confirmed Sunday is under "active and serious consideration" for the State Department job, Paul praised him as "reasonable" and "even-keel."
"As far as reasonability, if I were to rank Romney up there with someone who I think is a reasonable, even-keel versus a Giuliani or a Bolton, I think Giuliani -- Giuliani and Bolton are out there on the extreme," he said. "I don't think they're very diplomatic. And I think you want the chief diplomat to be diplomatic."
Romney, too, initially supported the Iraq war -- and Paul said he would have questions for Romney about his position on regime change, but said unlike Bolton and Giuliani, Romney is not "unrepentant" on the issue.
"I'm not sure I would call him unrepentant. I would say that he is somebody who has supported the Iraq war and I would want to hear more," he said. "I think we should ask -- no matter what the stature of the person, we should ask, "What are your beliefs? Was the Iraq war a mistake? Are you for regime change?"
Asked whether there were any additional suggestions for secretary of State he'd want to put forward, Paul said it's not up to him -- but that he's a fan of Sen. Bob Corker (R-Tennessee), whose name has also been mentioned for the post.
"I also find him to be very reasonable, very knowledgeable with foreign affairs," he said. "As head of the foreign relations committee I think he's interacted with many of our foreign leaders. And I think that's what you want as a reasonable, calming hand at State Department."
On the possible return to the use of waterboarding tactics, on which Sen. John McCain (R-Arizona) sharply criticized Mr. Trump over the weekend, Paul said he agrees with McCain: that waterboarding is torture and the U.S. should stand strongly against it. (Earlier Sunday, in an interview with "Face the Nation," Pence did not say whether the Trump administration try to return to using waterboarding.)
"The Bush administration said we weren't going to do it," he said. "The Obama administration said we weren't going to do it. The international community condemns it. I think it is torture."
"Instead of sort of holding this to ourselves and saying, you know, being ambiguous about it, we should telegraph to the world that we're better than this and we don't torture," he added.
Paul said he believes Mr. Trump likely has "every legal right" not to put his business holdings in a blind trust, but that he'd suggest Mr. Trump should
"My advice, if I were asked, would be try to do the best you can to separate so you don't have this," he said. "It'll deter you from things you want to get done if everybody keeps asking you about, 'What about the Trump Hotel you visited?'"
Thanks for reading CBS NEWS.
Create your free account or log in
for more features.