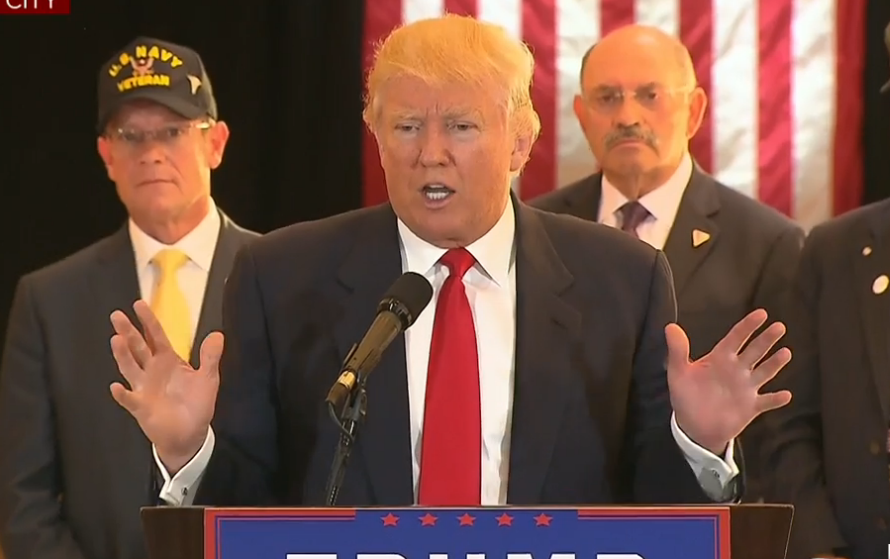 Donald Trump announces $5.6 million in donations to veterans groups
Donald Trump held a press conference on Tuesday morning to account for funds he had previously claimed to have donated to a veterans groups. It quickly spiraled into a castigation of the press for fact-checking Trump's unverified donations.
With representatives from various veterans organizations and supporters standing behind him, Trump listed the names of groups that have received money from a fundraiser he held at the end of January in lieu of attending a Fox News debate. The amount totaled out to $5.6 million dollars -- not the $6 million in contributions he had originally claimed.
Trump's clarification was laced with contempt for the media coverage that had prompted Tuesday's event, telling reporters that he had "never received such bad publicity for doing such a good job."
"I will say that the press should be ashamed of themselves, and on behalf of the vets the press should be ashamed of themselves," Trump said. "They are calling me and they are furious because I sent people checks of a lot of money, and we're going to give you the names right now which is what you want, and instead of being like thank you very much, Mr. Trump, or Trump did a good job, everyone is saying who got it, who got it, who got it, and you make me look very bad."
The Republican nominee continued to defend himself by saying that he wanted to keep the donations "private" and described the lengthy process by which he donated the money: a vetting of every group who received money followed by a certified check.
When a reporter who suggested that Trump's overstatement of the money donated to veterans groups was an example of the billionaire's tendency to exaggerate, Trump called him a "sleazy guy." He then proceeded to mock another reporter who said that Trump was "resistant to scrutiny," dismissing him as a "real beauty."
Trump also insisted that the figure likely will end up being over $6 million dollars, claiming that some money is still coming through.
An indignant Trump also had choice words for "Weekly Standard" editor William Kristol, who has been spearheading a third-party effort against Trump, calling him a "loser."
"Fool," meanwhile, was the epithet reserved for Mitt Romney. Republican New Mexico Gov. Susanna Martinez is "not nice," the presumptive GOP nominee said as he explained why he has no obligation to be courteous to Republicans who do not support him. He added that libertarian nominee Gary Johnson is a "fringe candidate" and that his running mate, former Republican Massachusetts Gov. Bill Weld, won't be a factor "when you a little research."
Trump did however offer praise for Alabama Senator Jeff Sessions, a "fantastic man" whom he'd consider for the vice presidency.
Trump was not thrilled by many of the questions fired at him throughout the 30-minute-long press conference. But he did earnestly weigh in on the fate of Harambe, the rare gorilla killed at the Cincinnati Zoo over the weekend in order to rescue a 4-year-old boy who had fallen into his enclosure.
"It was amazing because there were moments with the gorilla--the way he held that child, it was almost like a mother holding a baby - looked so beautiful and calm," Trump said. "And there were moments where it looked pretty dangerous. I don't think they had a choice. It's too bad there wasn't another way."
CBS News' Alexander Romano contributed to this report.
Thanks for reading CBS NEWS.
Create your free account or log in
for more features.