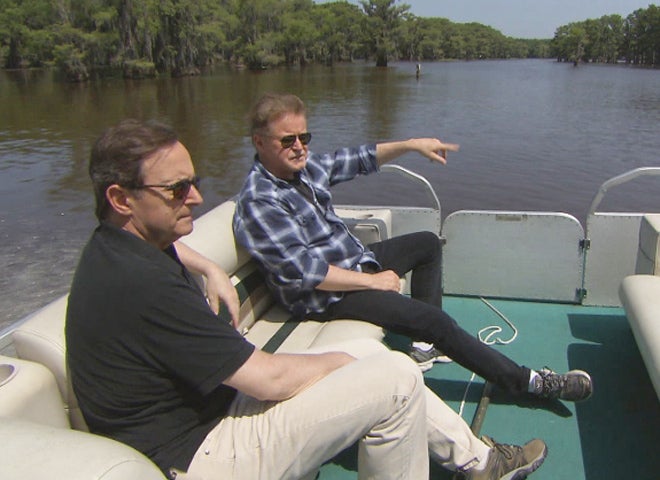 ​Don Henley goes back to his roots
"The End of the Innocence" was a huge hit for Don Henley back in 1989. Henley, who most of us know as a member of The Eagles, is releasing his first solo album in a long time this week -- but not before talking to our Anthony Mason:
Under the bald cypress trees of Caddo Lake in east Texas, a young Don Henley caught his first fish: "A bass. Not a real big one, but it was exciting!"
When asked how he describes the area to others, Henley replied, "You can't really describe it. You have to bring them here. I just tell them, 'It's a magical place and you've never seen anything like.'"
After the past two years on tour with The Eagles, and a lifetime on the road, the 68-year-old musician is spending more time back in that magical place near his hometown of Linden, Texas. "Yeah, I was actually born 40 miles from here. But that's only because they had a clinic."
His new solo album, called "Cass County" in a nod to his native turf, is his first in 15 years.
To hear Don Henley perform "Train in the Distance," click on the player below.
"After singing the Eagles material, some of which we've been singing for over 40 years now, I really need some other songs to sing," he told Mason. "Even some of my solo stuff is three decades old now. So I want new songs to sing."
As he explained, "I have things inside me that I need to get out."
Returning to his roots, he's joined by country stars like Dolly Parton and Martina McBride.
To hear Don Henley perform "When I Stop Dreaming" (featuring Dolly Parton), click on the player below.
It's the kind of music he listened to growing up in Linden with his father, an auto parts dealer, and his mother, a teacher.
At Linden's old American Legion Hall, now a theatre, where Henley made his first public appearance (in Mrs. Robertson's kindergarten music class), he stopped to talk about his musical career, which was launched in the high school band.
"I didn't start out playing drums. I started for some reason on the trombone, because they needed more trombonists."
"How were you on the trombone?" Mason asked.
"Mediocre, at best."
"You still play trombone occasionally?"
"No, I haven't touched the thing!"
He switched to drums when he formed a group with some Linden friends. In 1968 the band had a chance encounter with a young singer named Kenny Rogers: "We were in a clothing store in Dallas, Texas on McKinney Avenue, it was called the Electric Rocking Horse. We were buying bell bottom pants and Nehru jackets and stuff." Rogers was present, "because there was a really beautiful girl working there."
Rogers agreed to produce the band's debut album (the eponymous "Shiloh") in Los Angeles. That's where Henley would meet Glenn Frey, who was recording on the same label. Together, Frey and Henley would go off and join the backing band for Linda Ronstadt.
"But you didn't want to be in that band, and you both knew it," said Mason.
"Well, we loved Linda, and we loved what she was doing musically. But we wanted our own band. Especially Glenn. I mean, he really had a plan. He wanted to put a band together that had four guys in it who could all sing."
The Eagles, formed in 1971, would be the bestselling American band of the decade -- and their "Greatest Hits" album the bestselling record of all time.
Their recent retrospective tour was built around a revealing documentary, "History of The Eagles."
"And when you saw it all out there, what did you think?" Mason asked.
"Well, I thought we struck a pretty good balance between the triumphant and the tawdry," Henley replied.
The film includes some less-than-charitable comments about Henley by former record executive David Geffen, who signed The Eagles but later split with them in a nasty contract dispute. "He's a malcontent," Geffen said of Henley. "He's always been a malcontent and, you know, that's just life."
And what did Henly think of that comment? "Well, I mean, that wasn't the first time. I just thought, 'Yeah, that's so him.'"
And Henley was ready to leave it at that ... almost.
"Can I elaborate on the malcontent?" he asked.
"Absolutely."
"Glenn and I both, when we detect dishonesty and unfairness, we are malcontents, as we should be. And we smelled a rat pretty early on. So if that makes me a malcontent, then I'll own it."
The "History" tour was a huge success for The Eagles, grossing more than $250 million.
So, Mason asked, "If the other guys want to do another tour, are you going to answer that call?"
"Probably. Because I think that we will eventually in the next couple of years actually come to the end of it. So I don't want to be the one to call it off.
"I think Glenn will probably be the one to call off the Eagles thing, you know? I think it'll be his decision when it's time to stop. And I'm gonna leave that to him."
"Can you imagine it ending?"
"Yeah, I can," Henley said. "And I'll be okay with that. I mean, I don't really like the limelight. I never have. But I have to sell this album!"
Resuming his own successful solo career has meant returning to Cass County -- where he started a foundation to preserve Caddo Lake -- and to Linden. Henley, who lives several hours away in Dallas with his wife and three children, has bought the land the old movie theatre used to stand on. He remembers walking to the theatre to see the horror movie, "The Blob." "And then I had to walk home!" he laughed.
He also owns the barber shop and several other buildings. "So it feels like you own almost half the town," Mason said.
"Yeah, there's one born every minute!"
"There's got to be some part of you that's trying to hold onto something here."
Henley answered: "Yeah, and I'm not sure what it is. There's that great quote from T.S. Eliot: 'We shall not cease from exploration, and the end of all our exploring will be to return to where we started and know the place for the first time."
He bought those buildings to help his hometown, but the farmland, Henley says, he bought for himself and his family. "This is gonna be my retirement place, I think," he said while sitting at the campfire.
After a life in the fast lane, Don Henley is finding his way home:
"My big dream, that I hope to accomplish in the next few years, is to have a cornfield like my father had. That was my field of dreams when I was growing up. You could lie on your back and look up through the tassels at the sky. I don't think I've ever had a sense of well-being to equal that."
To watch Don Henley perform "Take a Picture of This," from the album "Cass County," click on the video player below.
For more info:
Thanks for reading CBS NEWS.
Create your free account or log in
for more features.