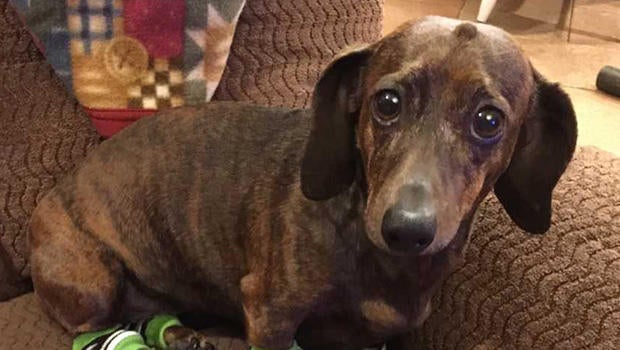 Dog with 3D-printed skull gives researchers hope for helping human patients
ALLENWOOD, Pa. — Every dog owner thinks their pup is special. Patches the 9-year-old dachshund really is.
Four years ago, her owner Danielle Dymeck noticed a small bump on top of Patches' head. She took her to the vet. The bump continued to grow at an alarming rate, and the diagnosis was a life-threatening tumor.
"They didn't really know what it was," Dymeck said.
"It was big and it was pressing on her brain," said Dr. Michelle Oblak, a veterinary surgical oncologist at the University of Guelph's Ontario Veterinary College. "To remove it, we were going to have to take about 70 percent of her skull."
So Oblak and a team from Cornell University tried something never before done in the U.S. Using a 3D printer, they created a replacement skull made out of titanium that fit over Patches' brain perfectly.
Except for a few scars, the new skull is unnoticeable. But its implications are huge — not just for dogs, but for people, too.
"Instead of having to take an implant off the shelf, we could take an implant that we've designed perfectly for that patient," said Oblak.
When asked if she ever thought of putting down Patches, Dymeck gave an emphatic "no."
"Other than having this big bump on her head, she was a completely healthy dog," Dymeck said.
She's now also a little dog that just opened up a big world of possibilities.
Thanks for reading CBS NEWS.
Create your free account or log in
for more features.