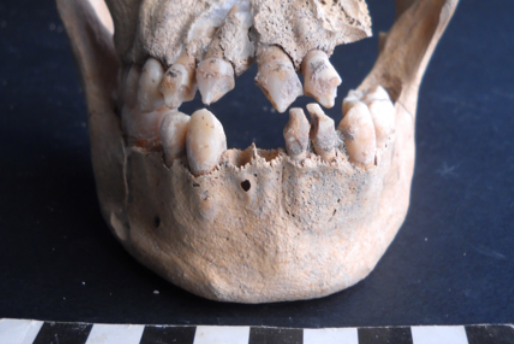 DNA analysis traces African slaves back to their roots
To better understand the complex history of slavery, it helps to know more about the origins of millions of individuals who were shipped from their homes in Africa to plantations in the Caribbean, South America and the United States.
Historians have a good idea that 12 million or so slaves came from West and West-Central Africa between 1500 and 1850. But incomplete and scarce historical records have made it difficult to offer crucial details about the slaves' ethnic origins and the regions from which they were taken.
Now, a team of researchers says they have for the first time used a new DNA technique to fill in these gaps, which could provide further insight into the slave trade.
Writing in Proceedings of the National Academy of Sciences (PNAS) Monday, researchers led by Hannes Schroeder of the Centre for GeoGenetics at the University of Copenhagen described how they used whole genome capture to retrieve the DNA from 400-year-old skeletal remains of three slaves, known as the Zoutsteeg Three.
"There are historical records - merchant ledgers, shipping records and the like - but they tend to refer to coastal shipping points rather than the slaves' actual ethnic or geographic origins. This is where the DNA comes in," Schroeder said. "It can provide new insights where historical information is missing. In that way, DNA is simply another type of archive that we can use to study the past."
Schroeder and his team analyzed the DNA from teeth recovered from a construction site on the Caribbean island of Saint Martin back in 2010. They then used a different technique known as principal component analysis to compare that DNA with 11 modern West African reference populations. From that, they were able to conclude the individuals most likely came from Bantu-speaking groups in northern Cameroon and non-Bantu-speaking communities living in present-day Nigeria and Ghana.
When they were first uncovered, the remains of the three slaves were dated back to the 17th century by way of shards of pottery and other artifacts found at the site. It was also determined they were most likely slaves, given the time period and the fact their teeth had been filed, a common custom among Africans then.
Schroeder at first thought it "wasn't possible" to recover DNA from the remains, since "these bones had essentially been lying on a Caribbean beach for 400 years or so." But he and his fellow researchers developed a new technique called whole genome capture that allowed them to "fish out" only the DNA they were most interested in from the samples. That material was then was isolated and sequenced.
"We basically take modern genome like the human genome, chop it up and use this as bait to fish out the DNA that we are interested in," Schroeder said, adding that it overcomes the problem with ancient historical DNA where many of the samples are not human DNA but comes from the environment.
David Eltis, an expert on the Atlantic slave trade from Emory University who did not take part in the study, called the findings "promising research with enormous potential for tracking the location of Africans brought to the Americas."
"This approach, along with identification of African names, are ways of getting around the thin documentary record for pre-orthographic African societies," he said in an email interview. "However, at this stage, genetic bases of any kind are still in short supply for sub-Saharan African populations so it is going to take a while to realize the benefits."
Alondra Nelson, the dean of social science at Columbia University whose forthcoming book is titled "The Social Life of DNA: Race, Reparations, and Reconciliation After the Genome," said genetic analysis has been used before to "infer broad ethnic origins" - most notably by researchers of the African Burial Ground in lower Manhattan in the 1990s.
The grounds, which were rediscovered during the planned construction of a federal office building, were found to contain the remains of freed and enslaved Africans. In a long-running and contentions case, hundreds of remains were eventually reburied and the site became a national monument.
"However, where this paper breaks new ground is in the application of a more robust technique - genome wide association studies (GWAS) - that has not been previously used to infer the origins of enslaved people in the Americas," Nelson told CBS News.
"Mitochondrial DNA or Y-chromosome DNA analysis that has been more commonly used to infer the ancestry of enslaved persons. But together these approaches provide information on about just 2 percent of one genome," she said. "The introduction of the GWAS method permits the analysis of a larger swathe of the DNA and therefore offers more precision relative to prior methods."
While the new technique has the potential to "open new windows into the past," Nelson said there are questions about slavery that can never be answered "because human beings move around a great deal and we will never know if the contemporary communities researchers use as reference points were the same communities in the past."
Schroeder agreed. He acknowledged there are even limits on how much they can say about these three slaves, based on fact they only used 11 of the 1,000 reference populations in sub-Saharan Africa and that some of those populations could have moved over the past 400 years.
"People are working on this at the moment," Schroeder said of a project to sequence 4,000 African genomes that would provide more genetic information. "If one used that data set, the inferences could be precise. You could go down to particular ethnic groups or communities."
Thanks for reading CBS NEWS.
Create your free account or log in
for more features.