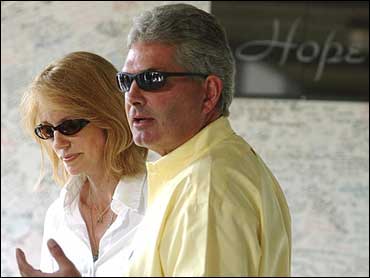 Divers Search Aruba Coast For Teen
Volunteer divers explored waters off Aruba's east coast Sunday, hoping to find clues in the disappearance of missing U.S. teen Natalee Holloway.
At least eight divers volunteered to search waters about one mile from a beach near the Holiday Inn where Holloway stayed during a vacation to celebrate her high school graduation, said Eduardo Mansur, co-founder of the Aruba Search and Rescue Foundation.
Although the waters have been searched before, the group claims a radar machine invented by an American has detected human bones in the area. The inventor, Joe Walker, came to Aruba to help in the search but is currently off the island, Mansur said.
Extensive searches have produced no trace of Holloway.
The mother of a missing Alabama teenager said Saturday she believes "we are going to get answers" after two brothers previously detained in her daughter's disappearance were taken back into custody.
Satish and Deepak Kalpoe were arrested Friday on suspicion of involvement in premeditated murder and rape of 18-year-old Natalee Holloway, Aruba's prosecutor's office said.
The arrest was based on new evidence, the office said, without elaborating.
"The strongest thing I felt was that we are going to get answers," Beth Holloway Twitty told The Associated Press by telephone from her home in Birmingham, Ala.
Holloway Twitty called the arrests of Satish, 18, and Deepak, 21, a vindication for the teen's family, which was angered by a judge's decision in July to release the brothers for lack of evidence.
The brothers were first arrested on June 9 along with van der Sloot, 18, whom authorities have identified as a suspect in the case though no charges have been filed. Elgin Zeppenveldt, a lawyer for Satish Kalpoe, said they would appeal the detention.
Holloway Twitty said she was at home this weekend to visit her 16-year-old son and would return to Aruba next week.
Meanwhile, CBS News Correspondent Kelly Cobiella reports that in Holloway's hometown of Mountain Brook, Ala., people haven't given up hope that she will be found. On Thursday night, 1,000 people attended an auction to raise money for the family.
Over 200 items were donated by celebrities for the auction that was the idea of Courtney Cox, who graduated from the same high school as Holloway, Cobiella reports.
Holloway, of Mountain Brook, Ala., was last seen leaving a bar with the Kalpoe brothers and van der Sloot in the early hours of May 30. Extensive searches of the island have produced no sign of the teen who was last seen in public leaving a bar with van der Sloot and two other young local men.
Thanks for reading CBS NEWS.
Create your free account or log in
for more features.