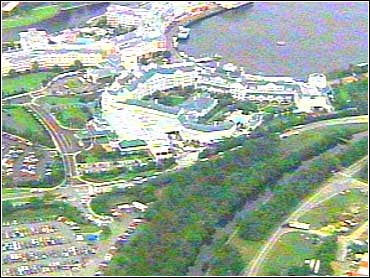 Disney World Gunman Gives In
An armed man who held his 4-year-old son and a room service waiter hostage at a Walt Disney World hotel for 11 hours surrendered early Friday after a negotiator promised he could see his three other children.
Bismark Rodriguez, 39, released the hostages unharmed and surrendered, leaving a handgun in the room. He was arrested but allowed to meet with his children, Orange County Sheriff Kevin Beary said. Rodriguez faced felony charges of false imprisonment, Beary said.
As the events unfolded, guests lounged in the lobby and played games outside the Boardwalk Inn while sheriff's helicopters circled above and dozens of deputies milled about the sprawling Disney World complex, reports CBS News Correspondent Ed Crane.
Some of the deluxe hotel's 910 rooms were evacuated but many guests were unaware of the hostage situation on the second floor. The rest of the hotel and the Disney World resort, which includes 17 hotels and four theme parks, operated normally.
"I knew something was up when I saw helicopters and TV cameras but I thought it was because a movie star might be here," said Isabelle Mario Martinez, who was told she could not check in.
The hostages were Rodriguez's son Christopher and 42-year-old Rafael Carmona, who was grabbed when he delivered food to the room Thursday.
During the standoff, Rodriguez called WKMG, the CBS affiliate in Orlando, twice and made what was on his mind very obvious..his children and estranged wife. Rodriguez said he and his wife of 14 years were going through a divorce. He said he hadn't seen his other three children in 30 days and wanted to speak with them and his wife.
The sheriff said changing negotiators played a key role in his surrender. Mary Huggins spent about 15 minutes on the scene after eight hours of work by fellow negotiator Billy VanderWater.
"When I came into the negotiations, he was ready to hear a softer voice," Huggins said.
"We went with a female negotiator," Beary said. "He liked what he heard. The demeanor changed. He started talking to us. He thought about it for about five minutess and he said, "OK, I'm coming out. I'm leaving the guns there.'"
©2000 CBS Worldwide Inc. All Rights Reserved. This material may not be published, broadcast, rewritten, or redistributed. The Associated Press contributed to this report
Thanks for reading CBS NEWS.
Create your free account or log in
for more features.