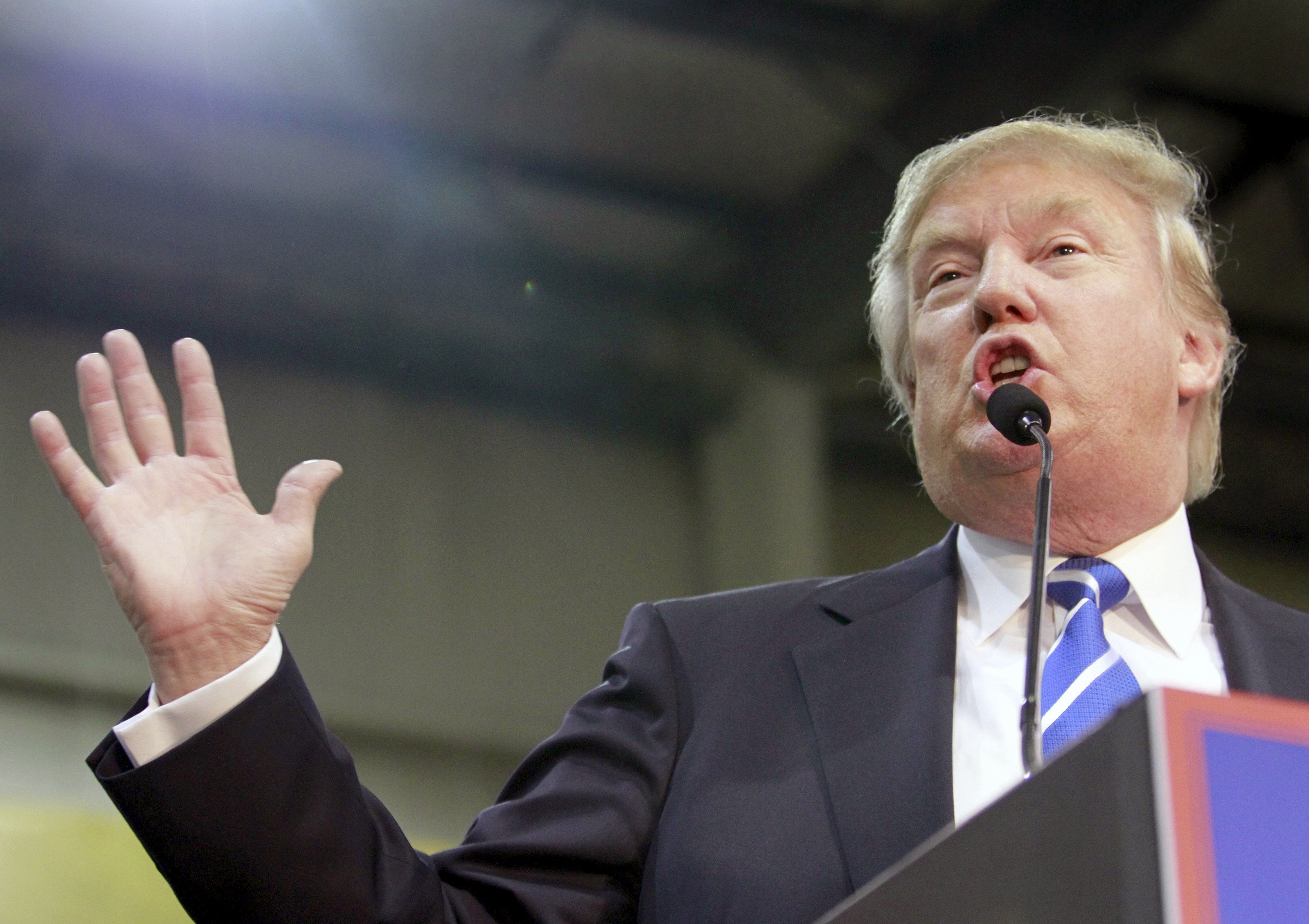 Despite bankruptcies, Trump defends his record in Atlantic City
Donald Trump has staked his run for the White House on his record as a businessman, vowing to shake up Washington with his dealmaker's instinct for how to get things done. "This country right now owes $19 trillion," he said during the first Republican presidential debate in August. "They need somebody like me to straighten out that mess."
Despite his trademark bravado, however, that narrative amounts to a roll of the dice for someone whose record in business is decidedly mixed and whose dealings have cost other people, if not his own empire, money.
In Atlantic City, corporate entities tied to Trump have filed for bankruptcy four times since 1990, allowing the companies to shed hundreds of millions of dollars in debt, but leaving a long list of businesses that did not get paid. The losers included small businesses and tradespeople, or just the kind of constituents Trump's brand of economic populism seems calculated to galvanize.
Trump, ever defiant, makes no apology. "That's part of the process," he told CBS MoneyWatch, conceding that bankruptcy has real consequences for small businesses and other unsecured creditors. "I wanted to use the bankruptcy law to my own advantage. Should I have used it to somebody else's advantage? These people may have gotten clipped at the end, but they made a lot of money along the way with me."
That view is far from unanimous in the New Jersey gambling mecca, where some locals complain of having been burned from doing business with Trump.
"I don't hardly know a contractor that didn't get hurt by Trump," said carpet installer Bill Gamble, 69, of Absecon, New Jersey, a community some 1o miles from Atlantic City.
Gamble said he carpeted the casino for Trump's Castle Hotel and Casino, noting that the job took a crew of 10 workers three months to complete. "The carpet guy is always the last guy after the carpenters and electricians, so they push you and have you work double shifts, which runs up the overtime."
But when the bill came due, Gamble said he had to go to court to collect. "I only got $13,000 of the $21,000 I was owed. I should have had a lawyer as my partner," he said.
Trump's activities in Atlantic City also have left hard feelings elsewhere in the local community. Rev. John Scotland, pastor at the Community Presbyterian Church in Brigantine, not far from Atlantic City, said Trump "has no regard for who he hurts. He's devastated small businesses and tradespeople down here."
Scotland added that people in his congregation have been affected by Trump's booms and busts. "He victimizes people and tells them he's teaching them a lesson."
Trump does have his boosters in the city. "We actually had a fairly good relationship with Donald Trump. He always used union labor," said Bud Eggie, president of Carpenters Local 252. When Trump had three casinos operating in Atlantic City, dozens of union members worked around the clock to maintain the sites.
Yet Eggie also acknowledges that Trump's corporate bankruptcies hurt subcontractors and other small enterprises in the region. "There were small businesses that ended up going away, and some of the businesses affiliated with us stopped bidding on Trump jobs because it could take as long as 120 days to get paid," he said.
To some extent, that's more a sign of the times than a reflection of Trump's bare-knuckled business practices. Murray Sabrin, a professor of finance at Ramapo College of New Jersey, said not getting paid is a risk for any company. "We live in a world where there's a pervasive risk, where there are no guarantees that your expected returns will materialize."
Trump stands by his record in Atlantic City, whose economy foundered after the 2008 financial crisis.
"I did a great job there and got out seven years ago, and I got out great," Trump said. "Atlantic City is a very regulated place to do business, and the whole market had changed with gambling available in Maryland and Pennsylvania. Now you've got so many places dying, with 90 percent of the hotels in Atlantic City in bankruptcy."
Since Trump's departure, Atlantic City was hard hit by Hurricane Sandy in 2012, and four of the city's 12 casinos have closed. Last summer, the closures of the Showboat and Revel casinos resulted in 5,000 people losing their jobs in just three days. A five-year plan launched by New Jersey Gov. Chris Christie has yet to show any signs of reversing the decline.
RealtyTrac, which follows national real estate trends, has found that Atlantic City, along with Trenton, New Jersey, has the highest percentage of "zombie" foreclosures in the U.S., where homeowners abandon a property.
With each bankruptcy, Trump's role in the gambling venues diminished and ultimately ended in 2008, he said. All that remains is a licensing deal for the continued use of his name on the Trump Plaza and Trump Taj Mahal.
Last summer, Trump sued to have his name removed from both. Alan Garten, the Trump Organization's general counsel, said the legal move was "due to what we believed was the company's failure to operate and maintain the properties in accordance with applicable standards."
In an ironic twist, Trump was also a creditor in the Taj Mahal bankruptcy in which his friend, billionaire investor Carl Icahn, hopes to use his control of the secured debt in the bankruptcy to win a second life for the casino. Icahn is now locked in a battle with casino workers union Unite Here 54, which represents 1,140 Taj Mahal employees, over the future of health care benefits. The union is appealing Icahn's bankruptcy plan, which won approval from U.S. bankruptcy judge Ken Gross last March.
Trump has reached a deal with Icahn that would let the Taj Mahal continue to use the presidential candidate's name.
Thanks for reading CBS NEWS.
Create your free account or log in
for more features.